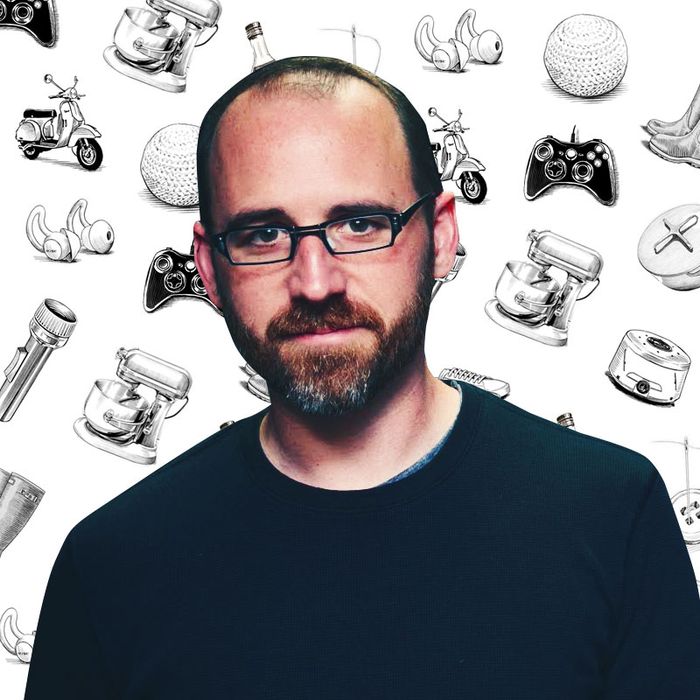 If you're like us, you've probably wondered what famous people add to their carts. Not the JAR brooch and Louis XV chair, but the hairspray and the electric toothbrush. We asked 99% Invisible podcast host and producer Roman Mars — whose book, co-authored with Kurt Kohlstedt, The 99% Invisible City, debuts today — about the pocket squares, headphones, and popcorn he can't live without.
I listen to podcasts all day long, so I need headphones that I don't have to think about. I've tried lots of other headphones, and it just so happens that this wired pair from Apple fits me the best. With AirPods, I have to think about them: I have to charge them, I have to put them away. I wouldn't say that these are perfectly made for everybody, but they're perfectly made for me. It makes me think that Steve Jobs and I have the exact same size ears.
Even if you have a vice — maybe you drink a lot or smoke a lot — you usually know there's somebody that does it worse than you. When it comes to Coke Zero, it's possible that person is me. I think I have the worst Coke Zero habit in the world. It has the right combination of being sweet and acidic, and I just drink so much of it. Conservatively, eight a day. The first one is at 8 a.m. — it's coffee. I don't normally eat breakfast, but I'll have two Coke Zeros before lunch.
I've worn some variety of boots, like Dr. Martens and combat boots, since I was 14 years old. These are the adult version of such boots. I wear them every day with jeans, but I also wear them with fancy clothes. I always wear boots with a suit. I don't feel comfortable in a loafer. When you've worn lace-up boots your entire life, it feels really weird to wear shoes that don't have structure. My brain is always on guard — What if there's a fight? What if I have to run some place? — and these boots help me be alert.