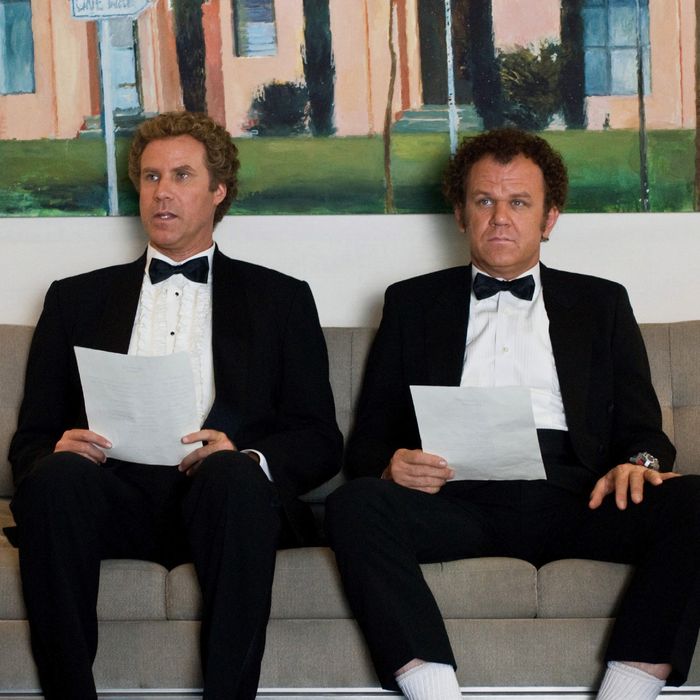 Photo: Columbia/Kobal/Shutterstock
Whether you shared a common womb or inherited him through marriage, your brother is probably special to you. (Special enough, at least, that you're reading a story on what gifts to give him.) He's unique, and with that uniqueness comes a need for a unique gift. Maybe he's a reader who's two books away from becoming a bibliophile, or a computer whiz who bakes in his free time, or someone who will never get enough succulents. Or maybe he was a little late to binge Marie Kondo's show and is now trying to live a more minimalist, does-it-spark-joy lifestyle. Maybe he just wants to live sustainably, buying as little as possible, which is making the task of finding him a gift nearly impossible. Whatever the case, finding the right gift for your particular brother (or brothers), can be tough. To help you save an excruciating amount of time, we pulled together a list of things we love and have written about before, plus a few newbies that any brother would appreciate.
For the brother who took up cooking during quarantine
If your brother is still slicing up shallots and making enviable-looking stews, consider gifting him this versatile knife, which can be used for just about anything. It's a favorite of photographer Catherine Opie, who says it's still in good shape after five years of regular use.
For the brother who took up cooking (and also went plant-based)
Photo: reatilers
Chef and Chopped winner Adriana Urbina named this vegetarian cookbook one of the best out there, noting that the recipes are "creative," and incorporate lots of seasonal fare. It also has stunning photography, so it can double as a coffee-table book, too.
For the brother with a black thumb
If he'd like some greenery but can barely keep a succulent alive, we recommend gifting him the "practically unkillable" ZZ plant, which he can pretty much ignore.
For the brother with lots of unhung art
Former art-school student and senior Strategist writer Liza Corsillo is a fan of these minimal-looking poster rails, which can turn his vintage movie poster collection into objets d'art.
For the brother who just got a new apartment
Sure, his design taste might leave something to be desired, but at least you can upgrade his tablescape with these salt-and-pepper shakers from Cooper Hewitt's collection of 20th-century design objects. These shakers in particular are designed by George Jensen, who makes "museum-quality home goods."
For the brother who can't function without his coffee
Baristas and coffee experts rave about this drip coffee maker from Bonavita, which they say consistently delivers delicious coffee and keeps it hot all day.
For the brother trying to kick a coffee habit
Photo: ISSEY_KOBORI
Swap his coffee beans for this matcha-turmeric blend from Golde. It's a favorite of Movita founder Tonya Lewis Lee, who says it gives her a much "smoother energy" than a cup of coffee. It also contains turmeric, an anti-inflammatory antioxidant, which is said to help with everything from PMS to headaches to IBS.
For the brother who carries his own cup
Keep Cups were designed by baristas, so they're the ideal shape and size to replace the paper cups at your local cafe.
For the brother who's always looking for his next bean
If your brother is always talking about the "notes" in his coffee and trying to get you to agree that it "finishes with a light caramel flavor," consider buying him a coffee subscription from Trade Coffee. Even if he's not annoying about his flavor profile and is just getting into coffee, he'll still enjoy it. In our guide to coffee subscription services, Strategist contributor Sal Vaglica wrote, "Trade is a smart option for java geeks who know what they like. But novices should shop here too: The site's easy coffee quiz and algorithm helps any coffee drinker zero in on what roast profiles they'll like — even if all you know you like is decaf with a little milk."
For the brother who just discovered pour-over
Yasmina Palumbo, a co-owner of Mud Coffee in New York City, recommends this dripper, which comes with plenty of coffee cred despite its basic design. That simplicity is "what's so great about it," Palumbo says. "[It goes] straight into your mug, so you're brewing cup by cup," and everything stays "super-fresh and hot."
For the brother who's more of a tea guy
Beloved by the folks over at In Pursuit of Tea, New York's premier tea-sourcing company, the stainless-steel Bonavita has a perfect-for-pouring gooseneck spout, and an electric base, but no extra components that might get faulty and imprecise after a year or two.
For the brother who wants to go treasure hunting
This metal detector comes recommended by two real-life treasure hunters. While you can't ensure he'll actually find anything, experts think this is a pretty good model for the money, and it'll definitely get him started.
For the brother second-guessing his quarantine beard
Everyone in the family hates it, too, so why not give him the push he needs to get rid of it with our most-recommended beard trimmer.
For the brother getting back to the gym