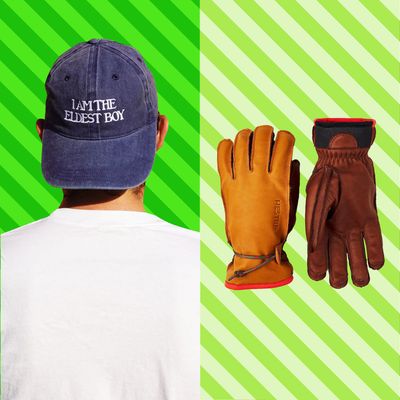 Photo-Illustration: The Strategist; Photos: Retailers
Whether he's a stepbrother, half-brother, brother-in-law, or biological brother, he's probably special to you. (Special enough, at least, that you're reading a story on the best gifts for brothers.) With that uniqueness comes the need for an equally exceptional present that shows how well you know him — and his very specific interests. My own brother is very particular. But after years of gifting him birthday presents and Christmas gifts — some winners, some duds — I've learned that the more the gift speaks to one of his specific hobbies or tastes, the better.
Maybe your brother is a fitness fanatic, like mine, or a plant enthusiast who likes to listen to records in his spare time, or someone who is always traveling. His hobbies may range from cooking and baking to hiking, or maybe he's the type of brother who just got into pickleball. He may be a bookworm — or maybe he's the biggest Star Wars fan that you know.
Whatever the case, finding the perfect gift for your brother (or brothers) can be tough. To help save you time, we pulled together a list of products we love and have written about before, plus a few more gift ideas any brother would appreciate.
For the brother who wants to pack a bowl with his multitool
For the brother who volunteers for spider catch-and-release duty
For the brother who wants an everyday watch he doesn't have to worry about
For the outdoorsy brother who likes to show off his cool gear at camp
For the brother who adopted a cat
For the outdoorsy brother who gets his gear soaked
For the brother who's always on a bike
I've used these bike lights as my main set for three years. Despite their small size (either can fit easily on a keychain or in a pocket), they help me stay visible at night and during the day. They come in a bunch of colors and make great gifts for cyclists.
For the brother who needs to freshen up his sock game
For the brother with a stiff neck
For the brother who took up cooking (and went plant-based)
For the brother who loves adventure photography
For the brother who carries his own cup
For the brother who knows he should take care of his skin, but doesn't know where to start
For the brother who won't stop talking about The Bear
For the rap-fanatic brother
For the brother who paddles out
For the sourdough bro
For the brother who's always planning a trip
For the kid brother who's already dreaming of being an Eagle Scout
For the brother who's in a hurry
For the brother who always borrows your gloves during ski season
For the brother who's a Mandalorian superfan
For the brother who lives far away
For the brother who documents every social gathering
For the brother who always dresses in athleisure
For the brother who's had to call AAA one too many times
For the brother who's grown up but still loves his Legos
For the brother who loves to travel
For the brother applying for jobs
For the brother who bought a house
For the brother who loves music
For the brother who tracks everything
For the brother who likes to write in the margins
For the brother who goes crazy for movie nights
For the brother who just started collecting vinyl
For the brother who loves throwing pizza parties
For the brother who lives for podcasts
For the brother who's more of a tea guy