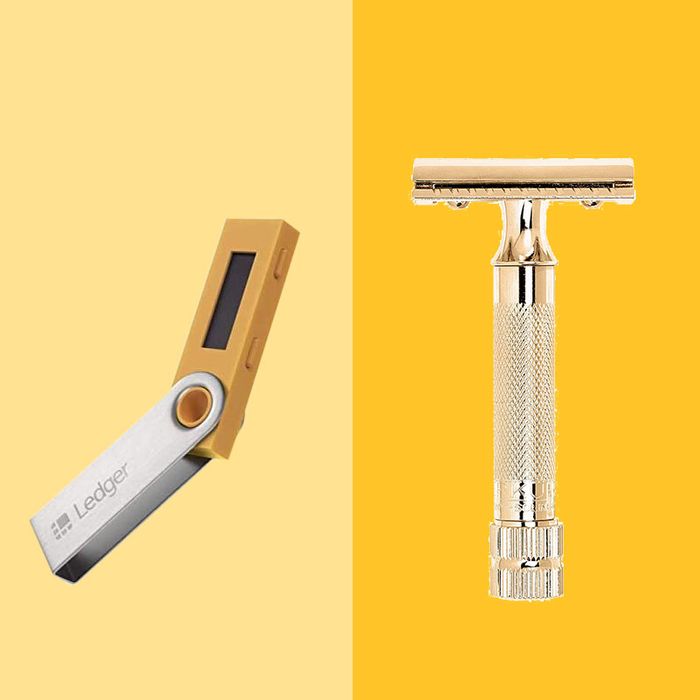 Photo-Illustration: The Strategist; Photos: Retailers
Whether he's a stepbrother, half-brother, brother-in-law, or biological brother, he's probably special to you. (Special enough, at least, that you're reading a story on the best gifts for brothers.) With that uniqueness comes the need for an equally extraordinary gift that shows how well you know him — and his very specific interests.
Maybe your brother is a reader who's two books away from becoming a full-blown bibliophile, or a computer whiz who bakes in his free time, or someone who will never acquire enough succulents. His hobbies may range from camping to crypto, or maybe he's the type of guy that goes all-in on coffee. He might be an amateur bartender with a penchant for journaling — or maybe he's an expert bartender who's on the third draft of his murder mystery.
Whatever the case, finding the right gift for your particular brother (or brothers), can be tough. To help save you an excruciating amount of time and ensure your gifts arrive in time for Christmas, we pulled together a list of in-stock things that we love and have written about before, plus a few newbies any brother would appreciate.
For the brother who wants to control everything from his phone
"Smart plugs expand the number of things we can consider smart devices. If something plugs into the wall, you can make it smart," says Strategist contributor Kyle Schurman. You can set up the Wyze to turn on any time one of your other smart devices is activated. For example, if someone approaches your video doorbell, you could have a lamp in the window automatically turn on to make it look like someone is home.
For the brother who lives for podcasts
Apple's widely beloved pair of headphones (with noise canceling) will help him catch up on politics, basketball, or true-crime podcasts — or get a little privacy for his Zoom calls.
For the brother who bought a house
This sleek gadget is capable of deterring real-life robbers. Your brother can program the Doorbell Pro to greet visitors who arrive on his doorstep; he can also program it to send alerts any time there is movement. If he subscribes to the Ring Protect Plan, he can review recordings as far back as 60 days.
For the brother who moonlights as a Twitch streamer
If your brother could do with some ambient lighting for his late-night Twitch streaming, he'll love these Govee strip lights. Andy To, a video director and creative director with over 100,000 followers on Instagram and YouTube, says these are "easy to use — kind of plug and play." The colors he picks depend on his mood: "When I want to concentrate, I hit the bright-white lights. When I want to relax and sort of settle down a little bit, I'll change it to warmer colors."
For the brother who thinks everyone should invest in crypto
When phone wallets and private slip keys won't cut it anymore, upgrade your brother to a hardware wallet that stores his crypto.
For the brother who just moved into his first apartment
If your brother would rather endure physical pain than vacuum, do his future guests a favor and point him toward this RoboVac that adapts to carpets and hard surfaces automatically.
For the brother who took up cooking (and also went plant-based)
Photo: reatilers
Chef and Chopped winner Adriana Urbina named this vegetarian cookbook one of the best out there, noting that the recipes are "creative," and incorporate lots of seasonal fare. It also has stunning photography, so it can double as a coffee-table book, too.
For the brother with a black thumb
If he'd like some greenery but can barely keep a succulent alive, we recommend gifting him the "practically unkillable" ZZ plant, which he can pretty much ignore.
For the brother who can't function without his coffee
Yasmina Palumbo, co-owner of Mud Coffee in New York City, recommends the original eight-cup glass Chemex. "It's quite fancy looking and was designed by a chemist," she says, which makes it a great gift for anyone interested in the process of making pour-over coffee. John Bettencourt, head roaster at Oslo Coffee Roasters, is also a fan. He explains that you don't need to be a barista or coffee nerd to make a delicious brew with a Chemex: "It's simple to use, elegant, and the specially made paper filters contribute to a very clean cup of coffee."
For the brother trying to kick a coffee habit