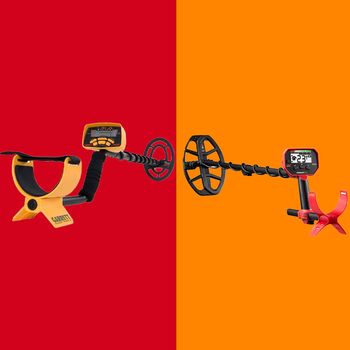 Photo-Illustration: Detectorists, BBC
For most of us, the fantasy of finding buried treasure faded away along with other childhood passions, like my youthful ambition to set a Guinness World Record for building the world's largest pillow fort. But that doesn't have to be the case. With the right metal detector, a little patience, and some knowledge of history, anyone can dig up centuries-old jewelry and long-lost coins — or at least have a better chance of finding a lost earring in the grass.
When I asked Emily Chambers, a detectorist living in southwest England, for advice on getting into metal detecting, she said the most important step is getting to know your metal detector. "Experiment on different types of metal to see which readings they bring up," she says, adding that there are plenty of good YouTube channels to help newbies learn how to use their detectors.
Once you're out in the field (or beach, or park), the general rule of thumb — according to Chambers as well Matthew Reeves, director of archaeology at James Madison's Montpelier in Virginia, and Artur Kropiwiec, a U.K.-based detectorist — is that if you're not digging on your own land, you need to make sure you have the landowner's (or the state's) permission first. And because laws differ from country to country and state to state, it's best to do a little research before you set out. "There are places that people can metal detect and kind of scratch that itch to find things," says Reeves, noting that beaches are a good place to start. But be sure to avoid any place where digging could do permanent damage. Reeves works with detectorists at Montpelier to recover and preserve the stories of the enslaved Americans who lived and labored on the 2,650-acre plantation. If not properly handled, these sites and the stories of the people who labored there could be lost forever.
We asked Reeves, Chambers, Kropiwiec, and five other experienced detectorists from the United States and Europe about the metal detectors they recommend.
According to Brad Martin of Green Mountain Metal Detecting, the more expensive the machine, the more it can discriminate between trash and treasure. So while you shouldn't spend thousands on your first metal detector, you don't want to go too cheap, either. Martin says that "spending more than $150 from well-known brands like Garrett, XP, Minelab, and Fisher will save a lot of time and disappointment." To help you get a quick sense of the cost of each item, we've included a dollar-sign ranking for each product below: $ for a metal detector that costs less than $500, $$ for one that costs between $501 and $1,000, and $$$ for a price tag of more than $1,000.
Wherever you plan to search for buried treasure, your metal detector should match that type of ground. According to Martin, someone searching for gold jewelry on a saltwater beach should choose a different machine than someone searching for old coins in a park: "My advice is to visit a local hobby shop and have a chat. They will know what's best for your area." If you don't have a local hobby shop, Eleanor Hube, detectorist and owner of Cape Cod Metal Detectors, suggests calling one on the phone. This guide will help get you acquainted with the top metal detectors on the market right now, some of which can handle all types of terrain.
As with any piece of technical equipment, metal detectors are available in a range of complexities designed for every level of expertise. There are metal detectors meant for everyone from absolute beginners to world-champion treasure-hunters and archaeologists. If you're just starting out, you'll want to stay away from machines made for experts, as they come with a pretty steep learning curve. That said, some detectors are more intuitive than others and can easily be used when you're starting out as well as once you have grown into a more experienced detectorist. We've listed an experience level for each metal detector below.
Best overall metal detector
Price range: $ | Ground type: Field, woods, dry sand, shallow fresh water | Experience level: All levels
Branko Barisic, a Croatian detectorist who posts his finds on Instagram as Metal Detecting Croatia, started his detecting career with a Garrett Ace 250, which he says is lightweight and simple to use. "For the money, it's great because it has notch discrimination" — a function that allows you to choose which types of metals to target — plus "five search modes and a host of other features," he says. This model has a search coil (the flat, round part at the bottom of the detector that does the searching) that is waterproof to a depth of nine inches, which, according to Connecticut-based detectorist Jessie Thompson, who has been passionate about metal-detecting since he was 14 years old, makes it great for practicing in lots of scenarios. If your budget doesn't accommodate the 250, the Garrett Ace 200 has many of the same features for a slightly lower price.
Best metal detector for beginners
Price range: $ | Ground type: All terrain | Experience level: Beginner
According to George Streeter, a detectorist with over 50 years of experience who hosts annual group hunts in New Hampshire and underwater hunts in the Caribbean, the Minelab Vanquish 440 has everything a beginner could need. It's lightweight and collapsible, and it uses multifrequency technology, allowing you to search for silver, gold, jewelry, and more in any type of soil or water. It gives you both ID readings (the type of metal it detects) and depth readings to spare you the time and heartache of digging deep only to end up with nails. And like the Garrett Ace, it has a waterproof search coil (submersible up to three feet) so you can explore beaches, streams, and riverbeds.
Best (less expensive) metal detector for beginners
Price range: $ | Ground type: All terrain | Experience level: Beginner
If the price of the 440 is too steep, both Kropiwiec and Hube recommend the slightly cheaper Vanquish 340 for beginners. Hube, who lives in Cape Cod, prefers this model over other affordable detectors because it comes with multifrequency technology. Without this feature, she says, the mineral content in saltwater can interfere with a detector's readings. (In her shop, she mostly stocks models from Minelab because even the brand's affordable options offer multifrequency, whereas only select models from other brands like Garrett have the feature.) Like the 440, the Vanquish 340 has a waterproof coil (submersible up to three feet) and is lightweight and collapsible. It has three search modes — coin, jewelry, or all metal — so you can get started quickly and easily. Plus it has noise-cancelling lag-free audio with three volume levels to choose from.
Best metal detector for deep detection
Price range: $$$ | Ground type: Field, woods, beach, and deep water | Experience level: Intermediate to expert
Chambers, Kropiwiec, and Streeter are all fans of the Minelab Equinox 800. Streeter describes the interface as intuitive and says it can detect deeper and has more options than the Garrett Ace and the Minelab Vanquish. Kropiwiec says it's a fairly simple detector to operate and that all you need in order to use it are some YouTube videos and field practice. He also adds that you can often find a used model in great condition for a lower price. The Equinox 800 uses Minelab's multifrequency technology for supersensitive detection and lets you choose from four detecting modes: park, field, beach, and gold. It has a battery life of up to 12 hours, is waterproof up to ten feet, and, depending on which version you buy, can also come with wireless headphones (to help you hear the search tones without ambient distraction) and a pinpointer to help you find your target close up and through mud.
Best all-terrain metal detector
Price range: $$ | Ground type: All terrain | Experience level: Expert
Three of the experts we spoke to — Martin, Barisic, and Kropiwiec — love this metal detector for its high frequency, which allows for greater sensitivity to small items and items with low conductivity, like alloyed or very thin pieces of jewelry. According to Barisic, who recently switched to using the XP Deus, it's more precise and can detect items at a much deeper range than his previous Garrett AT Max. And Kropiwiec says the Deus will last a long time and retain its value. It's an expert-level metal detector with many customizable functions that can be used on any terrain, including search modes for wet sand, dry sand, relic, and coin-hunting. It has a battery life of up to 27 hours and is fully waterproof up to 60 meters. Plus, the company updates its software often and offers free downloadable software upgrades for life.
Best waterproof metal detector
Price range: $$$ | Ground type: Deep water | Experience level: Expert
Thompson has used the Minelab CTX 3030 throughout the Northeast and on detecting trips to England. "Minelab is a manufacturer of military-grade metal detectors on battlefields, and they've been making metal detectors for quite a while," he says. He considers the CTX 3030 to be one of the deepest detectors on the market and says he has used it to find Roman brooches, Spanish silver reales coins, gold rings, necklaces, bracelets, and more. Like the XP Deus, this metal detector has many customizable settings and is fully waterproof up to ten feet. It has a full-color LCD screen that allows you to detect multiple objects underground at once (displayed as dots on a grid) to help distinguish the good stuff from the junk. And it comes with wireless headphones and a built-in wireless speaker that you can clip to your belt.
Best metal detector for kids
Price range: $ | Ground type: Beach and shallow water | Experience level: Children ages 4 to 8 years old
If you've got a kid who is 8 years old or younger and dying to start digging for treasure, Martin recommends this easy-to-use waterproof metal detector. "I have a 7-year-old myself and bought him a Nokta Makro Mini Hoard, which is very lightweight, short, and has a display that shows a thumbs-up smiley face or thumbs-down frown face to indicate if the metal is worth digging up," he says. Because the detector is waterproof up to three feet, kids can get used to digging in loose sand on the beach before moving on to more difficult terrain. It also has a retractable wand that makes it easy to pack for traveling, plus it comes with a sand-sifter, a sand scoop, two sets of stickers, and a two-year warranty.
Best large search coil for extra coverage
Price range: $ | Ground type: All terrain | Experience level: Intermediate to expert
The search coil that comes included with the Minelab Equinox 800 metal detector is 11 inches in diameter. But as you gain more experience, you may want to upgrade to a larger coil. "I have a new 15-inch coil from Minelab that gives me more coverage, and the results are surprising. It can find really small pieces of silver, gold, and bronze, even with fast settings," says Kropiwiec. The larger coil also allows you to increase the depth at which you can detect small pieces of metal. Like the smaller coil that ships with the Equinox 800, it is waterproof while also being excellent for searching in fields and parks. Not all metal detectors allow you to switch out different coils, but most of the expert-level machines do. This particular search coil is only compatible with Equinox-series metal detectors.
Best pinpointer
Price range: $ | Ground type: All terrain | Experience level: All levels
All of the experts we spoke to said that, in addition to a metal detector, you will need a pinpointer to help locate your treasure once you start digging. Thompson likens it to a smaller version of a metal detector that helps prevent him from digging unnecessarily big and messy holes. "You want to dig what looks kind of like a trapdoor. Basically, you cut three sides and you tilt the dirt over. That way, when you put everything back in, it's like you were never there," he says. According to Barisic, the Garret Pro-Pointer is the best one on the market. "It's waterproof and never makes a mistake," he says.
The Strategist is designed to surface the most useful, expert recommendations for things to buy across the vast e-commerce landscape. Some of our latest conquests include the best acne treatments, rolling luggage, pillows for side sleepers, natural anxiety remedies, and bath towels. We update links when possible, but note that deals can expire and all prices are subject to change.