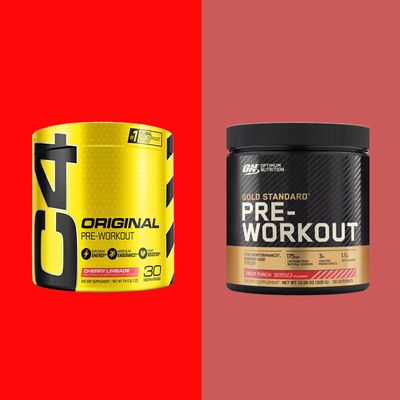 Photo-Illustration: The Strategist; Photos: Retailers
If you're training intensely and could do with a little extra energy at the gym, then pre-workout could be for you. Consider it a bookend to a post-workout protein shake — it's a supplement that boosts your energy, allows you to focus better, and provides some additional endurance for your muscles. "For most, taking pre-workout gives you the energy boost you sometimes feel you need before getting in motion. Oftentimes we find ourselves training early morning before work or early evening after work and might need a bit of pep in our step," says Sam Tooley, lead trainer at Gainful.
With that in mind, if you are someone who wants to incorporate a pre-workout into their routine, I chatted with nutrition and fitness experts about what to look for in an ingredient list, how to add it to your diet, and the ingredients to avoid. However, Test Prep Insight registered dietitian Megan Darlington, personal trainer Eva Peña, and Dr. Raj Dasgupta, the chief medical adviser for Garage Gym Reviews, all advised me that pre-workout is not the correct choice for every type of athlete. "For those bodybuilding or training for a big marathon, for example, I'd recommend they begin to incorporate pre-workouts into their routine. Otherwise, I'd advise finding energy from more natural sources," says Peña. This aligns with the research published on pre-workouts: One randomized, double-blind study in 2020 focused on the effect pre-workouts had on anaerobic performance in resistance-trained men. (The findings were positive.) Lastly, consider these general pointers from Tooley. "Everyone is different, and you should be selective in which pre-workout you take, why you're taking it, and, of course, how it makes you feel. Similar to how our bodies are unique in how they digest certain foods, a certain pre-workout may not work as you intend it to," he says. "Rather than becoming reliant on it, I save it for special occasions or harder training sessions where I know I truly need it. Less is more in my opinion."
Pre-workouts use ingredients such as caffeine, beta-alanine, and L-citrulline to provide energy. Beta-alanine and L-citrulline are both natural amino acids that stimulate the production of nitric oxide in the muscles, enhancing your performance when exercising. "Watermelon is the most naturally rich dietary source of citrulline; however, you would need to eat several pounds of fresh watermelon per day to provide a three-gram dose of citrulline. Therefore, it is more sensible to supplement with citrulline," says Dr. Adam Gonzalez, a professor of exercise physiology at Hofstra University. Gonzalez also recommends caffeine due to its "well-documented" performance-enhancing effects.
All of the experts I spoke to stressed the importance of avoiding pre-workouts that are pumped full of too many artificial ingredients. Some of those ingredients include sweeteners such as sucralose, aspartame, and saccharin. "While these sweeteners may improve the taste of the product and be low in calories, there are plenty of negative side effects that come along with them — like inflammation in the body and a lower amount of good bacteria in your gut," says Darlington. Instead, ingredients to look for include fruit and vegetable extracts, which will help to improve exercise performance and provide some flavor. It's worth noting, though, that two of the trainers I spoke with said that encountering sweetener is unavoidable in pre-workout blends but that, in moderation, they shouldn't cause side effects.
I've also calculated the price per serving of each pre-workout.
Best pre-workout overall
Energy source: Caffeine, creatine monohydrate, and beta-alanine | Other ingredients: Citric acid, sucralose | Price per serving: $1.09
"Optimum Nutrition uses high-quality ingredients like creatine, beta-alanine, and caffeine, which I feel comfortable recommending to my clients," says Manuel Simons, a certified nutritionist coach and co-owner of Stress Relievers' Club. As its blend mixes caffeine, creatine, and beta-alanine — and therefore offers an energy boost, increased endurance, and improved focus — it makes it easier for Simons to recommend it to a range of clients, each with different goals and focuses in the gym. These are also the same ingredients that all of our experts recommended to look out for in a pre-workout. While the blend does contain an artificial sweetener (sucralose), I'm still selecting it as our best pre-workout choice overall, thanks to its other high-quality ingredients, its range of flavors, and its affordability at a little over $1 per serving. We also like Optimum Nutrition's protein powder and included it in our story about the best options.
Best less expensive pre-workout
Ingredients: Beta-alanine, caffeine | Other ingredients: Vitamin C | Price per serving: $0.70
Simons also recommends this cheaper option to his clients "because of the price point — Cellucor always provides good value for the quality of ingredients — and the brand's reputation." Simons also finds that the flavors offered by Cellucor (fruity blends like cherry limeade and fruit punch) "encourage consistent use" among his athletes as it makes the blend less of a chore to down before a workout.
Best sweetener-free pre-workout
Ingredients: Citrulline, beta-alanine | Other ingredients: Stevia and erythritol (non-artificial sweeteners) | Price per serving: $1.69
Simons also often recommends the all-natural pre-workout blends from Legion Athletics. "They're a top choice as they avoid using proprietary blends in their products. Proprietary blends hide the specific dosages of individual ingredients, making it challenging for consumers to know how much of each ingredient they are getting," he says. While the brand's blends don't contain any artificial flavorings, they still have a range of 20 flavors, from mojito to apple cider. They contain citrulline and beta-alanine for providing energy to the muscles, alpha-GPC for endurance, and caffeine for both energy and mental stimulation. If you're someone who wants to avoid caffeine, though, you can remove it as an ingredient when ordering.
Best less expensive sweetener-free pre-workout
Energy source: L-citrulline | Other ingredients: None | Price per serving: $0.15
As an energy source, all of our experts gave L-citrulline the green light. When it comes to choosing a blend of L-citrulline, Darlington recommends Transparent Labs. This is because its pre-workout doesn't contain any "artificial sweeteners, coloring, and preservatives" and there are "no filler ingredients." Quite simply, it's pure L-citrulline. For those wanting to avoid sweeteners and caffeine in their diet, and potential side effects that can arise from those ingredients, this blend is a safe option.
Best-tasting pre-workout
Energy source: Beta-alanine | Other ingredients: Green coffee, orange, lemons, turmeric | Price per serving: $0.96
"I've been using Promix's pre-workout semi-frequently before strength workouts and sessions at the climbing gym since 2021," says Strategist writer Jeremy Rellosa. "After about 20 minutes from the first sip, I get a tingly feeling on my skin (I think the brand also mentions it, which I found funny) — which weirdly helps when I'm doing a hard workout. I feel like I'm buzzing and ready to lift or climb hard whenever I have it." The blend's beta-alanine helps improve muscle endurance while green coffee provides an energy boost. It tastes pretty familiar, too, says Rellosa: "One scoop mixed into my water bottle is enough, and the lemon flavor tastes like a less sweet Gatorade mix."
Some
other
gym
supplements
we've
written
about:
Megan Darlington, registered dietitian at Test Prep Insight
Dr. Raj Dasgupta, chief medical adviser for Garage Gym Reviews
Dr. Adam Gonzalez, professor of exercise physiology at Hofstra University
Eva Peña, personal trainer and founder of Wellness+ Studio
Jeremy Rellosa, Strategist writer
Manuel Simons, certified nutritionist coach and co-owner of Stress Relievers' Club
Sam Tooley, lead trainer at Gainful
The Strategist is designed to surface the most useful, expert recommendations for things to buy across the vast e-commerce landscape. Some of our latest conquests include the best acne treatments, rolling luggage, pillows for side sleepers, natural anxiety remedies, and bath towels. We update links when possible, but note that deals can expire and all prices are subject to change.