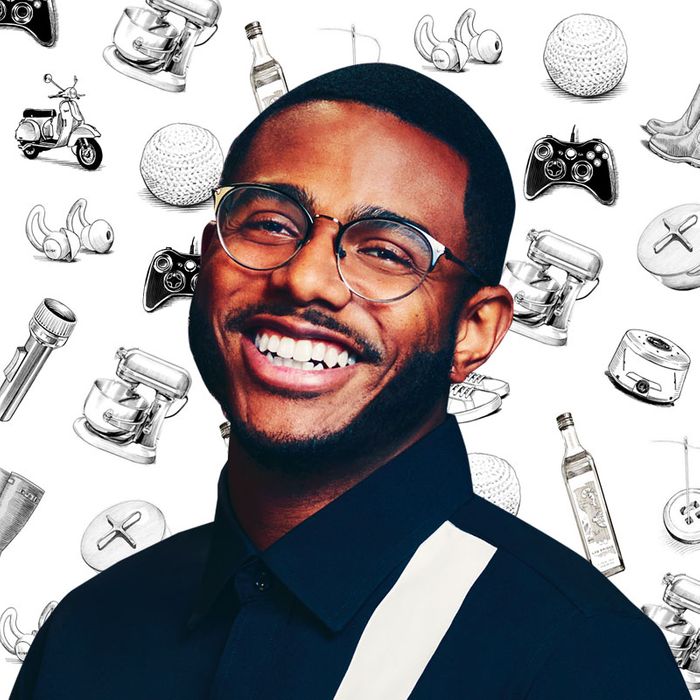 Photo-Illustration: Getty
If you're like us, you've probably wondered what famous people add to their carts. Not the JAR brooch and Louis XV chair but the hair spray and the electric toothbrush. We asked chef Kwame Onwuachi — the author of Notes From a Young Black Chef: A Memoir and a judge on the new season of Top Chef — about the candle, knives, and jeans he can't live without.
Pink is the best Starburst flavor. I don't know why they bother to make any others. They make all-pink packs now so I don't have to sift through a multipack and get those stupid orange and yellow ones. Some days are heavy Starburst days, some days are light Starburst days, but every day is a Starburst day. That's one thing they don't tell you about becoming an adult: You can eat candy at any time and buy as much as you want.
With most durags, you get a line on your forehead when you take them off. This one is made from a very, very soft material — it doesn't leave that line on your forehead afterward. I'll wear it during the day if I have to go somewhere because it helps keep my waves tight, but usually I just wear it to sleep.
I light candles when I meditate each morning. This one is the signature scent of my home. It's kind of masculine and a little musky — I don't really like fruity scents. I originally found it at CB2, but I see the brand everywhere: vintage shops, candle shops, all over.
When I walk into my local H&M, I know exactly where to go because these jeans are always in the same spot. They're really good. I've been wearing them in the kitchen for at least ten years. They go with everything, are slim, and last a long time. They just fit legs really nicely and stop right at the shoe, so they don't bunch or anything. No one would know they only cost $20.