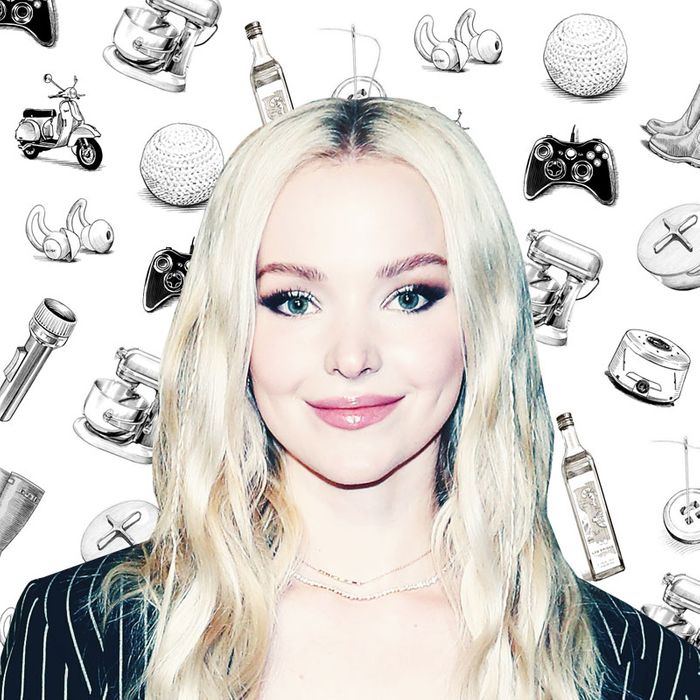 Photo: Cindy Ord/WireImage
If you're like us, you've probably wondered what famous people add to their carts. Not the JAR brooch and Louis XV chair but the hairspray and the electric toothbrush. We asked actress-singer Dove Cameron — whose new single, "We Belong," is out now — about the speaker, face wash, and journal she can't live without.
When I was maybe 17 years old, my mom bought me a Bang & Olufsen speaker that I had been coveting for years and my family really couldn't afford. It was one of those things where everybody pooled their money to get it for me. That kind of kick-started an obsession with speakers — ever since then, I've been kind of a speaker junkie. I'm a big fan of bass, which is why this Bose speaker is one of my favorites. It's really small and really portable, but the bass is super intense. I listen to a lot of Diplo and Sylvan Esso and Labyrinth on it, and it all sounds really good. When I listen to music, I'm definitely moving, dancing, jumping, singing, and this speaker gets really loud. I took it on a recent road trip to Utah with my boyfriend. We rented this beat-up Jeep, and I brought the speaker because I didn't know if I was going to be able to hook my phone up to the old-ass Jeep. The sound filled the whole car and it always fills every room that I'm in. Ten out of ten, would recommend.
About a year ago, I took a picture in a white tank top with no bra on and everybody flipped out. People were like, "You have nipples?" And I was like, "Yeah, so do you?" I've had a love for white tank tops ever since. They're masculine yet feminine — very androgynous and sexy and '90s. I can picture Winona Ryder and Angelina Jolie in them. They also go with everything. And I love seeing some nipple through them, that's just my aesthetic. I also like semi-sheer tank tops because if the material is too thick, it doesn't cling to the body in a nice way. I really like this white tank from Urban Outfitters. It's got kind of a double-strap situation and is cropped enough that I can show a bit of stomach with my high-waisted slacks.
I have a stupid number of notebooks. I have a notebook with my to-do list and I have a journal. My journal is a classic, cheesy, "Dear diary" kind of thing, and journaling has been really helpful for me. I don't use it to catalogue my day — it's for writing my ideas about the world or my life or new ways of thinking. It's almost like my form of self-therapy. I can talk myself out of a train of thought with journaling, or I can catalogue dreams or flesh out things about my identity. It helps me take care of my mind because sometimes an environment that I'm in is not a safe space for me to speak my thoughts. I always get journals from museums. They have the most unique styles. The one I'm currently using is from the Met, which is one of my favorite places in the world.
Photo: IAN TONG
My boyfriend is always like, "Why are you lighting candles all the time? No one's here but us." And I'm like, "It's for me!" It's never for other people. I discovered these candles a couple months ago through my assistant — I was looking for a natural alternative. I get really scared of having too many chemicals in my house. I don't use air fresheners or sprays unless they're organic — so many candles smell amazing, but I worry they are slowly poisoning me. I feel really good about these ones, though, and I can't stop ordering them. They last forever and they smell incredible. I think they're made from soy? This coconut-milk-and-spice scent is unbelievable — I've never smelled anything else like it.
My hair has been through so much it would take me about an hour to explain why it is actually not as radiant as it sometimes looks on Instagram. I place a lot of trust in what industry people say about products and noticed that people with the most beautiful, healthiest hair were talking about this cultish oil. When a product is being talked about as much as this hair oil is, you have to assume it's for a reason. The oil is really lightweight and honey is great for hair. It's made my hair so much healthier and brighter in a very short amount of time. I still have a long way to go, but it's so much better.
Three weeks before lockdown, my boyfriend and I moved into a studio apartment that I love. It's big and bright and open. But we've been spending a lot of time together in one room. If we both are using headphones, we can kind of live parallel lives in the apartment. It feels like we've got some space. I'll pop my AirPods in when I'm making food or cleaning or listening to something and he's doing his own thing. I pretty much always use them when I'm out and about, too. I actually got mine as a gift. I've used corded Apple headphones — they're tinny and don't have a great bass. So I didn't think AirPods would be any better. I was using Bose headphones before I got my pair, and after I received them I was like, "I'm never going back." Shockingly, the quality is really, really good.
When I did Marvel's Agents of S.H.I.E.L.D., they dressed me in all these kinds of combat-esque clothes because I was a villain. They got me these massive Doc Martens because they looked really industrial. I fell in love with them. When I was done filming, I wanted to order all the stuff I wore for one outfit I was in for a lot of the time. The character was just so sexy and badass, and I felt amazing. So I gave my mom the link to the Doc Martens — I don't remember why she helped me order them — and I guess I gave her a link to the men's version, and told her the wrong size too? I don't really know what happened, but now I have these oversize men's Doc Marten boots. I'm usually a six and a half or seven in women's shoes, and these are like an eight in men's. They're huge, but I think that's what makes them extremely comfortable. I really like that they kind of drag on the ground and feel a bit heavy. Now, every time I put on a women's pair of Doc Martens that actually fit me, they feel too tight. The other thing about mine is, because they're so big, I can stuff whatever pants I'm wearing into them, even if I'm wearing really heavy sweats or the jeans are too long on me. I can fit anything in them. This sounds so funny, but they don't look like clown shoes, trust me.