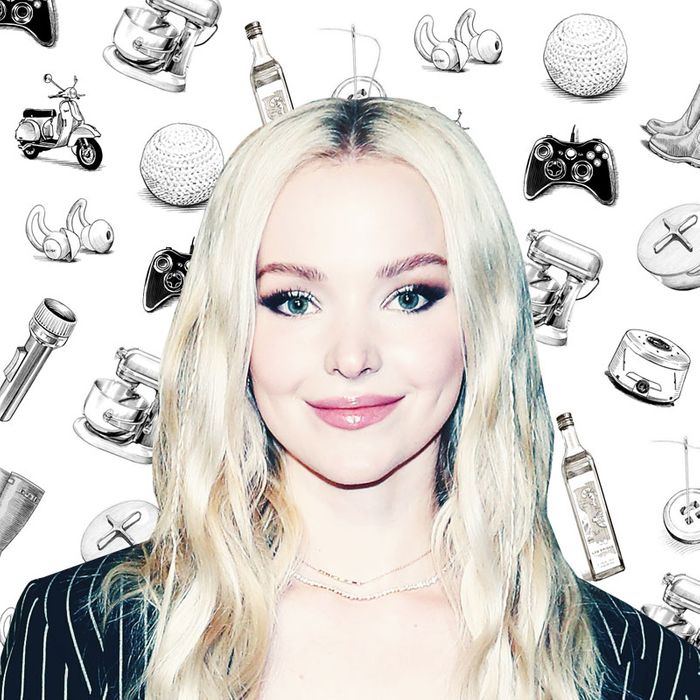 Photo: Cindy Ord/WireImage
If you're like us, you've probably wondered what famous people add to their carts. Not the JAR brooch and Louis XV chair but the hairspray and the electric toothbrush. We asked actress-singer Dove Cameron — whose new single, "We Belong," is out now — about the speaker, face wash, and journal she can't live without.
When I was maybe 17 years old, my mom bought me a Bang & Olufsen speaker that I had been coveting for years and my family really couldn't afford. It was one of those things where everybody pooled their money to get it for me. That kind of kick-started an obsession with speakers — ever since then, I've been kind of a speaker junkie. I'm a big fan of bass, which is why this Bose speaker is one of my favorites. It's really small and really portable, but the bass is super intense. I listen to a lot of Diplo and Sylvan Esso and Labyrinth on it, and it all sounds really good. When I listen to music, I'm definitely moving, dancing, jumping, singing, and this speaker gets really loud. I took it on a recent road trip to Utah with my boyfriend. We rented this beat-up Jeep, and I brought the speaker because I didn't know if I was going to be able to hook my phone up to the old-ass Jeep. The sound filled the whole car and it always fills every room that I'm in. Ten out of ten, would recommend.
About a year ago, I took a picture in a white tank top with no bra on and everybody flipped out. People were like, "You have nipples?" And I was like, "Yeah, so do you?" I've had a love for white tank tops ever since. They're masculine yet feminine — very androgynous and sexy and '90s. I can picture Winona Ryder and Angelina Jolie in them. They also go with everything. And I love seeing some nipple through them, that's just my aesthetic. I also like semi-sheer tank tops because if the material is too thick, it doesn't cling to the body in a nice way. I really like this white tank from Urban Outfitters. It's got kind of a double-strap situation and is cropped enough that I can show a bit of stomach with my high-waisted slacks.
I have a stupid number of notebooks. I have a notebook with my to-do list and I have a journal. My journal is a classic, cheesy, "Dear diary" kind of thing, and journaling has been really helpful for me. I don't use it to catalogue my day — it's for writing my ideas about the world or my life or new ways of thinking. It's almost like my form of self-therapy. I can talk myself out of a train of thought with journaling, or I can catalogue dreams or flesh out things about my identity. It helps me take care of my mind because sometimes an environment that I'm in is not a safe space for me to speak my thoughts. I always get journals from museums. They have the most unique styles. The one I'm currently using is from the Met, which is one of my favorite places in the world.