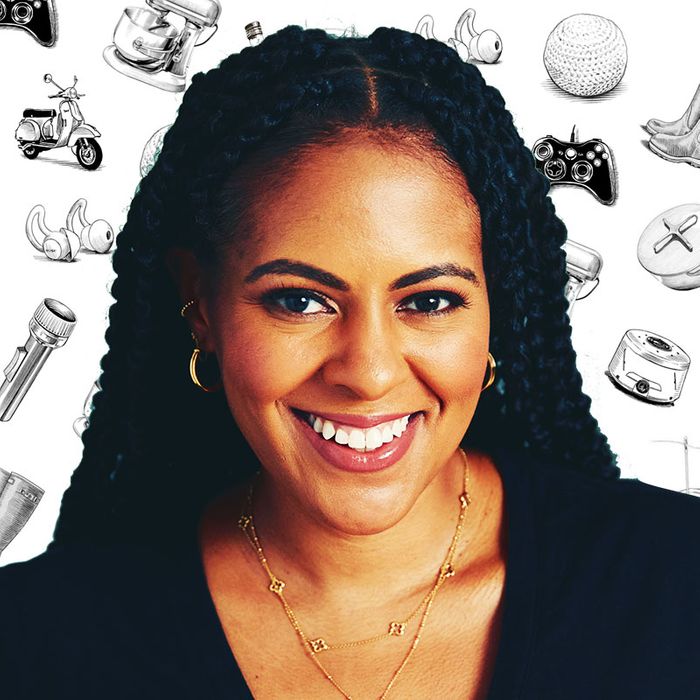 Photo-Illustration: Courtesy Clare
If you're like us, you've probably wondered what famous people add to their carts. Not the JAR brooch and Louis XV chair but the hair spray and the electric toothbrush. We asked Clare paint founder Nicole Gibbons about the candle, tinted moisturizer, and espresso machine she can't live without.
I like to have a good complexion and nice, clear skin during all the Zoom calls that are endlessly scheduled throughout my day. I have some hyperpigmentation, so I always use some sort of tinted moisturizer to even out my skin tone. This is a lightweight moisturizer that I can layer on. Even if I'm not going anywhere, it makes me feel more confident and gives me that healthy glow. It's my go-to.
Before COVID, I would go to multiple coffee shops a day — usually one in my neighborhood on my way out the door and then one in the middle of the day near my office. Between the tip and the actual lattes I'd buy, it was a $15-a-day habit. Now that I have this really wonderful espresso machine, I can make delicious lattes at home for a fraction of the price. It's been really fun learning the art and science of coffee and how to dial in a good shot of espresso. It feels so fancy, like I have my own coffee shop at home. I've been enjoying the coffee from BLK & Bold, a Black-owned roaster in Iowa.
I love warm, sensual scents. This candle has a smoky fig scent that's intoxicating and sexy and woodsy and cozy. I used to work in fashion, and one of my former colleagues started this company. She gifted me my first candle, and I just loved the scent so much that I continued to buy it. As a designer and a home-décor person, I get gifted a lot of candles, so I rarely buy them. But this is one that I buy over and over again because I really love it.
I basically live in sweatshirts and cozy stuff these days, given that I'm home all the time. This company was started by Meena Harris, Kamala Harris's niece. It sells T-shirts and sweatshirts with fun little sayings that are all about empowering women and celebrating marginalized people. This one embraces the idea of women being ambitious and going after their dreams. That sums up what I've done in my life and my career, which is why I love it. I also love the vibrant pink color.