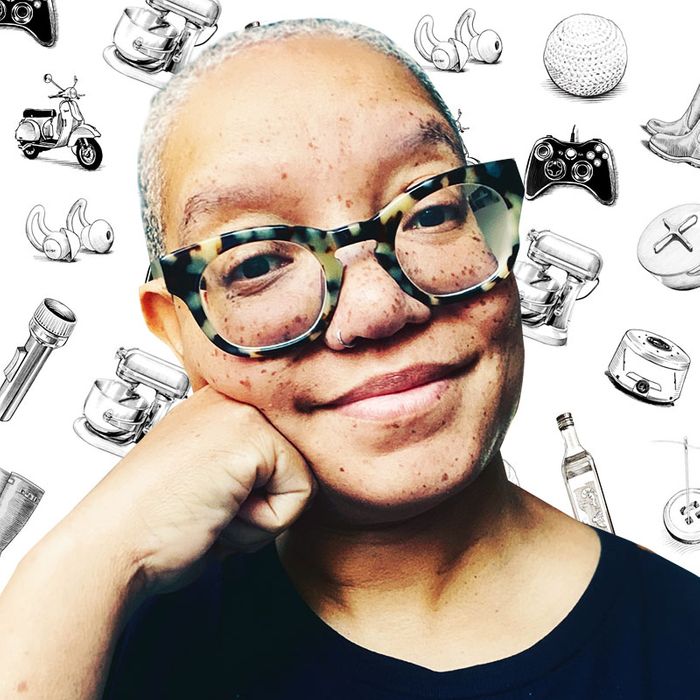 Photo-Illustration: Courtesy
If you're like us, you've probably wondered what famous people add to their carts. Not the JAR brooch and Louis XV chair but the hairspray and the electric toothbrush. We asked Black Girl Pilates founder and activist Sonja R. Price Herbert about the workout leggings, lip gloss, and water bottle she can't live without.
I started using Fenty Skin on a whim because it's a Black-owned company and I like Rihanna. My skin reacts to stuff, so I tried a sample pack first and I really, really liked it. I ended up buying the four-pack, which has the cleanser, Fat Water toner, moisturizer, and nighttime gel cream. The cleanser is creamy — my face doesn't feel dry afterward, and I don't need to use much. The bottle is going to last me almost a year, I'm sure. The toner really does what it says it does: It closes your pores and my skin feels more even-toned. I also love the smell. The moisturizer has SPF in it, which is great. And the night cream is very moisturizing because your skin is rebuilding cells at night. I love it all. I didn't think that I would, but I do.
I like that these are high-waisted. Lots of people are concerned about rolls or whatever; I have some because I'm in menopause — not a lot, but these leggings make me feel more secure. I don't have to worry about pulling my pants up. They fit really, really nicely — like a second skin. I wear them for Pilates and powerlifting as well.
This is CBD-infused. I use it at night and day. It keeps my skin moisturized and gives me this euphoric, calming kind of feeling, but without real weed. It definitely makes my skin softer. It's almost like using an essential oil and is nice to sniff under a mask.
I met Buy From a Black Woman founder Nikki Porcher a couple of years ago in Brooklyn, when she was going around to different Black-female-owned businesses. She provides resources, like workshops and webinars on how to start a business, for Black female entrepreneurs. She also keeps a list of Black female-owned businesses, so if you're looking for something specific like a Black woman who makes T-shirts, she has a whole database of those types of businesses. I have two of her mugs and I love them.
No matter the texture, if you have curly hair, like me, and you want your curls to pop, then this is it. It doesn't flake like other curl gels. You don't need a lot, maybe just a quarter-size amount. I rub it into my hair and my curls are instantly popping big. The smell is like a fresh flower — not like an intense Bath & Body Works flowery smell. I've been using it for a good two years now. I love Uncle Funky's products; I also use its