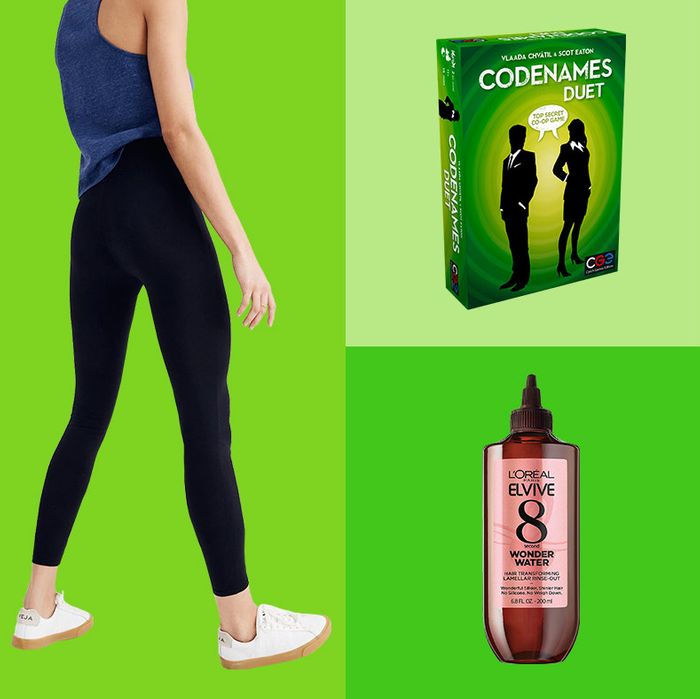 Photo: Courtesy retailers
Welcome back to Your Shopping Cart, where we break out the top ten products that you, devoted Strategist readers, bought in droves. Think of this as the TL;DR of the Strategist. If your like-minded brethren are buying these items, maybe you'd like to, too.
Between the coronavirus pandemic and the fact that thousands of American are now under orders to stay at home, March has been a doozie — and that could be why there's a bunch of new entries on this month's roundup of our readers' most-purchased products. On the preparedness front, readers bought mini UV light wands to sanitize hard-to-clean surfaces and an extra-strength hand cream to combat dryness caused by excessive hand washing. But you've also been looking for new ways to stay occupied, which could account for all the two-person board games and bottles of our favorite silicone-based lube. But you're not slouching on those Zoom calls either, since our readers also picked up a magical hair serum, a hyaluronic moisturizer, and nice-looking work-from-home leggings. Plus, our favorite Wamsutta pillow for side-sleepers and a dentist-recommended mouth guard for nighttime teeth grinders came back on the list, to hopefully offer a better night's sleep during this stressful time.
Making its first appearance on our best-sellers list, this "Wonder Water" made quite an impression on readers. Writer Julie Vadnal describes this $9 serum-like formula as "even better than a mask," because this moisturizing hair treatment has completely eliminated the need for conditioner altogether. After using it three times a week, she noticed her hair was smoother and shinier than ever before — so much so that any "passersby could practically check their own reflections in it."
Our readers also can't seem to get enough of this gel-cream moisturizer because this is the seventh time it's popped up on our list. Not only is it one of our best-rated drugstore moisturizers, it's also been recommended to help with dry skin, mature skin, sunburned skin, and Accutane users. That's because it's jam-packed with deeply hydrating ingredients like hyaluronic acid, which deeply hydrates the skin, and glycerin, which locks the moisture in. Plus, it's fragrance-, oil-, and dye-free, so it's a safe bet for those with sensitive skin.
As part of our coronavirus coverage, we looked into whether UV lights can actually effectively kill viruses and germs. Four different experts explained it definitely can, so it's no surprise this mini UV wand became a bestseller for the first time (though for what it's worth, you don't have to have a UV light to protect yourself; washing your hands properly for 20 seconds with soap does the trick). This wand is best for surfaces, such as your tabletop and counters, and your devices like an iPhone, but it should never be used for your skin because overexposure to UV light has been linked to skin cancer. Fortunately, it turns off as soon as you flip it light-side-up, in order to protect your eyes.
We're welcoming this Wamsutta pillow back to our bestsellers list for the 30th time. It's been our long-standing pick for best pillow for side-sleepers, because it's specifically designed for side-sleepers, so it caters to their needs. It's got a "firm, satisfying spring," as opposed to plushness masking as support, and you won't sink too deep into the pillow.
It seems like people are making the best of self-isolation with their partners (or by themselves) because our pick for the best lube is making its 21st appearance on this list. Not only is it all-natural, glycerin- and paraben-free, the vitamin E additional smoothness and the silicone helps it stay slippery for longer.
With how much everyone is washing their hands, clearly the dry, cracked skin is in need of a little TLC. Our beauty writer Rio Viera-Newton recommended this $4 hand cream because it helps her moisturize her over-washed hands that are suffering from intense flareups. "I put it on as soon as it arrived, and the first thing I noticed was how nice it felt to massage the thick, hydrating cream into my skin," she writes. Within three days, her hands were completely healed.