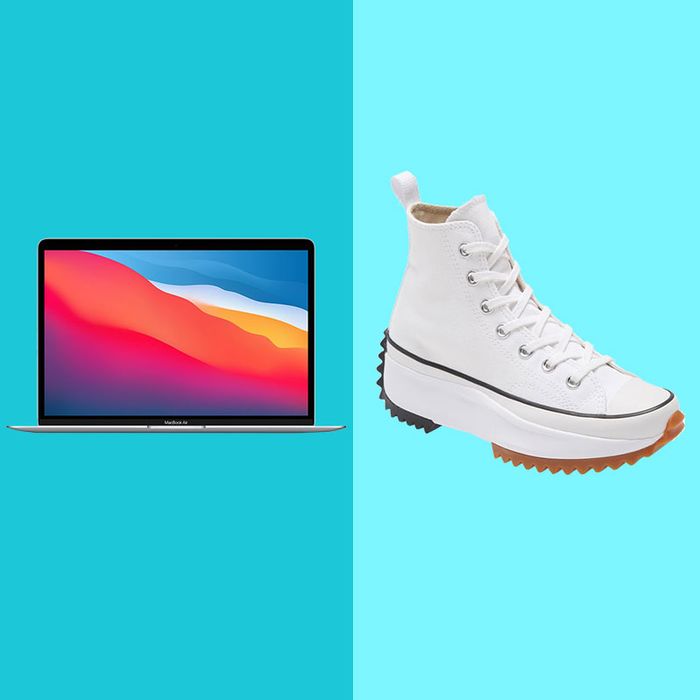 Photo-Illustration: RETAILERS
Whether you're decorating your dorm room or upgrading your laptop, back-to-school shopping is no easy (or inexpensive) task. In order to make the process a little easier on your wallet, we put our sales-sleuthing skills to the test to find all of the best discounts for college students, some of which can even be applied year-round (and until graduation). Discounts range from 20 percent off leggings to $100 off laptops, and all are exclusively for college students — meaning you'll need a .edu email address to access them. While several of the discounts can be activated directly through the brand or retailer, some require you to set up a (free) account on websites like UNiDAYS or Student Beans to shop. It's also worth noting that while some of these deals are fixed, some discounts change year-round, and we'll be updating this post accordingly. In short: If nothing below catches your eye, keep checking back. (And if something does, as always, don't dilly dally.)
Adobe
In collaboration with Billie Eilish, Adobe is offering students a 60 percent discount on an Adobe Creative Cloud subscription, which includes access to more than 20 apps — including Photoshop, Illustrator, Acrobat Pro — and 100GB of cloud storage. The subscription starts at just $20 per month (regularly $53 per month) for verified students and teachers.
Amazon Prime Student
If you're not already using your parents' account, students can sign up for Amazon Prime Student for just $6.50 per month, or $78 per year. Amazon Prime Student offers the same perks as a standard Prime membership including free two-day shipping, free same-day delivery in select areas, and access to the entire Prime Video library. Plus, the first six months are free.
Space-saving hangers that one RA says lasted her all four years of college.
Amazon Prime Student x Audible
Until September 30, Prime Student members can get three months of Audible Premium Plus for free (normally $14.95 per month), as well as three free downloadable audio titles.
Amazon Prime Student x Grubhub+
Prime Student members also get a free monthly Grubhub+ Student membership, which includes unlimited free delivery. Earn 10 percent Grubhub+ Cash on all off-campus pickup orders, plus donation matching and more. Activate the deal here.
Amazon Prime Student x Calm
There's more: College students with Amazon Prime Student memberships can de-stress with the Calm app for three months free, and then just $9 per year (normally $70). Activate the deal here.
Apple
On top of student and educator discounts, Apple will also throw in a free pair of AirPods when you buy select Macs and iPads for college. AirPods with the regular wired charging case are free, or you can upgrade to the wireless case for $40 more. The noise-canceling AirPods Pro will cost you $90 more. As far as device-specific discounts go, students can take $100 off a MacBook Air or MacBook Pro, $50 off the new iMac, and $50 off an iPad Pro or iPad Air. Both the AirPods Pro promotion and the device discounts are valid through September 27. Additionally, an Apple Music subscription for students is just $5 per month — half the price of a regular subscription — and now includes Apple TV+ for free.
Apple's lightest laptop has a super-clear Retina display and updated keyboard (that'll seamlessly pair with all of your other Apple devices).
"Compared to the Air, MacBook Pros are a step up in power and storage capacity," explains Strategist tech writer Jordan Bowman. The built-in speakers "don't disappoint," he assures, and if you upgrade to the faster 1.7-ghz i7 processor, you'll be able to easily manage audio, video, and photo editing.
American Eagle
Students can take 20 percent off online and in-store at American Eagle with a unique promo code once verified through UNiDAYS.
Throw this hoodie on before heading over to the (somehow always freezing) library.
Bike around campus in these seven-inch stretchy shorts, which have a universally flattering wrap waist and come in several different colorways.
Asics
Asics offers verified students a discount of 25 percent off all full-priced products online.
The gel-infused sneakers one runner says have "just the right amount of cushioning and help relieve some of the pounding on my knees when I'm logging a lot of miles." They're also available in men's sizes.
ASOS
Over at ASOS, college students can take 10 percent off their order year-round after verification of student status.
The platform sneakers this deals writer once called "hands down, the most comfortable pair of Converse I've ever worn."
BAGGU
BAGGU offers students 15 percent off their purchase through Student Beans.