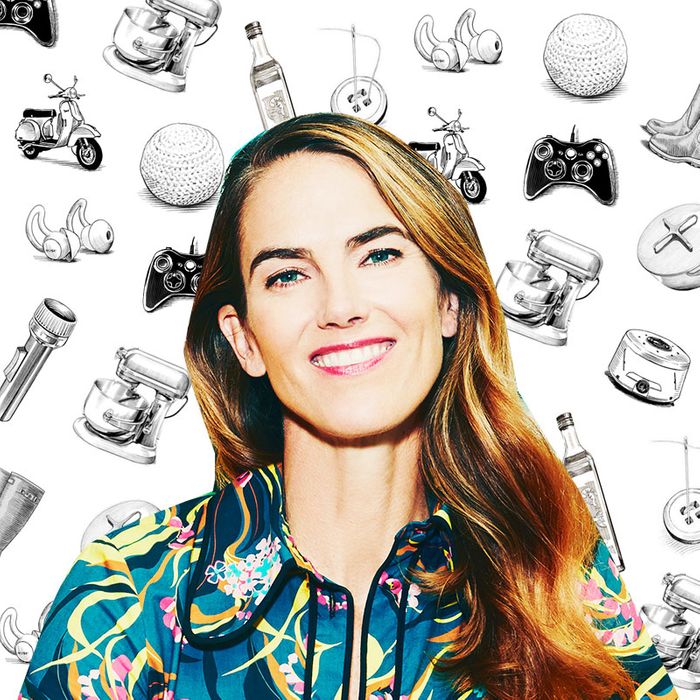 If you're like us, you've probably wondered what famous people add to their carts. Not the JAR brooch and Louis XV chair, but the hand sanitizer and the electric toothbrush. We asked La DoubleJ founder and designer J.J. Martin about the essential oils, coat, and book she can't live without.
I discovered these essential oils three or four years ago, and after that I kind of stopped using any sort of medicine and definitely stopped using any sort of fragrance. Like, I never use any chemical fragrance from a spray bottle. I would much rather just smother myself in lavender oil rather than wear, I don't know, Poison, or whatever it is people are wearing. And it was really incredible to discover how the oils have so many medicinal properties. Melaleuca is for a pimple or a rash — it's basically tea-tree oil — and you can also use that as a cleanser for your house. It's a purifier — it will purify your toilet and it will purify your face. Doterra's On Guard is awesome, too. It's the best-smelling immune-system booster you could ever imagine.
We created a whole La DoubleJ collection around the Greek goddesses because I read this book and was very inspired. It was written by a Jungian analyst who talks about how the Greek goddesses are representative of female archetypes that are timeless across the millennia and across cultures, and how their stories can help illuminate our own strengths, weaknesses, habits, bad patterns, and the things we need to do to change and grow. It is just so fascinating, and actually helps build your strength and confidence in your inner powers so that you rise as a queen. I was part Athena, part Artemis, and part Persephone. Athena is super logical and all business, and Artemis is the goddess of the hunt and the moon. She's really connected to nature, which I am, too. Persephone is the queen of the underworld — I had been seeing this naturopath in Milan, and he kept talking about how my dark moods were an exploration of the underworld. He was like, "You're not depressed, it's the underworld. You need to learn about the meaning of Persephone spending time down in the underworld with uncomfortable feelings, and learn to embrace it, live with it, accept it."
I'm anti-product, anti riff-raff, and sort of anti-handbag. I don't have a lot of stuff. I don't wear a lot of makeup anymore actually, either, so I whittled down my regime to just the basics: the oils and the beauty products that really feel all-natural to me. In Fiore's stuff feels legitimate and the smells are so divine — it's really, really delicious. I use them in the morning and at night. I wash my face, put on the serum, and then put on the cream. There's no secret. I just think they're amazing products.
So this is one of those hilarious Italian things where people are always like, "Do you want a Polase?" And I'm like, "What is that?" They're obsessed with their salt levels, like their mineral salts. So basically after they work out they're like, "Oh I need to replenish my salts." I'm like … okay? I never really understood it, and then I tried one and was like, "This is fantastic." It's the perfect mid-afternoon boost, like when you're done with your lunch and it's four o'clock and you really want a cookie, just have one of these. It's just a really good stabilizer. You mix it with water, it tastes kind of orange-y.
Colville is a brand that's based in Milan and designed by three women who used to be at Marni: Lucinda Chambers, Kristin Forss, and Molly Molloy. I love them; I think they're geniuses and so edgy and cool. I'm not edgy and cool, but I love this earring. It is seriously the go-to earring whenever I need to dress up. With whatever I'm wearing to work, I'll just throw on these earrings and put on some lipstick, and that's it. Today I'm wearing a jacquard, taffeta puffy skirt and puffy top, and I could wear them.