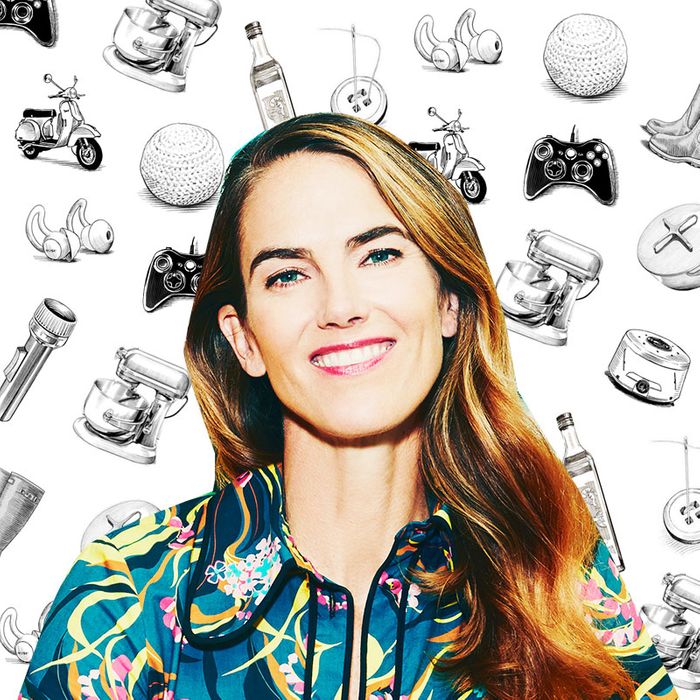 If you're like us, you've probably wondered what famous people add to their carts. Not the JAR brooch and Louis XV chair, but the hand sanitizer and the electric toothbrush. We asked La DoubleJ founder and designer J.J. Martin about the essential oils, coat, and book she can't live without.
I discovered these essential oils three or four years ago, and after that I kind of stopped using any sort of medicine and definitely stopped using any sort of fragrance. Like, I never use any chemical fragrance from a spray bottle. I would much rather just smother myself in lavender oil rather than wear, I don't know, Poison, or whatever it is people are wearing. And it was really incredible to discover how the oils have so many medicinal properties. Melaleuca is for a pimple or a rash — it's basically tea-tree oil — and you can also use that as a cleanser for your house. It's a purifier — it will purify your toilet and it will purify your face. Doterra's On Guard is awesome, too. It's the best-smelling immune-system booster you could ever imagine.
We created a whole La DoubleJ collection around the Greek goddesses because I read this book and was very inspired. It was written by a Jungian analyst who talks about how the Greek goddesses are representative of female archetypes that are timeless across the millennia and across cultures, and how their stories can help illuminate our own strengths, weaknesses, habits, bad patterns, and the things we need to do to change and grow. It is just so fascinating, and actually helps build your strength and confidence in your inner powers so that you rise as a queen. I was part Athena, part Artemis, and part Persephone. Athena is super logical and all business, and Artemis is the goddess of the hunt and the moon. She's really connected to nature, which I am, too. Persephone is the queen of the underworld — I had been seeing this naturopath in Milan, and he kept talking about how my dark moods were an exploration of the underworld. He was like, "You're not depressed, it's the underworld. You need to learn about the meaning of Persephone spending time down in the underworld with uncomfortable feelings, and learn to embrace it, live with it, accept it."
I'm anti-product, anti riff-raff, and sort of anti-handbag. I don't have a lot of stuff. I don't wear a lot of makeup anymore actually, either, so I whittled down my regime to just the basics: the oils and the beauty products that really feel all-natural to me. In Fiore's stuff feels legitimate and the smells are so divine — it's really, really delicious. I use them in the morning and at night. I wash my face, put on the serum, and then put on the cream. There's no secret. I just think they're amazing products.
So this is one of those hilarious Italian things where people are always like, "Do you want a Polase?" And I'm like, "What is that?" They're obsessed with their salt levels, like their mineral salts. So basically after they work out they're like, "Oh I need to replenish my salts." I'm like … okay? I never really understood it, and then I tried one and was like, "This is fantastic." It's the perfect mid-afternoon boost, like when you're done with your lunch and it's four o'clock and you really want a cookie, just have one of these. It's just a really good stabilizer. You mix it with water, it tastes kind of orange-y.
Colville is a brand that's based in Milan and designed by three women who used to be at Marni: Lucinda Chambers, Kristin Forss, and Molly Molloy. I love them; I think they're geniuses and so edgy and cool. I'm not edgy and cool, but I love this earring. It is seriously the go-to earring whenever I need to dress up. With whatever I'm wearing to work, I'll just throw on these earrings and put on some lipstick, and that's it. Today I'm wearing a jacquard, taffeta puffy skirt and puffy top, and I could wear them.
Living in Italy, I'm super conscious and conscientious of all of those "made in Italy" brands. Max Mara is such a workhorse; it's an amazing, cool, easy, traditional Italian brand. Everything is made beautifully. I adore this coat because it's really oversize and slouchy, so you never have a problem putting it over a thick sweater. It's such a staple, and what's great about that coat is that you can seriously wear it with sweatpants, jeans, or an evening dress.
One of my closest friends in Milan is a girl called Giselle Bridger. She's half-Italian and half-American, and just extraordinary. I met her on a yoga retreat in Mallorca three years ago, and she's also one of the leaders of my yoni group, which is basically a women's circle. We do retreats, we do weekends together, we do night events, and it's all about feminine energy and reproductive health. So Giselle is my teacher, and if I get a yeast infection, she'll be like, "Okay, J.J.," and give me these all-natural herbal remedies. It's almost like she's a medicine woman. She and her partner are anti-anything — like, women think they need to wash their intimate parts with a special soap, and they're like "No, do not." Every yoni needs its own space, pH, etc. So she developed this special oil that you can use to moisturize yourself and keep yourself super fresh and fragrant and beautifully natural. It smells so good that I put it all over the rest of my body, as well. She makes custom blends, too, so you can just contact her and she'll make you one.
Over the last eight years, I've had this deep dive into spirituality. Ayahuasca, energy healing, shamans, the yoni group, Yin Yoga, meditation, qi gong — name it, I've done it. Qi gong has been a really kind of cool new practice. Qi means life force energy and gong means movement — sort of your internal spirit, and the energy that you have flowing through your body. It's running through your meridians, it's running through your aura. In qi gong, you learn movements that get this energy flowing better and allow you to unblock certain physical barriers you might be having, like pains and aches. But also emotional, psychological, and spiritual blocks. I've been to Bali several times for qi gong retreats, but then the other thing you can do is Skype sessions with a qi gong master. He's able to move my energy either physically, like when we're in the same room, or via Skype. It still works. This practice is really helpful, and it's something I really recommend to friends. You can book a private session, and you don't really need anything to do it. You just use your breath, energy, and your body.
We name all of the dresses at DoubleJ after friends or after funny moments — like the Tinder dress, which is our sexy dress. There's the Good Witch dress. Pemberley is very Jane Austen. This dress is named after me, Jennifer Jane Martin. The shape is just my ideal everyday. Obviously, it's not for the winter. But fall, spring, summer, this is the dress I want to wear every day. We've tried this dress on short women, tall women, girls of all sizes. If you ate too much dinner, it's cool; if you feel like your butt is fat, that's cool, too. It basically only fits in the shoulder and the arms, and everything else is easy. I hate body-skimming clothes. I'd much rather have something that just trails behind me — you know, from my past life in the 17th century. I definitely had a few past lives in decadent centuries, for sure.
The Strategist is designed to surface the most useful, expert recommendations for things to buy across the vast e-commerce landscape. Some of our latest conquests include the best acne treatments, rolling luggage, pillows for side sleepers, natural anxiety remedies, and bath towels. We update links when possible, but note that deals can expire and all prices are subject to change.