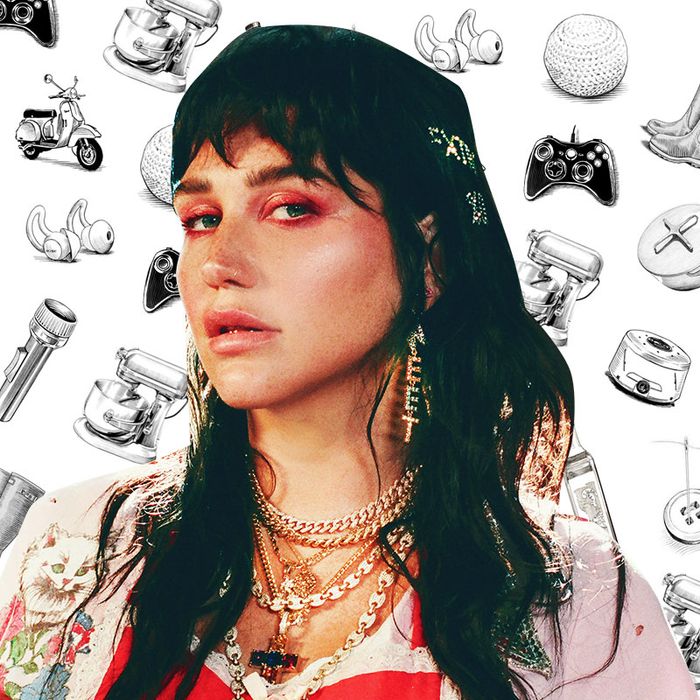 Photo-Illustration: Courtesy of Dana Trippe
If you're like us, you've probably wondered what famous people add to their carts. Not the JAR brooch and Louis XV chair but the hairspray and the electric toothbrush. We asked Kesha — who recently released an eponymous makeup line, Kesha Rose — about the record, sewing machine, and bath bomb she can't live without.
Vinyl is one of my favorite ways to listen to music, but I too often find myself in situations where I can't sit down and enjoy a record from start to finish. This is the first time I've been able to go through my collection in probably ten years. I get records whenever I'm on the road; I think I got this one in Germany? It's really interesting, and very soothing. It sounds kind of like how the streets feel right now: weirdly peaceful, but really strange, and totally ominous. It's my soundtrack to quarantine.
I love gummies and have such a sweet tooth. These are like candy, but good for you. I love that I can eat them and be like, "No, they're vitamins." I'm being healthy and I'm doing my body a favor. They're great for your immune system. And they're vegan!
I've been sewing since I was 10 years old. I went to Miss Marguerite's Sewing School in Nashville, but my best friend and I got kicked out — she wanted to make a really short skirt, but Miss Marguerite did not like that, and I was ride-or-die, even back then. I was like, "Well, if she can't come, then I'm not doing it." But I did still learn how to sew. I haven't been able to sit down and sew something since I first put out "Tik Tok" and made an outfit to play a bar in front of maybe 200 people. Now I'm sewing some of the vintage T-shirts I've collected back together — they're falling apart, so I'm making them wearable.
[Editor's note: The Singer Start is seemingly in high demand at the moment, because we've had a hard time finding it online anywhere but Etsy, where the few available right now are priced much higher than the model's list price. Wayfair says it'll have the machine back in stock on July 1, and we'll update this piece as we notice it restocked elsewhere.]
It's an energy drink that's kind of like a soda, and helps me focus. I drink one whenever I'm trying to get something done. Or when I'm sick of drinking water, but it's not quite time for a beer. There are a bunch of different flavors that are really interesting. My favorite is the purple one, the pear-guava. It's like my version of coffee.