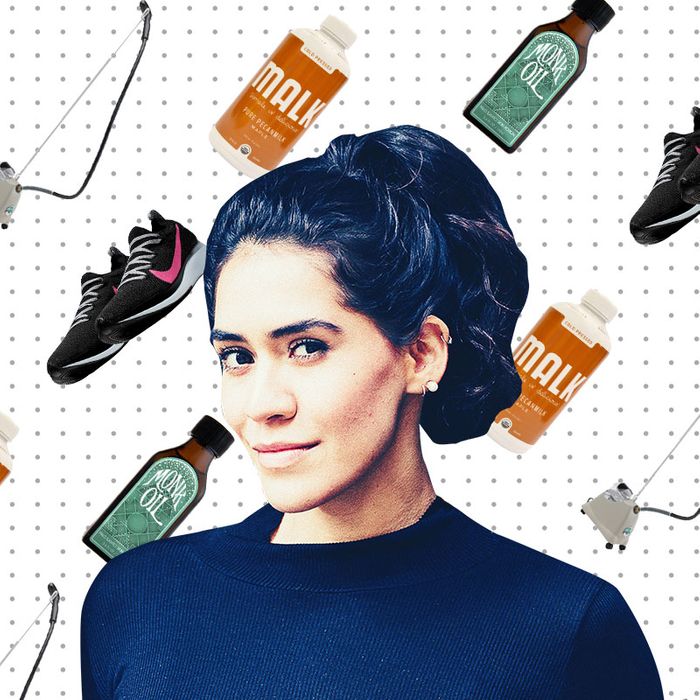 Photo: Courtesy of Daniela Soto-Innes
If you're like us, you've probably wondered what famous people add to their carts. Not the JAR brooch and Louis XV chair, but the hand sanitizer and the electric toothbrush. We asked Daniela Soto-Innes, the chef and co-owner of Atla and Cosme who was recently named the "World's Best Female Chef" by The World's 50 Best Restaurants, about the deodorant, toothpaste, and yoga pants she can't live without.
This tastes amazing, and my teeth feel smoother when I use it — kind of how they feel after brushing with activated charcoal. It's minty, but subtle; it doesn't taste fake. And the toothpaste comes with a tool to help get every last drop out of the tube. I love to roll that thing.
My boyfriend introduced me to this steamer, and it's the best thing ever. It gets hot in less than a minute, and I use it on everything — jeans, T-shirts, heavy sweaters, coats. It will work on almost anything, you just have to be careful. I put a thin layer of gauze between the steamer's head and any nicer clothes I use it on.
I've lost so many pairs of headphones. I love these because they don't fall off; they stay on my head whether I'm walking to work, or working out. I have them in gold — but I also love the black pair.
I have a mane of wild, curly hair, and this is the only thing that tames it. I'll use different shampoos, but only this conditioner — it's the star of the show, and I buy several bottles at a time so I won't run out (I use it every other day). My sister has wild hair as well — she's a bit of a hippie, and doesn't know what a brush is — so I gave her some, and now she's obsessed, too.
I sweat a lot in the kitchen, and I used to use tea tree oil to mask the odor, but it smells too strong. This herbal deodorant is perfect. There's no aluminum — it's not an antiperspirant — and it has a subtle oaky, woodsy smell. I do a spritz under each armpit before I go to work and everyone says I smell so fresh.
I like to run outside, but one of my ankles has never been the same since I broke it while dancing in really high heels. A few friends of mine that are marathon runners recommended these shoes to me. They hug my ankles perfectly; I wear them every time I work out.
Every woman in the kitchens at Atla and Cosme wears yoga pants to work. I've tried them from a ton of brands, and these are the best to wear in the kitchen. They have two pockets: one for my cell phone and one for my Sharpie (so I don't have to carry either in my apron). Plus, I think these pants make me look more attractive. I'll usually go to SoulCycle between shifts, and in these I can go straight from the kitchen to class.