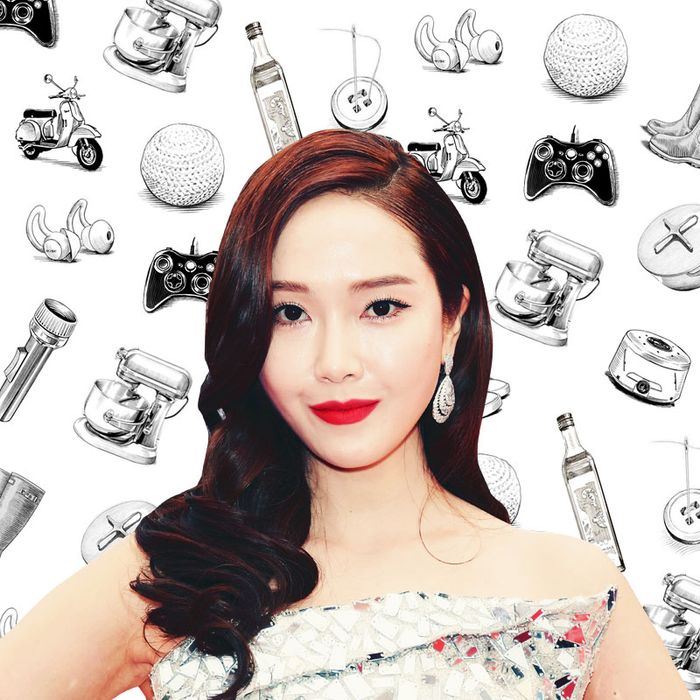 Photo-Illustration: Dominique Charriau/WireImage
If you're like us, you've probably wondered what famous people add to their carts. Not the JAR brooch and Louis XV chair but the hairspray and the electric toothbrush. We asked K-Pop star Jessica Jung — the founder of lifestyle brand Blanc & Eclare, who was recently named Revlon's newest global brand ambassador — about the candles, tea, and notebook she can't live without.
I got mine at a bookstore in Korea, but you can probably find one just like it anywhere. It's so cute. It's covered in sequins, and when you run your hand from top to bottom, they change to a different color. It's very eye-catching. I always get compliments when I pull it out. I use it for everything, from ideas that just pop into my head to scheduling to designing to lyrics — it has all my thoughts. I used to do all that on my phone, but recently, I've preferred writing in a notebook because it's easier to flip through the pages to refer to something, and it'll stay with me forever. I can keep all my used notebooks as little souvenirs.
I didn't really use anything to take care of my voice until recently. I was in the U.S., working with some producers, and they told me this tea is really great for singers and for taking care of your throat, which of course is very important. It's kind of weird at first because it makes your throat really slippery and slimy. It took me a while to get used to because it's like nothing I've ever tasted before. It's very herbal and just really weird. I can't say I enjoy it, but I can sing much better and go higher, way past my normal limits, after drinking it. It's been really helpful.
My aesthetician recommended this to me. She was like, "You should really get a vitamin C serum," I guess because my skin needed an extra boost of vitamins and brightness? It's very light, but I feel like it's really enriching at the same time. We can't really travel now, but I used to travel a lot for work — I was constantly on a plane — and my skin became super, super dry. So I really focus on hydrating my skin, whether it's with a serum or a cream or a sheet mask.