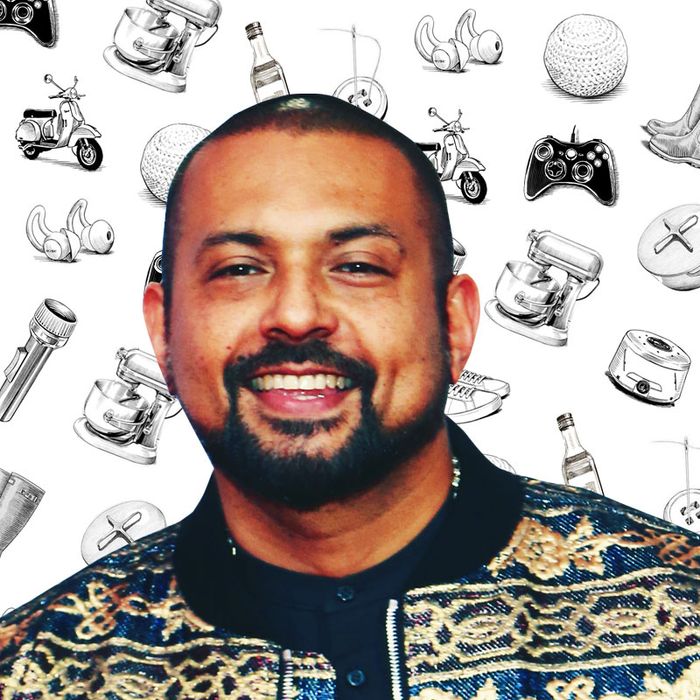 If you're like us, you've probably wondered what famous people add to their carts. Not the JAR brooch and Louis XV chair but the hair spray and the electric toothbrush. We asked Sean Paul — whose new song, "Only Fanz" featuring Ty Dolla $ign, is out today — about the tea, socks, and swimming goggles he can't live without.
They're my favorite socks to wear. I like ankle socks. I have many different types of shoes, from Giuseppe to Burberry and all of that. I like very fashionable shoes. These socks are fashionable, too, but if I wanted to play a basketball game, I could. If I need to kick somebody and run, I still want to be able to kick somebody and run.
I smoke. I'm an avid believer in the good properties of the plant — it's not just for recreational use. I started using this as a face oil after researching a lot of different things and using other creams and oils that didn't work well. Certain parts of my face are oily and other parts are not. I really like this — it just feels good and it smoothes. I put it on in the morning and have been using it for almost two years now. A bottle lasts me a long time.
My mom always told me, "Drink chamomile tea," but I didn't listen to her. A decade or so ago, I was on tour in Lebanon, couldn't sleep, and found some chamomile tea. I drank two cups and I was knocked out. I was like, "Hey, that was pretty cool." Now I drink a cup every night. It helps me relax and not think about all of the issues that are running around in my head. I don't like being all wound up. On nights when it's hard to fall asleep, I'll drink two cups. I like it without any sweetener.
I've been a fan of G-Star for a long time. I've been wearing its stuff since 2006 or even before. Jackets, T-shirts, shoes, but mainly jeans. I have a lot of its jeans. I don't know exactly how many pairs, but it's a lot. I don't really like tight jeans. These are slim fit, but they got some play — they have an elasticity. What I like about G-Star is that it has an almost military feel to it. I still wear some older pairs. Sometimes I'll cut them and wear them as jean shorts around the house because Jamaica is hot.
Instead of eating potato chips, I eat these. I like the fact that they're good for you, nutritionally, and help your hair. They're loaded with vitamins and I get some extra greens. The brand is also widely available. If I'm in a bodega or something I can grab it.
I used to swim for Jamaica. I try to train about two times a week. I do about 1,500 meters a day in the 45 minutes or hour I have. That's nothing compared to when I was a young kid. I used to swim 5,000 to 7,000 meters a day. But compared to the average swimmer, my training now is still pretty hardcore. Freestyle and butterfly and backstroke are my main things. I have bad knees, so I'm not too good at the breaststroke. I've been using these goggles for about a year now. They have a screen. Not for movies, but for showing your time, your distance, and how many calories you burn. They're pretty cool. The statistics help me when I'm in a pool; I know when I'm behind and need to go faster. My wife saw them online and she's like, "Hey, this is dope. Want to try it out?" And I was like, "Yeah."
With swimming, your feet are always wet because you're in and out of the pool. So I like to wear these slides. I don't like sandals with the thing in between your toes. Those were the only ones I had as a kid, so when I found slides, I was like, "Awesome." These are very comfortable. They have good padding for the feet and are very easy to slip on and slip off.