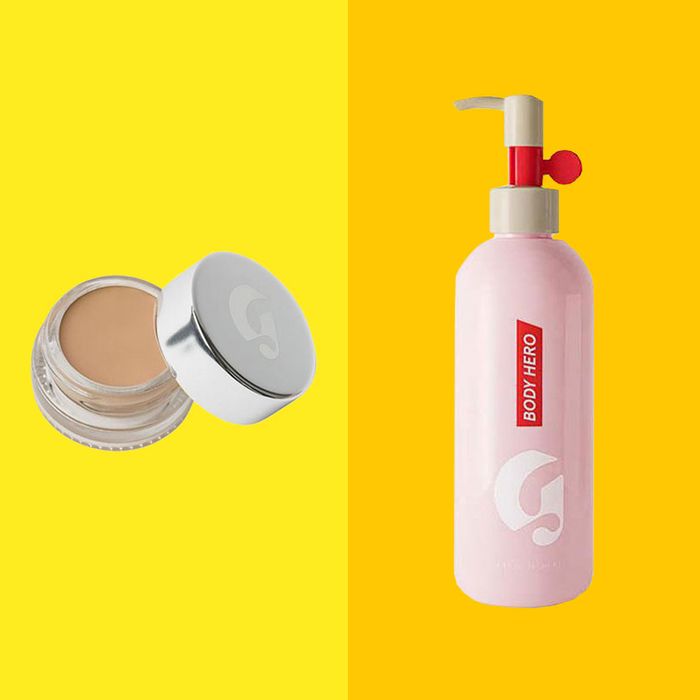 Anyone who has shopped at a retailer with few physical storefronts to browse knows it can be hard to figure out where to begin. There are dozens of options that all seem as worthy as the next, but the reality is that products from any given brand are not all created equal. When you shop as regularly as we do, you learn that many brands just do some things better than they do other things — and Glossier, the skin-care and beauty brand known for its promise of fluffy eyebrows and dewy skin, is no exception. With just four stores worldwide that hawk its ever-growing inventory of millennial-pink-packaged creams, oils, glitters, and glosses, it's understandable if you've had a hard time determining which colors really pop or which products give a healthy glow without making your face look like the site of an oil spill. To help you narrow down which lip balms, brow gels, highlighters, and concealers are worth the space on your vanity, we culled our archives to put together a list of all the most praised products from Glossier we've written about, from the moisturizing cleanser beloved by VSCO Girls, to the highlighter stick Rio swears by, to the body wash a celebrity makeup artist can't shave without.
"I love everything [from Glossier], but the one thing I come back to is the cleanser," eternal "It" girl Alexa Chung told us. "It's so soothing and nice on the face." Celebrities aren't its only fan: Teen and tween VSCO Girls also swear by the pH-balanced, hypoallergenic Milky Jelly cleanser, which users say works for a variety of skin types.
Glossier's cult-y Balm Dotcom comes recommended by three celebrities; our beauty columnist Rio Viera-Newton; the co-founder of a style-and-beauty website; and a handful of cool teens. Teen singer Grace VanderWaal "really likes" the original Balm Dotcom, as does Rio, who says it can be dabbed over highlighter for "extra shine." But if you're looking for some flavor, Who What Wear co-founder Katherine Power is "partial" to coconut. And for a little color and scent, both Rosie Huntington-Whiteley and actress-slash-model Molly Sims opt for the rose Balm Dotcom: "This hydrating, long-lasting lip balm is seriously amazing," promises Sims, who also raves about its "perfect" scent. Strategist readers can't seem to get enough of it, either: It was a reader favorite in 2020 as well as our top-selling Black Friday item in 2019 and in 2021.
Actress Sasheer Zamata, who has oily skin, doesn't like "putting powders on [her] face or putting on multiple moisturizers and primers just to tame the oil." She loves Glossier's Priming Moisturizer because it's "an all-in-one thing. I can moisturize my face while also priming it, so I can just be one-and-done and out the door." However, if you prefer something with a little more oomph, our editors have also raved about the ultrathick "rich" version for how decadent and soothing it felt.
Rio says Super Pure is her favorite Glossier serum for how it "helps treat blemishes, redness, and congestion without leaving that tight, stripped feeling." The formula uses 2 percent niacinamide as well as the skin-conditioning humectant zinc PCA, making it great for "any dry or sensitive skin type that wants to add a clarifying and smoothing serum to their routine without compromising their skin's natural moisture."
When Rio's skin is "acting extra-parched," she reaches for this moisturizing Super Bounce serum. Formulated with hydrating hyaluronic acid and soothing vitamin B-5, she pats one or two drops onto her skin before applying moisturizer, which Rio says gives her the "perfect balance of radiance and plumpness."
The Invisible Shield sunscreen is beloved by Strategist staffers and beauty YouTubers alike for its clear, lightweight, gel formula. "A little while ago, I heard through a friend of a friend who works at a major heritage makeup and beauty brand that they've been experimenting for years in an effort to develop a sunscreen that goes on trul