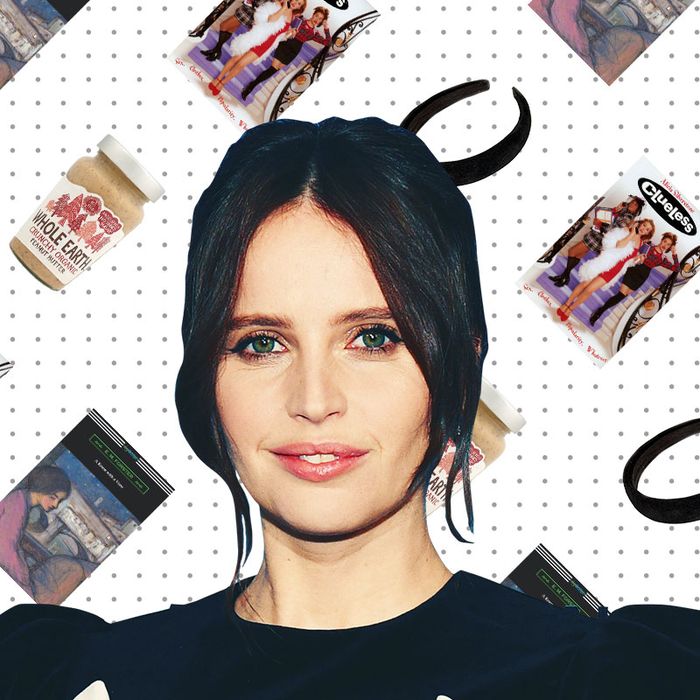 If you're like us, you've probably wondered what famous people add to their carts. Not the JAR brooch and Louis XV chair, but the hand sanitizer and the electric toothbrush. We asked actress Felicity Jones — who stars in the new movie The Aeronauts and is a brand ambassador for Clé de Peau Beauté — about the headbands, book, and peanut butter she can't live without.
I grew up in a bit of a hippie family, so peanut butter would have to be whole grain, and the healthiest kind that you could find. If it's too creamy then it's not right; it has to be really crunchy and nutty. The one we had when I was growing up was called Whole Earth. It definitely has to be put on buttered toast, and then you put slices of cucumber, and then another piece of toast. A peanut-butter-and-cucumber sandwich is my all-time favorite. It's very tasty.
Headbands are practical: They can hide your hair if you haven't washed it for a couple of days, which is always very useful. And they can dress up an outfit, if you're feeling that it needs a bit more of an edge. They're just kind of classic and timeless. If I have a black velvet headband or bow, I'm very happy. Occasionally, I'm partial to navy velvet, as well. And I like a dark, dark green, but I can't find one yet. I'm on the hunt.
I actually discovered the film first. It is one of my all-time favorites, and was the beginning of my affection for Helena Bonham Carter. It's just such a romantic story and there's humor in it and it's beautifully shot. I love films that have a blend of humor and drama. I kept coming back to the film, and then a couple years ago, I read the book and understood why the film is so wonderful. The DNA of that film was this book that is just beautifully written and so philosophical, but also amusing and very wry. It has such interesting characterizations and unusual characters.
The version with Christina Ricci as Wednesday Addams was one of the first films I saw growing up. I love that she is sort of an anti-heroine, she doesn't play by the rules. And I'm a bit of a sucker for a pinafore dress, even though I'm 36! I actually have a dress that's similar to hers that I can wear a blouse underneath, I got it from a little shop in Greenpoint called Wolves Within. I just love Wednesday's style, how deadpan she is, and how she doesn't try too hard. I always wanted to be like her.
A seminal '90s film that has a brilliant script — and styling, with those long socks, miniskirts, and blazers; the kind of '90s teenage-girl power suit. It was just a brilliant look. I first watched the film on DVD; I didn't see it at the cinema. I came to it a little bit later, but it is one of those cult films that, when I was younger, everyone would always refer to and quote lines from on a regular basis. Interestingly, it's an adaptation of Emma by Jane Austen, which is again another brilliant transition from a book to a film. It was so clever to put that world in the world of a Beverly Hills high school. Just utter, utter genius.
I have a Simone Rocha dress I adore that I bought for a friend's wedding a year ago. Sometimes, I just look at. It has very fine, pale blue and white stripes, and I love stripes in any form, on sofa cushions, on anything. On dresses they're absolutely delightful. The dress is sort of asymmetric and has all of these frills coming off it. I've watched documentaries about Simone, I like the sense of history — and almost costume history — in her design. She loves frills and a ruffle, but she also has this contemporary vision that slashes through it. That combination is very cool. She'll wear a huge, voluminous dress with a pair of trainers. The high-low mix, I really love that.