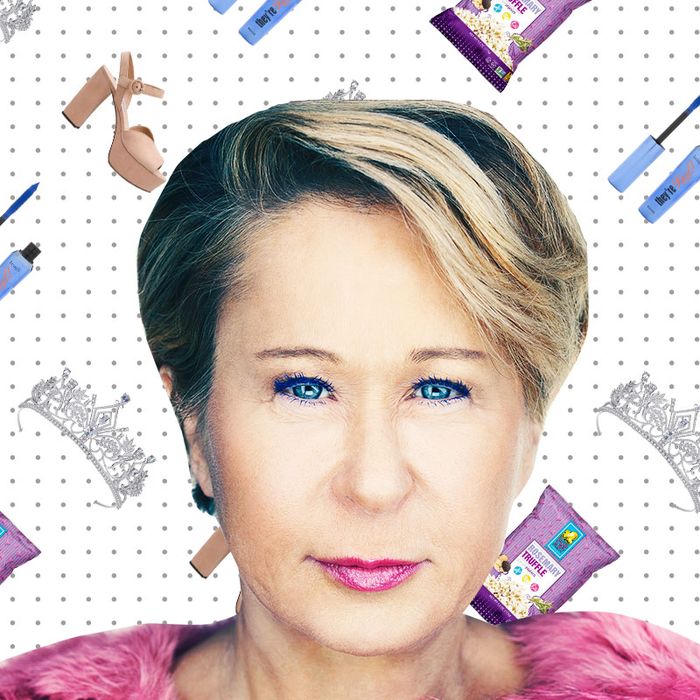 If you're like us, you've probably wondered what famous people add to their carts. Not the JAR brooch and Louis XV chair, but the hand sanitizer and the electric toothbrush. We asked actress Yeardley Smith — the voice of Lisa Simpson for the past 32 years, who is also the host of the podcast Small Town Dicks — about the mascara, caramels, and toothbrush she can't live without.
I'm completely obsessed with oral hygiene. My cleanings are like 20 minutes long. I literally change the toothbrush head every month, because I like it to feel crispy and new, and I carry some sort of flossing instrument in my little clutch on the red carpet. I brush my teeth twice a day, but I floss at least three times a day — I floss after every meal. That said, I've had so much dental work done in my life. Like, I don't get cavities, I go straight for the root canal, so some of it is self-preservation. I've learned the hard way.
I've had two of the smaller NutriBullet blenders, but the motor on the bigger one is so much smoother and so much more powerful. The entire mechanism is much better made. I've blended soups in it, I've made frozen margaritas in it. I usually drink a smoothie after I work out. My trainer and I named it the Black Beauty; it turns almost black because of what's in it. It's half a banana; some frozen wild blueberries; a teaspoon of barley-grass juice powder, which is kind of a camo-green color; and Hawaiian spirulina — the thing that mixes with the blueberries that really turns it black. And then I add a good heaping tablespoon of ground-up flax seed. The smoothie is a very daunting color, but it doesn't actually taste so bad.
I have pretty dry skin and am starting to get a little wrinkly. The texture of my skin is pretty good, though, so I don't need a lot of coverage. What I like about the nude finish is that it just sort of evens out the skin tone, and it's light and has a little SPF in it. It stays where it is, and it doesn't change or get cakey or heavy.
I wore the tiara when I moderated the Simpsons panel at the D23 Expo this summer, which was fantastic. I wore my tiara all day, and you know what, I loved it. Any opportunity to wear a tiara, sign me up. I feel like if i wasn't an actress, I would have liked to be a professional princess. I can't wait for an opportunity to wear it again. I'm a huge supporter of the Human Rights Campaign, and nobody throws a party like that organization, so I feel like they would appreciate me wearing a tiara because they're so fantastically fashion forward. Maybe that's the next event for the tiara, or maybe I just wear it on Thursday.
There's this sort of funny story here: I was at an event earlier this year, where these two women came up to me, and it turned out that one of them was married to this incredibly wealthy donor. She was wearing these huge diamond studs, and I was wearing these Swarovski drop earrings that I bought at JFK airport. The woman's friend said, "Oh my god, I really love your earrings Yeardley, those are fantastic, they look just like my friend Sally's." And Sally said, "Oh yeah, those are great! How many karats?" So I said, "You know, I just don't know. I actually forgot." I thought, Isn't that fantastic that Miss Thing, who is wearing the real thing, can't tell that I'm wearing the fake? It was brilliant. I have to say, Swarovski makes the best faux crystal. I just love the sparkle, and they make me smile.
People think that nobody over 19 should wear colored mascara. But I'm 55 and like, "Screw you, I'm totally wearing colored mascara." It's one of the best conversation starters, too. Everyone from gas station attendants to the stuffiest studio executives notices it, breaks into a smile, and says, "I love your eyelashes!" I'm also a huge fan of Princess Diana, and she used to wear blue eyeliner — she's sort of much maligned for having worn bright-blue eyeliner in her lower-lid waterline, but I loved it. She had those huge blue eyes. I don't wear liner, mostly because my eyes are small, but this blue mascara is a little bit of my ode to her as well.
Because I do the voice of Lisa Simpson, people ask me this silly question: "So do you just wear your pajamas to work?" And I'm like, "Well a lawyer isn't on camera for his job, either." One of the ways I greet the day is by putting a little effort into my appearance. And I'm not saying you have to be Imelda Marcos, but a few pairs of shoes that can move from several outfits to several other outfits is really beneficial. These Prada shoes are actually quite comfortable because they have the platform, and I love that they're suede, so they're soft. The neutral color really does go with everything, from a bright color to black to white to a neutral. I'm a big fan of a strap across the ankle because even if you're hurrying, they're not going to fly off like Cinderella's slippers. And I feel like they're timeless. If I'm going to spend any kind of money on a pair of shoes, I don't want them to be so unique, so fashion forward, that in 2020 people will be like, "Oh, those are last year's shoes." Unless I pour red wine on them, I'll still be wearing these in five years.
This popcorn is totally addictive. I'll open a bag and then will decant a cup of popcorn in a separate container so that I won't eat the whole bag. I'll walk away from the bag into another room with my little mini ramekin of decanted popcorn, where I'll eat that one or two kernels at a time. And then, inevitably, I go back to the bag to get another cup of popcorn. It's a problem. I'm trying. It's stupid good.
At our office at Paperclip, I, my business partner Ben Cornwell, and our two producing partners Nick Smith and Jordan Foley all eat lunch together. Usually, after lunch, we all have one little treat. For a long time it was some form of Reese's Peanut Butter Cups — usually, it was the Reese's peanut butter Easter eggs, which we would buy in bulk at Easter and then keep in our mini-fridge. But we didn't keep track of the inventory, and ran out when it wasn't anywhere near Easter. So we said, "Oh shit, what do we do now?" Ben had gone to some party that had these Money on Honey chocolates, and said, "Oh my god, they're so good." I was skeptical because I consider myself quite the chocolate connoisseur, but what I love about these is that they're a great way to sustain the production of honey, and the chocolates are also really great. There's caramel with brown-rice crispies, and then there's just straight peanuts and caramel.
I have a lot of shoes, and in the winter I mostly wear ankle boots. If I'm not wearing tights, I don't want my socks to show because I live in Los Angeles and the climate is quite temperate. If you're wearing ankle boots that are pretty low, it's really hard to find ankle socks. I had heard about Bombas in a sock ad, and also heard that they donate socks to charities. So I was like, "Heck yeah, give me some Bombas socks!" I tried and loved them, then they started to advertise on our podcast, and I was like, "This is win-win-win."
The Strategist is designed to surface the most useful, expert recommendations for things to buy across the vast e-commerce landscape. Some of our latest conquests include the best acne treatments, rolling luggage, pillows for side sleepers, natural anxiety remedies, and bath towels. We update links when possible, but note that deals can expire and all prices are subject to change.