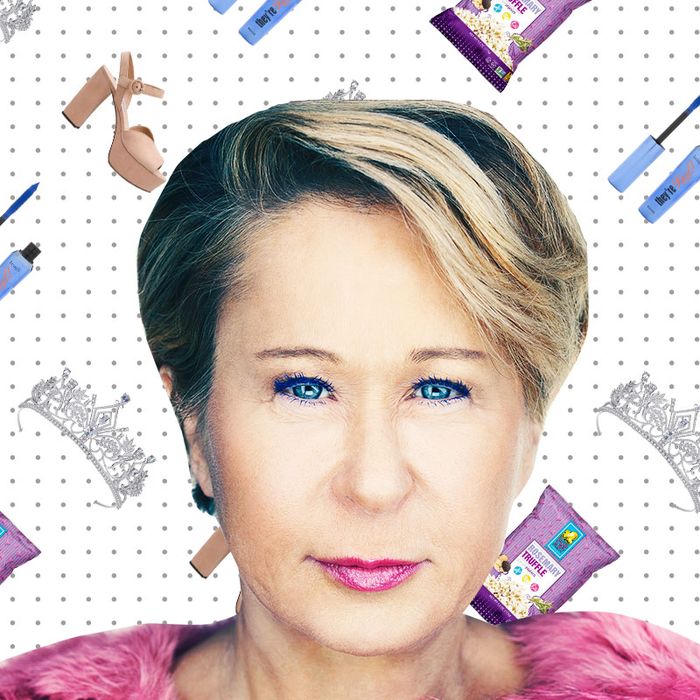 If you're like us, you've probably wondered what famous people add to their carts. Not the JAR brooch and Louis XV chair, but the hand sanitizer and the electric toothbrush. We asked actress Yeardley Smith — the voice of Lisa Simpson for the past 32 years, who is also the host of the podcast Small Town Dicks — about the mascara, caramels, and toothbrush she can't live without.
I'm completely obsessed with oral hygiene. My cleanings are like 20 minutes long. I literally change the toothbrush head every month, because I like it to feel crispy and new, and I carry some sort of flossing instrument in my little clutch on the red carpet. I brush my teeth twice a day, but I floss at least three times a day — I floss after every meal. That said, I've had so much dental work done in my life. Like, I don't get cavities, I go straight for the root canal, so some of it is self-preservation. I've learned the hard way.
I've had two of the smaller NutriBullet blenders, but the motor on the bigger one is so much smoother and so much more powerful. The entire mechanism is much better made. I've blended soups in it, I've made frozen margaritas in it. I usually drink a smoothie after I work out. My trainer and I named it the Black Beauty; it turns almost black because of what's in it. It's half a banana; some frozen wild blueberries; a teaspoon of barley-grass juice powder, which is kind of a camo-green color; and Hawaiian spirulina — the thing that mixes with the blueberries that really turns it black. And then I add a good heaping tablespoon of ground-up flax seed. The smoothie is a very daunting color, but it doesn't actually taste so bad.
I have pretty dry skin and am starting to get a little wrinkly. The texture of my skin is pretty good, though, so I don't need a lot of coverage. What I like about the nude finish is that it just sort of evens out the skin tone, and it's light and has a little SPF in it. It stays where it is, and it doesn't change or get cakey or heavy.