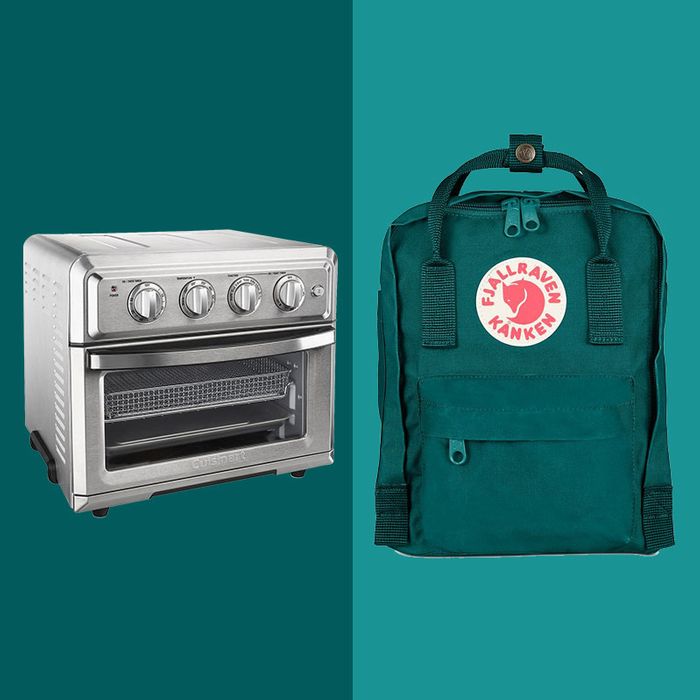 Photo-Illustration: Courtesy of the retailer
To help you get a handle on holiday shopping this year, we've been curating gift guides for every person in your life, from your mother to your boss to your BFF — even your furry friends. You've probably noticed that some of those guides feature things you can buy from the same retailer — because, as we've said, there is something truly satisfying (and savvy) about getting all of your shopping done in one place. Here, we've gathered a bunch of Strategist-approved gifts from Macy's — the department store your grandparents love for its role in Miracle on 34th Street, and your younger cousins know better as that place that sponsors the Thanksgiving Day Parade. Read on for our 29 favorite gifts, from cozy slippers to culty kitchen appliances to expert-recommended skin care. (If your household is a Nordstrom household, we've got you covered; and if you think your recipients would prefer gifts from Urban Outfitters or Best Buy, we can help there, too.)
For the brother who just discovered craft breweries
He'll get a kick out of this set of tasting glasses that are made specifically for enjoying IPAs, American wheat beers, and stouts.
For the boss who never misses a run, even in the winter
This running-coach-approved base layer from Under Armour will keep him comfortable, even if he's out in inclement weather.
For the wife who has a whole nighttime routine
For the grandma who has a whole nighttime routine
This dermatologist-recommended moisturizer with hyaluronic acid for mature skin will leave her face glowing (without the grease).
For the girlfriend who lives in leggings
Even if she'll never go back to wearing jeans again, she can at least elevate her lounging leggings for something a bit more put together, like a pair of faux-leather ones that stylish women swear by.
For the sister-in-law who's a little fancy
If it's good enough for Catherine Zeta-Jones, it'll be good enough for your sister-in-law. The actress calls this lime-basil-and-mandarin-scented candle her "all-time favorite" and keeps one in almost every room of her house.
For the spouse who's always asking for a foot massage
This heated shiatsu foot massager is one of our all-time-favorite gifts for moms, so we're willing to bet big bucks that your spouse will love it too.
For the older sister who's about to have a baby
She'll appreciate this expert-approved, four-in-one car seat that goes from infant mode all the way to booster seat. She'll never have to replace it as her child grows.
For the father-in-law who always wants perfect grill marks on his steak
If winter weather means your FIL can't go out and use his favorite grill, this griddle can help him achieve those marks inside his kitchen. It can open flat or close if he wants to make pressed sandwiches with his leftover fillets.
For the bachelor uncle who needs even more help in the kitchen
This writer swears by Cuisinart's toaster oven that's also an air fryer (among other things). Your bachelor uncle can use it to crisp up frozen dumplings, bake sweet potatoes, and heat up leftovers in a matter of minutes. (I should know, as I've done all that and more with it.)
For the great-aunt who always has the kettle on
She won't be able to resist the convenience of an electric kettle, especially one in a cheery cherry color that she'll want to leave out on display. It shuts off automatically once the water is boiling, leaving more time to actually enjoy a cuppa.
For the dad who always has a pot of chili ready when you visit
This cult-y pressure cooker is here to stay, and if you want to show your dad what the fuss is all about, here's your chance. It'll cut down on the time he has to stand around the stove stirring the pot — giving him more time to spend catching up with his favorite kid.
For the mom who doesn't mess around with her coffee