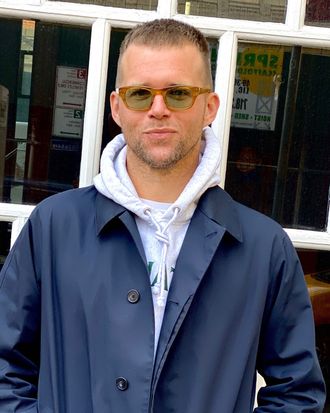 If you're looking for the most powerful hair dryer or the handiest chef's knife, those things can be easy enough to find. Other objects of desire are a little more taste-based. What's the next status water bottle or hand wash, for instance? Chris Black (he's a partner at brand consultancy Public Announcement) is here to help, in the form of a regular column. If you have a burning question about the next fanny pack or Noah rugby shirt, drop us an email with the subject line "Ask Chris" at strategist@nymag.com.
What types of clothes would you suggest to a man (well) over 50 who wants to update his casual wardrobe?
Funnily enough, I just had a long discussion about this with a friend's dad when we ran into each other in Istanbul. Over an ice-cold bottle of Uludağ Premium Sparkling Natural Mineral Water, he explained that he never felt truly comfortable shopping, and therefore his default setting was ultracasual. I told him, as I will now tell you, stick to classics, make sure it all fits well, and swag out baby! Age ain't nothing but a number.