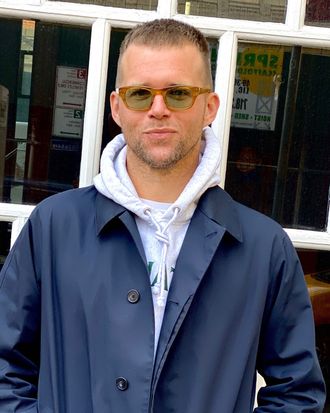 If you're looking for the most powerful hair dryer or the handiest chef's knife, those things can be easy enough to find. Other objects of desire are a little more taste-based. What's the next status water bottle or hand wash, for instance? Chris Black (he's a partner at brand consultancy Public Announcement) is here to help, in the form of a regular column. If you have a burning question about the next fanny pack or Noah rugby shirt, drop us an email with the subject line "Ask Chris" at strategist@nymag.com.
What types of clothes would you suggest to a man (well) over 50 who wants to update his casual wardrobe?
Funnily enough, I just had a long discussion about this with a friend's dad when we ran into each other in Istanbul. Over an ice-cold bottle of Uludağ Premium Sparkling Natural Mineral Water, he explained that he never felt truly comfortable shopping, and therefore his default setting was ultracasual. I told him, as I will now tell you, stick to classics, make sure it all fits well, and swag out baby! Age ain't nothing but a number.
Start with a pair of simple RRL five-pocket slim-fit selvedge jeans. Ralph Lauren might be the best-dressed man (well) over 50. You cannot go wrong, and with proper care, they will last forever.
Since the rest of your look is pretty understated, why not give it a little FLAVOR with this J.Crew cashmere sweater in a great shade of pink. If the pink is too much flavor for your taste, it comes in 13 other colors, too.
Men of a certain age often make errors with footwear when trying to seem young and hip. Some might advise Converse Chuck Taylors to complete this outfit; NOT I. I still have PTSD from when every rich older guy with a young girlfriend and a David Yurman bracelet was wearing those John Varvatos washed canvas laceless Converse. Yikes. A man of your stature should wear a pair of proper shoes. These Church's brogue boots are elegant but outfitted with a big-boy shitkicker commando sole. Suitable for all occasions.
Top it off with a tonal gray pair of sunglasses from Oliver Peoples. Perfect for leaving that power lunch at La Scala. No one will ask for your AARP Card, I promise.
A handful of my friends and relatives are turning 30 over the next few months. I need to get gifts for each and want them to be slightly more special than your normal knick-knack or bottle of Veuve. Any ideas?
I hope your friends and relatives have good taste! I agree a $60 bottle of Veuve isn't unique. But if the birthday girl/boy loves the sauce, get them a proper vessel to enjoy it from. A set of two Baccarat Clear crystal Harmonie tumblers will make any spirit taste better.
Something for the home is always nice. This sculptural Strøm Bowl from Raawii comes in a myriad of colors (I am partial to coral blush and vibrant orange) that would make anyone happy.