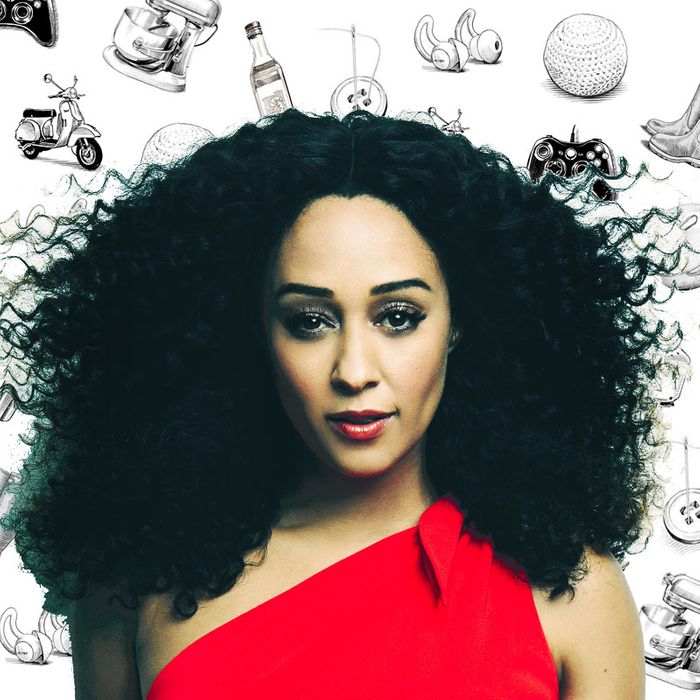 Photo-Illustration: Diana Ragland
If you're like us, you've probably wondered what famous people add to their carts. Not the JAR brooch and Louis XV chair but the hairspray and the electric toothbrush. We asked actress Tia Mowry — who stars in Netflix's Family Reunion and is the founder of wellness brand Anser — about the chips, facial oil, and food processor she can't live without.
I'm a big snacker and I really love salty things, especially chips. If I'm just sitting there with a big bag of chips in my hands, I can eat the whole thing. It's like an addiction. But I don't feel bad when I eat a lot of these chips — I eat about half a bag a day. I can't get enough. They're an incredible alternative to other brands that maybe aren't as healthy. They're organic, GMO-free, and freaking amazing. You're not sacrificing the quality of taste. I like the original flavor, but I really love the barbecue.
Photo: retailer
My gosh, this book. It has shown me that you can have heaven on earth, despite the old line saying that's not possible. It can exist, through peace of mind. How we discover that is by understanding and controlling the thoughts in our head. The book talks about how we should become more aware of the words we use, because words have meaning. We all walk around thinking about what people have said and done in the past, and in order for us to get rid of that weight and darkness, we have to forgive. But that forgiveness is for you, it's not necessarily for the other person. It takes patience and practice, but I've been focusing on this perspective, which has really changed my overall mindset. Not long ago, I lost my grandmother, and before that, we lost a family member in the Thousand Oaks shooting. And when Kobe Bryant died I started to realize how short life really is. My grandmother lived until she was 90, but even that felt so short. So my goal has been to find peace of mind and true joy in everything I do, which are concepts I discovered through this book.
I don't have a lot of time to have a 20-step routine. I wish I did, but I don't. This oil is very practical: As the name implies, it's everything in one — a moisturizer, a lip balm, a hair oil, a hand cream, everything. It's truly a genius product; it even has clean ingredients, and it smells so dang good. I haven't been using it for that long, but it's already become a staple in my daily routine.
What I love about Prose in general is that the products cater to you. Before you buy anything, the company asks for details like what your hair texture is, whether you have curly hair, what type of curls you have, and how oily or dry your hair is. The whole process just feels more personal than picking up any