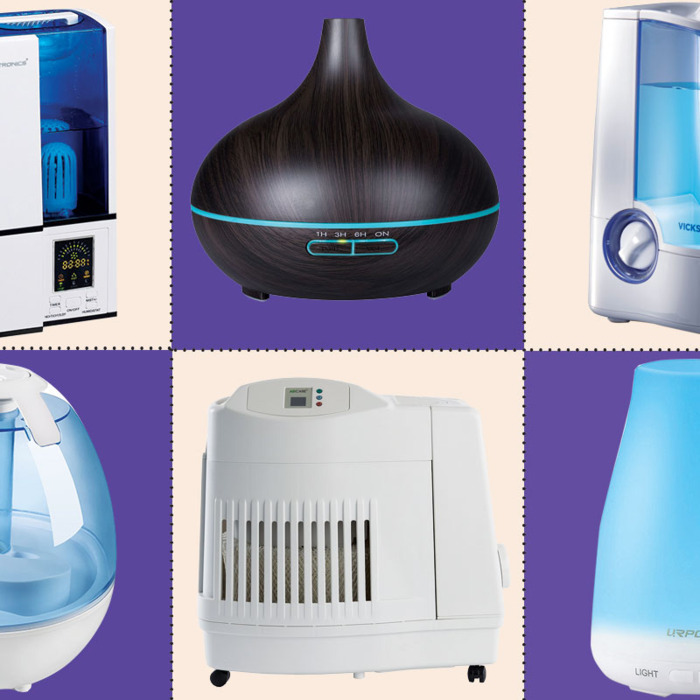 Here at the Strategist we like to think of ourselves as crazy (in the good way) about the stuff we buy (like bed sheets or pillows), but as much as we'd like to, we can't try everything. Which is why we're introducing People's Choice, in which we find the best-reviewed (that's four-to-five-star reviews and lots of 'em) products and single out the most convincing. While we've written about the best humidifiers according to the experts elsewhere, here, we've collected the best bath humidifiers on Amazon, according to the people (note that reviews have been edited for length and clarity).
TaoTronics Cool Mist Humidifier with LED Display
4.3 stars, 2,399 reviews
"After purchasing the humidifier that is the 'bestseller' on Amazon, it turned out to be a disappointment for several reasons. It did not produce enough mist; it was difficult to keep refilling the water because of the tank's shape; it felt too cheap and fragile; and it was too bright. After doing a lot of research and narrowing a few choices down for something better, this TaoTronics humidifier is turning out to be great. The water tank has a rectangular shape, so I can actually set this down on a table, once I remove the nozzle, and fill the water instead of holding it in one hand. The mist output has three levels and delivers much more mist than my previous humidifier. I feel like the low-setting on the TaoTronics produces the same amount of mist as the high-setting on my last one. Overall I can definitely say that this humidifier makes a difference compared to my previous one, and I feel much-better air quality when I wake up in the morning."
Urpower Essential Humidifier
4.5 stars, 24,289 reviews
"I was looking for a humidifier for my bedroom. Since it is winter, I run my heater a lot. The air in my bedroom is really dry. I am currently getting over the flu and wanted something to soothe the air and make me feel more comfortable. It has been about a week since my purchase, and I like the product so far. I use a few drops of pure peppermint oil in the water. It definitely helps me breathe in a little better and soothes the air. I have a small bedroom and this product works fine. I run it on continuous mode when I sleep at night. It turns off automatically, when it senses the water getting low. Good product and good price. Small enough to take while you travel or take to the office."
VicTsing Ultrasonic Aroma Cool Mist Humidifier
4.6 stars, 2,029 reviews
"Probably the best product I've purchased in a while. I have heard a lot about diffuser humidifiers, and I have always wanted to try one. This model is perfect for my needs. It is not real wood but the finish looks like real wood. I decided to get dark wood to match my bedroom. Great look. My first time using it, I chose lavender and I was definitely thinking this whole diffuser is a scam. As I was lying in bed consuming the lavender scent, I still kept thinking this will not work to calm me down or make me fall asleep. All of a sudden, I started to get very sleepy. I shut my eyes for a bit and dozed off. I woke up and it hit me, this actually works. I was so sleepy, I couldn't believe I was that sleepy. I slept through the night while the humidifier diffused lavender. It shut off after three hours. It was perfect. Such a firm believer in this now!"
Anypro Ultrasonic Cool Mist Humidifier
4.2 stars, 1,659 reviews
"My wife and I loved it so much we recently ordered another one for the family room! It puts out a ton of cool mist, but somehow didn't leave ANY condensation on our table even after running it about ten hours alone today. I have no tried the 36-plus hours on to see if it can really do that, but have gotten to about 15 with plenty of water left in the tank. Noise: I was shocked that all we hear are a few bubbling sounds every so often if you really listen. Our current full-room humidifier is MUCH louder."
Pure Enrichment Ultrasonic Humidifier
4 stars, 7,936 reviews
"I purchased THREE ultrasonic cool-mist humidifiers last week (one for each bedroom in our house), and after using them for several nights, I absolutely LOVE them!! These are the best humidifiers I've ever had! They are so quiet, I can't hear them operating. One full tank of water lasts one full night of sleep (10-plus hours). I like that I can unplug the base from the cord. It's the perfect size for traveling, too. I have now been using these humidifiers for almost one month, every night. I love them even more now. I even packed one and took it with me when we went up north to a cabin. My eyes are not dry when I run these every night, but when I traveled to D.C. recently and stayed in a hotel (and didn't have my humidifier), I got a nosebleed in the middle of the night and woke up with bone-dry mouth and eyes. I cannot overemphasize how wonderful these humidifiers are, and you really notice when you don't use them. (I live in Wisconsin, where winters are very dry.)"
Antimicrobial and Germ-Free
3.6 stars, 3,904 reviews
"I have had this humidifier for a few months now and use it in MY bedroom as well as my 15-month-old twins' bedroom. I had an Ultrasonic humidifier (filter-less) but discovered the 'white powder' effect after using one (Google it).
PROS:
(1) It's quiet! Yay!
(2) It doesn't change the temperature of the room even though it's a cool-mist humidifier.
(3) I use one of those gadgets to see if it's humid enough in the room, and this machine definitely works.
(4) The filter doesn't need replacing THAT often (maybe every six-seven months).
(5) The tank can sit in the sink to be filled and doesn't topple over.
(6) It's super-easy to set up and use.

CONS:
(1) It's pretty big and bulky.
(2) I hope the UV light to kill germs is working, because I don't see it anywhere."
Honeywell HCM350W Germ Free Cool Mist Humidifier
Vicks Warm Mist Humidifier with Auto Shut-off
3.7 stars, 4,345 reviews
"I like that it has two settings on the high-setting; you can run it for around eight to nine hours, which will last you the whole night. On the lower-setting it will last for around 19 to 20 hours on average. I also love that it has a auto turn-off, so you don't have to worry about it staying on when the water runs out. Like any humidifier, MOLD WILL GROW so don't flip out if you see mold. You can wipe it clean with vinegar to kill the mold. It's very easy to clean."
Optimus 1.5 Gallon Cool Mist Ultrasonic Humidifier
3.8 stars, 596 reviews
"I live in a dry climate and in the cold months with the heater running, we buy bedside humidifiers for the whole family to keep from drying out and catching colds. Of all the humidifiers we've tried, this one is far and away the best. It has a ceramic filter which does not need replacement, but keeps the unit from getting as dirty as quickly as other humidifiers. The control knob gives you a lot of control, ranging from a barely noticeable stream of mist to a thick fog pouring out the top. It's very nearly silent, so light sleepers shouldn't worry. Other reasons I love it: large water tank so you won't run out overnight, a directional spout at the top to point the mist where you want it, and a little brush beneath the tank for cleaning. I can't think of anything I'd change about this unit. I'm surprised I've never heard of Optimus before."
4.1 stars, 1,137 reviews
"I purchased this Essick MA1201 because our new Aprilaire humidifier on our new furnace had died after just one season. The other small room humidifiers we've used in previous years haven't done the trick, but this Essick model can really pump out the lovely moist air. In fact, we had it on it's highest humidity setting (65 — which means it runs continuously) for the first several weeks, and our bedroom, where it's placed, was wonderfully moist, and the rest of the house felt pretty good, too (we'd placed the Essick several inches from a furnace return register, as recommended)."
This item is currently sold out, but here's a similar console-style from Honeywell that can humidify multiple rooms.
AIRCARE MA1201 Whole-House Console-Style Evaporative Humidifier
The Strategist is a new site designed to surface the most useful, expert recommendations for things to buy across the vast e-commerce landscape. Some of our latest conquests include the best notebook, black T-shirts, fashion-editor-approved jeans, toothbrush, and apartment décor. Note that all prices are subject to change.

If you buy something through our links, New York may earn an affiliate commission.