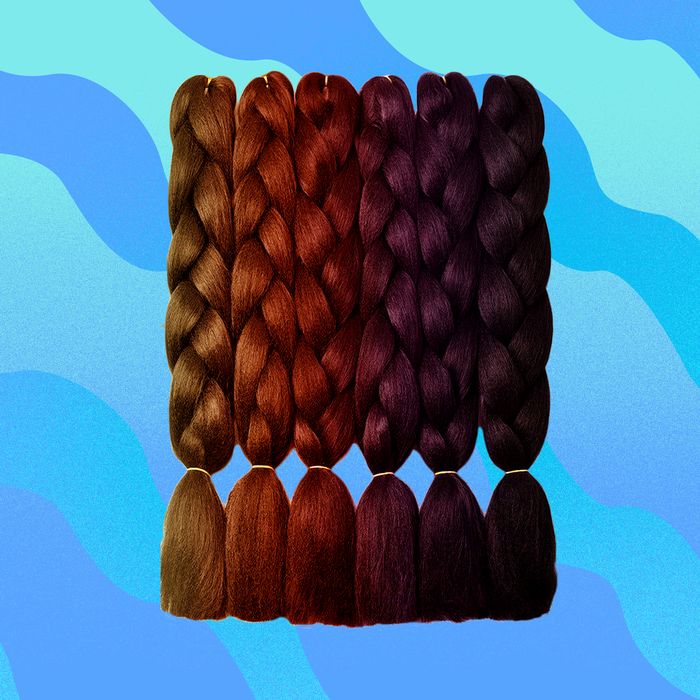 Photo-Illustration: Jordan Moss
There were the bra-strap-length box braids I wore off and on during high school (loved the look, hated taking them out). The braided-bob phase I went through in college. Most recently, I got Tracee Ellis Ross–inspired cornrows before a trip to Hawaii. All of these styles amounted to a lot of synthetic hair being woven into mine. And I'm not alone: The global wig-and-extensions market is expected to generate $10 billion in revenue by 2023. Still, for years, I never stopped to ask, What, exactly, is this stuff? A Google search for "What is braiding hair made of?" yields only 18 pages of results (with very few answers) that further highlight how little information is out there — not a single study analyzing its materials or their effects. So I decided to conduct my own investigation.
Any conversation about braiding hair has to begin with Kanekalon. Whether you're at a braiding shop in Harlem or in Lagos, the word Kanekalon is universally understood. Kanekalon hair is sold all over the world and worn by Black women across the diaspora. It's popular for a whole bunch of reasons. Hairstylists love it because it's easy to work with. It doesn't get tangled, which speeds up the braiding process, and it also just looks great — glossy and flowy, almost like human hair. It's also affordable — like, cheaper-than-a-single-coffee-at-Starbucks affordable.
Here's what we do know about Kanekalon: It's a trademarked type of synthetic fiber produced by Kaneka, a Japanese ­chemical-manufacturing behemoth founded in 1949 and based in Osaka. And because it is the most significant player in the braiding-hair market, I assumed it would hold all the answers to my questions. What is in braiding hair, generally? And what is in its braiding hair, specifically? I sent three emails to a general address, each of which went unanswered. I spotted a Japan-based PR manager for Kaneka on LinkedIn, messaged her, and got no response. I even resorted to sending inquiries through the "Contact Us" forms on Kaneka's website. All I got back were generic confirmation emails. When this direct route didn't work, I started researching the company more broadly. I discovered that in March 2020, Kaneka had filed a lawsuit against I&I Hair Corporation, a distributor of EZ Braid braiding hair, to stop it from posting "unverified information" about the safety of Kanekalon fiber on social media. A press release on Kaneka's website stated that the two parties had reached a settlement in May 2020 and said "unverified information" is impossible to find online.
So further down the rabbit hole I went. I turned my attention to Kaneka's North American dealings. A LinkedIn search served up 268 Kaneka employees based in New York, California, and Texas. I zeroed in on seven people working in marketing, R&D, and product development, figuring they would have the most relevant information. Five messages later, I received three responses. Two redirected me to other contacts in the company (who didn't respond), and the third agreed to talk off the record. That source confirmed what I was starting to suspect: Kaneka's secrecy is deliberate. When I began my sleuthing, I wondered if its hush-hush way of operating was intended to prevent customers from finding out something unsavory about Kanekalon, but, according to this employee, it's actually more about keeping its formula protected in a fiercely competitive marketplace — though I didn't find a synthetic-hair manufacturer that's even remotely as influential as Kaneka.
Since I clearly wasn't getting the recipe from Kanekalon, I turned to Cassandra Celestin, a Washington, D.C.–based cosmetic chemist and trichologist. According to Celestin, the fiber is most likely made of a combination of polymers (in other words, "plastics"), such as acrylonitrile and vinyl chloride. Those polymers, she says, are probably synthesized with different chemicals (she can't speculate about which ones) to deliver the right amount of flexibility and elasticity needed for those who want to whip their hair back and forth. This polymer blend is then likely fed into a spinning machine with tiny holes that produce extremely thin fibers that resemble hair once they dry and harden. "The exact formula can stay a trade secret," she says. "It's not like a cosmetic formula, where they have to label it according to an FDA or E.U. regulation."
Is it safe to braid chemicals and plastics into your scalp? While that question hasn't been answered decisively, one thing is certain: Women who have worn synthetic braiding hair have reported disastrous side effects, from burning to itching to scabbing. And while these post-braiding issues may not be a widespread phenomenon, all of the experts I spoke with have either personally experienced problems with synthetic hair or know someone who has (or both). "Most of the time, these fibers do not cause a big problem with scalp and neck skin, but in some sensitive individuals, these chemicals can lead to irritant dermatitis (or an itchy red rash) in the areas of exposure," says Dr. Amy McMichael, professor and chair of the Department of Dermatology at Wake Forest Baptist Medical Center in ­Winston-Salem, North Carolina. And in lieu of actual scientific studies explaining what, exactly, is in the faux strands that causes people's scalps to freak out, Black women are founding their own more transparent braiding-hair companies using safer-for-the-scalp ingredients.
Like Ciara Imani May, who earned a master's degree in social entrepreneurship from USC in 2018 and founded Rebundle in 2019 to offer Black women a healthier, environmentally friendly alternative to plastic synthetic hair. At $20 per pack, Rebundle is on the high end of the price spectrum, but it is biodegradable and compostable and contains only nontoxic, organic banana-leaf shampoo and conditioner, protein treatment, and grapeseed oil. "We have clean-beauty products in almost every other category, but the option wasn't there for braiding hair," says May.
And on the more affordable side, there's Dosso Beauty, created by Kadidja Dosso. She spent a year cold-calling and researching manufacturers that would make a hair product for her that was itch free, hypoallergenic, and prewashed. Her final product is made of "a combination of PVC and acrylic resin" — plastics that are less irritating than those used in Kanekalon — and is washed before it ships. "A lot of times, these manufacturers are not cleansing the hair. They're just packing it up and shipping it off, which is why a lot of chemicals can linger," Dosso says.
My several-weeks-long dive into braiding hair didn't uncover all the braiding-hair answers I had set out to find (an exact ingredient list I could cross-check for safety would have been the goal). But the search did deliver some necessary optimism: Black women are slowly changing the braiding-hair world by demanding safety and taking product development into their own hands with brands like Rebundle and Latched & Hooked. Below are the better-for-you braiding-hair packs created by Black women that I'll be trying the next time I'm rocking those cornrows.
Tiffini Gaitlin founded Latched & Hooked after her daughter had a bad experience with Afro Beauty Collection synthetic hair (her scalp felt like it was "crawling with tiny bugs"). Gaitlin's braiding hair is entirely nontoxic, and in addition to classic blacks and browns, it comes in two-toned and even three-toned color combinations.
Handcrafted in small batches in St. Louis, these ecofriendly strands are made from extracted banana fiber (it's the first U.S.-made plant-based braiding hair) and contain no animal-meat fat, no polyvinyl chloride, no emulsifiers, no phthalates, and no toxic dyes.
The 28-inch lightweight hair is pre-layered for a feathered look, meant to make it appear less synthetic.
The Strategist is designed to surface the most useful, expert recommendations for things to buy across the vast e-commerce landscape. Some of our latest conquests include the best acne treatments, rolling luggage, pillows for side sleepers, natural anxiety remedies, and bath towels. We update links when possible, but note that deals can expire and all prices are subject to change.