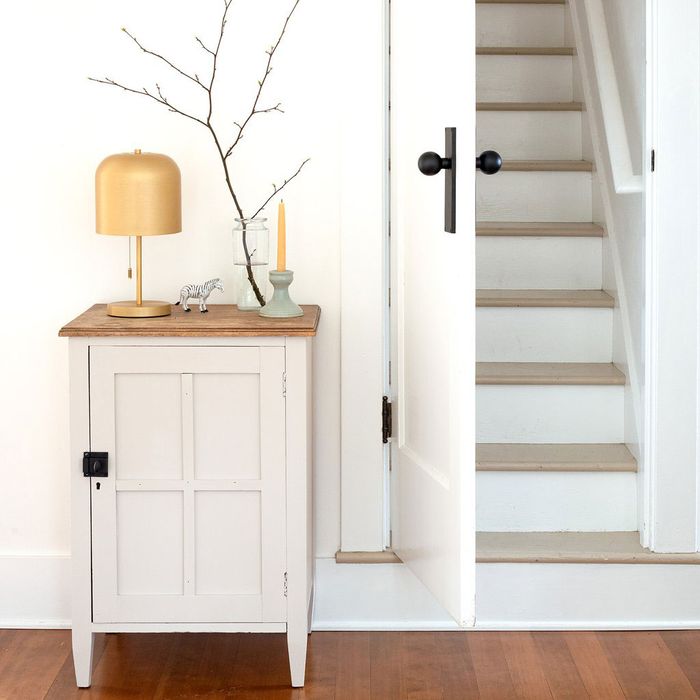 Photo: Courtesy of the retailer
"If you're trying to make your old home look new, doorknobs are one way to do it," says designer Barbara Schmidt. "It's not nearly as costly as painting everything." Switching out doorknobs can be a quick afternoon project, but takes some advance consideration. To ensure a cohesive look, Interior designer Raena Albers suggests keeping your home's existing fixtures in mind; she advises against mixing "'80s faux-French brass" hinges with modern black door levers, for example. To simplify the process, we spoke to eight designers about what makes a great doorknob and their own personal favorites.
Best overall | Best adjustable | Best vintage-inspired | Best vintage | Best contemporary | Best geometric | Best crystal | Best splurge knob | Best lever | Best splurge lever
What we're looking for
Material: Doorknobs are typically made of materials that are sturdy enough to stand up to frequent use and resistant to being damaged over time by the oils and grime on hands. Metal, porcelain, crystal, and glass work well, and although you'll occasionally see a wooden or plastic doorknob, they tend to be less hardy in the long term. For metal doorknobs, brass is a popular material: It resists corrosion and rust and has the useful feature of being naturally antimicrobial. Brass knobs are often finished in another metal, and which to choose is mostly a matter of aesthetics. For a midcentury home, you may want to match brass furniture; matte black or nickel is a more neutral option.
Style: Doorknobs run the gamut from fantastically ornate antiques to low-profile, unobtrusive sets you can buy at Home Depot. It's probably wisest to err on the side of unobtrusive — you don't want to worry that every new piece of furniture will clash with a set of Victorian floral knobs, for example — but we've included a range of styles on this list, including a few voicier options.
Closing mechanism: You'll encounter four styles of doorknobs: "passage" knobs, also called hall-closet knobs, which are non-locking; "privacy" knobs, also bed-bath knobs, which have a pin, thumb-turn, or push-button locking mechanism; keyed entry knobs, which have a key-operated lock; and "dummy" knobs, which are nonfunctioning, decorative knobs, sometimes used for closet doors without a latch or to balance the non-latching side of a set of doors. We're only including doorknobs with a passage or privacy option on this list, although many styles also come in dummy or keyed entry options.
Best overall
Zinc, four finishes | Passage, privacy, dummy, and keyed entry
This Kwikset doorknob checks all the boxes: It's versatile and affordable, it comes in a range of finishes, and it's available as a passage, privacy, and dummy knob, as well as an exterior keyed-entry knob. (It's also available with either a round or circular "rosette," the backplate mounted onto the door that conceals the knob's internal hardware.) Stylist and interior designer Emily Henderson likes that this knob is "modern, but can talk to almost any other style," especially in the matte-black finish, which is her favorite.
Best adjustable doorknob
Zinc, six finishes | Adjustable passage or privacy
This Schlage knob has the useful feature of converting from a passage to a privacy knob, helpful if you're not sure which type to buy or if your needs change. Designer Ana Claudia Schultz also loves its look: she says the beveled edge "makes more of a statement than a simple round doorknob."
Best vintage-inspired doorknob
Photo: Retailer
Brass, three finishes | Passage, dummy
This simple knob with an elongated backplate is "the perfect complement to both traditional projects as well as more contemporary designs," says Joe Berkowitz, president and designer at JAB Design Group. He especially likes the brass finish, also popular with several other of the experts we spoke to.
Best vintage doorknob
Brass | Passage 
$65
"Nothing says well-curated and thoughtful like finding options that are from the same era as your home," says Schultz, who suggests searching for vintage knobs online and mentioned the retailer Olde Good Things. This brass option is classic and simple — and has enough stock that you can buy multiple without worrying about mismatched vintage hardware.
Best contemporary doorknob
Brass, six finishes | Passage, privacy, dummy, and keyed entry
Both Schmidt and Lauren Cox, design program manager at Havenly, mentioned this pared-down Baldwin knob, which Schmidt describes as "sleek and simple" with a "barely there" silhouette. Cox especially likes the chrome finish: "Chrome is making a huge comeback, and I love the round shape with the square backplate," she says.
Best geometric doorknob
Brass, six finishes | Passage, privacy, and dummy
Emtek is a favorite brand among the designers we spoke to for its high-quality knobs. Schmidt especially likes this octagonal knob, which she describes as "very Hollywood Regency" and which would also look at home in a Memphis-inspired postmodern space full of geometric furniture.
Best crystal doorknob
Zinc, glass knob; five finishes | Adjustable passage or privacy and dummy
This versatile crystal knob is "a great blend of styles," according to Schmidt, who adds that "it's modern, with a gold and square backplate, and has a vintage-yet-updated glass handle."