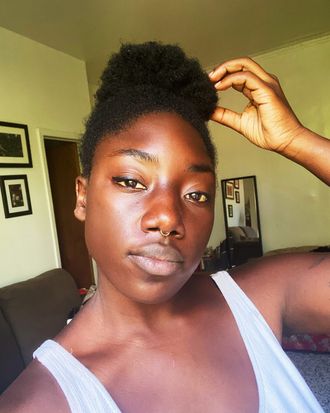 Photo: Nikita Richardson/Copyright 2020. All rights reserved.
Five months ago, I took out my braids and started the longest stretch of having my natural hair out (and not chemically relaxed) since childhood. It's been a strangely gratifying period in my life, in spite of everything else that's happening in the world. I've proven — to myself, mostly — that I can handle the work it takes to care for natural hair, and these days, the idea of going back to braids is a distant one.
Since May, I've tried out a lot of protective styles: French braids, mini-twists, twist outs, flat twists under a head wrap, and a handful of other styles so tedious that they nearly gave me carpal tunnel. Then I came across a 45-minute video from Albany, New York–based hairstylist Crystal Mallett on how she styles her wash and go, and it changed everything for me.
I watched her take her damp hair and work styling cream through it section by section, making sure each strand was coated. Then she simply blew it dry, and the results were nothing short of gorgeous. Best of all, she promised that her wash-and-go would last a week, if not two. Inspired, I immediately tried to follow her exact routine. Because my hair is low porosity and hers is ostensibly not, the style didn't quite take, but I wasn't ready to give up yet. After a little trial and error, I developed a deep-conditioning routine — ideal for low porosity 4C natural hair — that comes after shampoo, but before styling. With this mix of products, I can wear my hair out in an Afro puff for ten whole days (just like Crystal!) without my hair drying out  before doing it all again. Here's everything I use.
Shampoos
I'm a strong proponent of Trader Joe's underappreciated beauty section, and this is my favorite shampoo I've ever used. It only takes a quarter-sized amount to achieve a nice, thick foam and after it's washed out, it leaves my hair feeling squeaky clean and properly prepared for the deep conditioning phase.
Although I haven't tried this myself (yet), EDEN's curl hydration shampoo comes highly recommended by hairstylist Nigella Miller. It's sulfate-free, cleanses without stripping, and works on color-treated hair as well.
Deep conditioning
After I shampoo, it's time to deep condition. And while you can certainly buy deep conditioning masks, I've found that half a bottle of this hair mask from Trader Joe's works better as part of a cocktail of products that I mix up in my kitchen — which I detail below — and slather on to my sectioned, damp hair until it's completely covered. (A good way to tell if you've put on enough product is if you can sort of wring it out if you twist a large section of hair.)
As Strategist writer Tembe Denton-Hurst detailed in her story on the best products for people who are newly natural, argan oil "helps to repair any broken strands from the inside out and controls frizz. It also helps with shine and elasticity and curl definition, too." I'm a huge fan of The Ordinary's affordable version and add an entire dropper's worth to my special blend.
Natural hair influencers who make their own deep conditioning treatments often use a staggering amount of different products, which can be overwhelming if you're just getting used to wearing your hair out. Instead of buying more products, I like to purchase multi-oil serums. My favorite is the impossible-to-find Garnier Hair Care Fructis Triple Nutrition Marvelous Oil Hair Elixir, with almond, olive, and almond oils, but a teaspoon or two of Design Essentials will do in a pinch.
Any old organic olive oil will work in a deep conditioning cocktail, but I like to use this olive oil from Lily because I like to think the CBD soaks into my scalp and relaxes me. At the very least, I know that the olive oil is a natural detangler and adds shine.