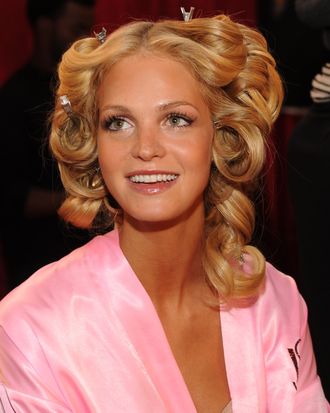 Photo-Illustration: Getty/Getty Images
TikTok has become a thriving beauty hub where obsessives share all their favorite products, tips, and tricks. And in recent months, heat-free curling methods have taken the app by storm. With a few simple steps and supplies (like cotton socks!), you can turn straight hair into whatever texture you choose — bouncy curls, beach waves, or tighter ringlets — without curling-iron heat damage. As someone with double-processed, bleached hair, I pretty much avoid hot tools at all costs and was personally invested in seeing which of these heat-free techniques actually worked. And no, we're not talking about using those Old Hollywood, Rita Hayworth–esque rollers. (How anyone got a good night's sleep in those giant things, I'll never understand!) Below, the best techniques to get you from straight to curly, heat free.
Beach Waves
Great news: This first technique uses things you probably already have at home: socks, bobby pins, and a couple of hair ties. Essentially, the sock acts as an irregularly shaped roller. When you braid your hair around it and take it down a few hours later, you end up with messy waves. I tested this with damp hair. I parted my hair into four sections, braided each around the sock, then secured each braid with a tie on the end.
The sock-braid method gives you some control over the type of curl you get, which I liked. For looser curls or waves (my preference), do four sock-braids. Six to eight sections will give you a tighter curl. The amount of tension you use to braid your hair around the sock also changes the result. The tighter the braid, the tighter the curl. Overall, I found that the flexibility (and, frankly, unpredictability) of the sock makes for messier, imperfect, and textured waves.
There's a caveat, though. My colorist, Emaly Baum (whom I always hit up with questions about trying new techniques on my dry, bleached hair), explained that the sock method is probably pretty bad for our hair since we're twisting and stretching delicate strands around coarse, rough fabric. It's especially bad on wet hair, as damp strands are even more susceptible to breakage.
Given that feedback, I tried it a second time, swapping in a silk scarf for the socks (Emaly had once told me that silk is gentler on hair because it creates less friction). Unfortunately, I didn't wake up with the same wavy curls. I think the hair needs to wrap around something with a bit more volume in order to create curls.
Okay, so as it turns out, the sock trick isn't great for our hair. I wouldn't get into the habit of doing this daily (or even weekly). But if you're game to give sock-waves a try, here's one of the most popular TikTok tutorials.
Bouncy Curls
Photo: retailer
Unlike the sock method, this curling ribbon delivers a uniform curl shape every time. The curling ribbon works in a similar way to the sock method (you're braiding your hair around it), but instead of socks, it's a large satin headband-esque tool that you braid your damp hair around; your hair will curl around it as it dries. This tool gives you big, bouncy curls, which at first I found a little too pristine and perfect for my liking (a little too pageant queen–y.) But Emaly told me that out of all the methods we discussed, this is probably the least damaging on hair. Satin is smooth and less absorbent, so it puts less tension on the hair, and the band's thickness makes it harder for our hair to knot around it.
Given Emaly's advice, I would opt for this technique instead of the socks, as my hair is incredibly susceptible to breakage. After using the curling ribbon, I'd add volume and texture back in (basically make the curls messier) with a texturizing spray. The OG curlers seen on TikTok are sold out until next week, but here's an identical dupe for them on Etsy. For a video on how to use these, here's a tutorial, and here are the results.
Barrel Ringlets
These tools are essentially tiny tube-shaped curlers that you pull your hair through with a plastic wand. According to the website, these curlers are made of a patented "hair safe" mesh fabric, so they are possibly less damaging to the hair than cotton socks (though I can't say for sure). This contraption is certainly the least … intuitive hair-curling gadget, but when executed correctly, it allegedly does a great job of creating long-lasting curls, according to reviews on Amazon and TikTok. These curls aren't really my speed (again, I'm a beach wave kind of girl), but if you like tighter, barrel curls, you might just love these. The major pro of these curlers, though, is that, since they don't sit on the crown of your head on the scalp, they might be more comfortable to sleep in than the heatless hair-curling ribbon. For a visual, here's the tutorial and the results.
Styling Your Curls