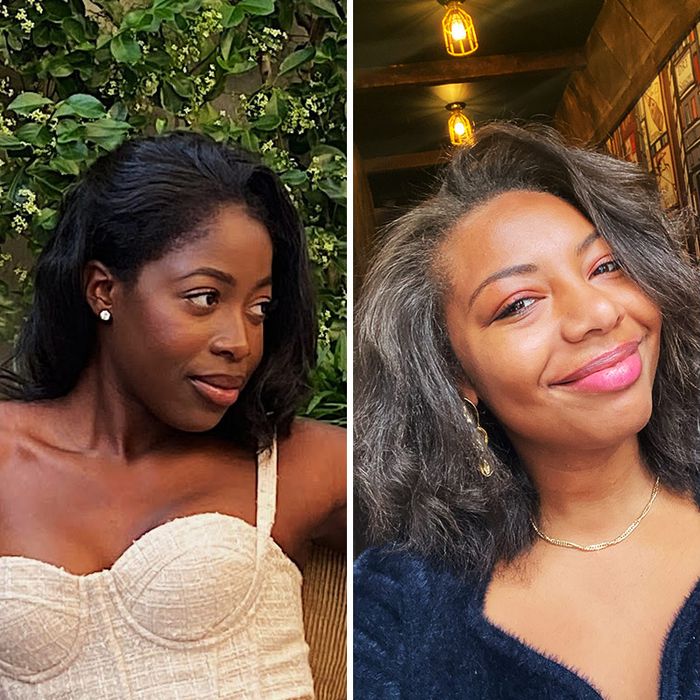 Memorial Day is not only the first day of summer, but for me it also marks the last opportunity to straighten my natural hair. And even that's pushing it. My pressed-out coils kink right back up at the first sign of humidity, and the style ends up lasting for only a few days before I'm pulling it back in a ponytail. "It's basically Mother Nature," says hairstylist Mika English, founder of Grew by M.E. hair products. "Any type of moisture in the air or your body temperature will cause your hair to revert back to its natural texture." This means heat, rain, humidity, sweat, and even stress are not your friends when your hair is straight. If your hair isn't chemically straightened, there's no way to make your style last forever. But some naturals have found ways to make their straight styles last as long as possible, even in the middle of the summer. We talked to six people — including English, another stylist, and four naturals who have mastered it — about how they keep their natural hair straight no matter how hot it gets.
A Good Foundation Is Essential
One way to make sure your straight style lasts as long as possible is to get it as straight as possible from the beginning. "You need to go to a natural-hair specialist who can really get it very straight the first time," says Kiana Brooks, who works in fashion merchandising at Dior. She leaves her summer blowouts to the professionals, but if you want to try to do it yourself, Kadeisha Placide, the owner of Brooklyn salon Classic Beauty Studio, recommends starting with this set of products from Design Essentials. (Although the set is currently sold out, we included each individual product above.) "In the salon, we use Agave & Lavender Blow Dry & Silk Press Collection to achieve our chemical-free straightening services," she says. "This helps to aid in the longevity of the press as well as to protect and shield the hair from heat damage." The set includes shampoo, conditioner, a hair primer, and thermal protectant cream, which means you're getting everything you need to wash and prep your hair before actually blow-drying or putting any heat to it. (You can find our guide to the best blow-dryers, straighteners, and products for doing your own silk press here.)
Gisele Milan Smith, who works in public relations at Sienna Naturals, straightens her own hair and says she's "got it down to a science." She believes that actual hair care plays an important role in holding your style. "If you're gonna wear your hair straight you have to keep it moisturized, because as soon as it hits humidity, it's gonna frizz," she says. "That's been the biggest thing that I've learned." She keeps her hair moisturized by deep conditioning her hair before the regular shampoo-and-conditioner process. "Sometimes when I was deep conditioning or using a mask after shampooing, it would still leave a residue on my hair," Smith says. "There's a middle ground. You don't want it to look dry and brittle, but you also don't want it to look oily. When I was doing the hair mask after, it kept looking like that so I adjusted what I was doing and I've honestly found that super-helpful." Although she's is admittedly biased, Smith says Sienna Naturals' deep conditioner is the best option she's found.
Once her hair's nice and clean, Smith likes to apply a leave-in conditioner and heat protectant before she dries it. "I didn't used to do that, but it was leaving it super-dry and brittle," Smith says. "I really like the smell of this one and think it works. Then I also always use Design Essentials Natural Agave & Lavender Thermal Protectant Creme, which is also like a humidity repellent."
After she's blow-dried and straightened her hair, Smith likes to use a little hair spray. "It helps it stay straight even in the humidity," she says. She uses Tresemme and usually likes a medium hold, but thinks any hairspray will work as long as it doesn't have a water base.
Touch Up at Your Own Risk
Most of the people we spoke to advised against straightening your hair again after the initial silk press. "I do this to avoid heat damage, but also I find that restraightening makes your hair greasier, and so even though you're trying to make it look good, it ends up not holding because it will make your hair get greasier faster," says Brooks. But sometimes you can't help but try to go back in to try and make it last just one more day. In those instances, Kaylah Jackson, a social-media manager here at Vox, will sometimes use this mini flat iron. "Once I notice my scalp is starting to sweat more because of the heat and my roots are getting puffy, I'll use a bit of dry shampoo and my mini flat iron to go over only where my hair is parted," she says.
"When the hairstyle starts to weigh down, dry shampoo is perfect for making it last two or three more days," English says. Jackson likes this original formula from Batiste, which our colleagues in the U.K. have also called the best budget-friendly dry shampoo.
Brooks says that once she gets a crease in her hair, she's tempted to go back in with a straightener. To avoid that, she tries to stay away from things like scrunchies. "If I'm working out or going to be in a crowded, hot space, I always like to use a banana clip to clip my hair up, instead of a ponytail holder so there's no marks in my hair that I will have to get out later," she says.
If she does end up with a crease, Brooks will touch it up using the comb attachment of the blow-dryer instead of a flat iron. "I always just use a blow-dryer to go through my hair and it actually works, and then you don't get that heat damage," she says. "The other thing I do is every time I do a workout, I run back to my apartment, put the blow-dryer on cold and run it over my scalp. I do it right when I get home so it stops me from sweating through my hair."
Protect Your Hair at Night