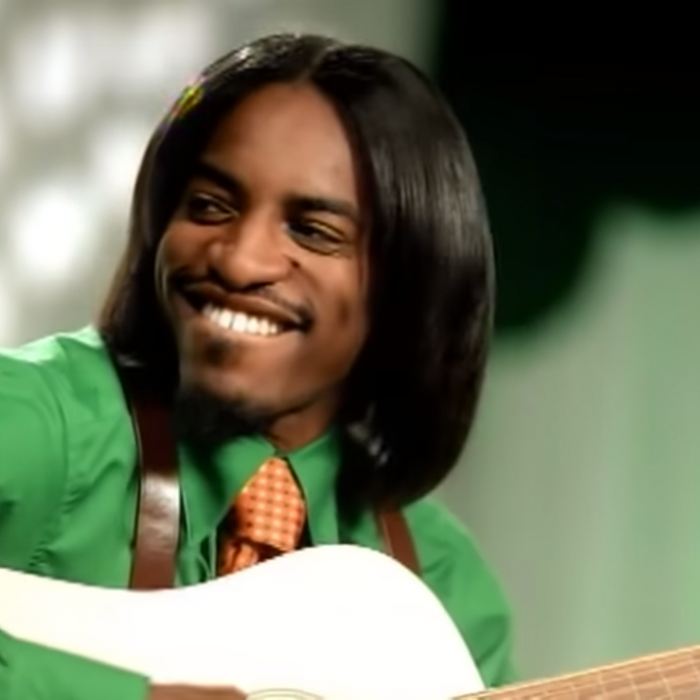 Straightening natural hair is no small feat, and it requires more than just a blowout. For years, the go-to method has been the press and curl, traditionally done with a hot comb heated up on the stove to press out kinky hair to make it straight. But more recently, I've seen the silk press pop up on more and more salons' service lists, replacing the press and curl. "A silk press is an upgrade to a traditional press and curl, just with less heat," says Latanya Williams, a stylist with mobile hair salon Yeluchi. That means you're less likely to get a burn (and no longer have to flinch and grab your ear at the words "hot comb").
"Now we have tools that will give you the same effect, but you can control the heat settings," explains Mika English a stylist at Ursula Stephen the Salon. With a silk press, "The heat settings stay the same because it's a plug-in. It's not just sitting on a stove going by your own temperature and tolerance, so it's more controlled." The other advantage of a silk press over a press and curl is that the process "smoothes and stretches your hair while giving it a natural shine," says Williams, adding: "and unlike a basic blowout, a silk press adds volume."
Here's the bad news: Trying to detangle, blow-dry, and flat-iron your own thick, curly, and kinky hair can be a time-consuming, tricky, and sometimes frustrating process — not to mention a workout, thanks to all the tools you have to use and hold at unnatural angles for hours. Plus, if you're new to this and don't use the right tools, you also run the risk of heat-damaging your hair.
But if you want to try a silk press at home, you can get a damage-free, salon finish — as long as you have the right tools and remain patient. To make it as easy as possible, we asked Williams, English, and two other professional stylists about all the best tricks and tools for achieving a salon-quality silk press at home.
S

h

a

m

p

o

o

s

a

n

d

C

o

n

d

i

t

i

o

n

e

r

s
All of the experts we spoke to emphasized the importance of starting the process with very clean hair. "Do a good scrub," English says. "One wash is not enough. Two washes is not enough. I always suggest people wash their hair at least three times before you do a heat style because clean hair is the best hair." The reason is because any sort of residue or oil buildup can burn your hair, once you add heat. English recommends her own line of shampoo and conditioner, called Grew by M.E., but it's one that I use and love as well. "You start with the detox shampoo, which is going to get all the buildup out of your hair first, and the conditioner is going to instant-detangle, instant-repair, and stop the shedding," she explains. When I've done this, my hair looks two shades lighter.
Williams also recommends a clarifying shampoo to remove building but notes that something that fights against humidity and frizz will also hydrate hair before you add all that heat. This frizz-fighting line of shampoo and conditioner is Virtue's Smooth line, which celebrity hair stylist Hos Hounkpatin swears by for textured hair. As with the shampoo from Ouai, the frizz fighter here is the keratin, but it's not the same keratin used to chemically straighten hair. Instead, it controls frizz, "so then, when you do straighten or blow out or flat-iron the hair, it will be smooth and not poof up when you are exposed to humidity," he explains. But you can tell it's working its magic even while you're rinsing it out in the shower: "It detangles the texture very well and makes it easy to work with." One of Hounkpatin's clients is model Imaan Hammam, and it's one of her favorite things too: "I'm really happy with this product. My hair is so much healthier. It has some kind of keratin in it and makes my hair softer."
Williams prefers this sulfate-free shampoo from Ouai that hydrates and fights frizz. It has keratin in it to smooth the hair and shea butter and avocado oil to lock in the moisture, so not only is it "removing dirt and oil buildup from the scalp, leaving hair soft smooth and dandruff-free," it also deeply conditions.
Williams also likes tea-tree shampoo because it will leave you with a "tingling, cool sensation" that feels extra-clean.
According to Williams, in addition to your shampoo and conditioner, "You should always do a deep-conditioning treatment that's about 20 to 30 minutes, then rinse with cool water to seal cuticles." This further hydrates the hair and prevents damage, and she likes this one because it "strengthens and moisturizes the hair and reduces breakage, while adding shine."
The Design Essentials hair mask, above, is specifically designed for curly and coily hair, so if you're looking for something to hydrate dry, damaged hair, Williams likes this Silicon Mix. Plus, she says it works for all textures.
We are almost at the blow-drying stage — but not quite. Before you take out your tools, you'll want to use a heat protector, and though these come in a few different forms, most of our hairstylists recommended heat-protecting sprays. This one from It's a 10 doubles as a leave-in conditioner, so it penetrates deeply into the hair. English recommends that you put this spray on before your blow-dry, since using this on already-dry hair might cause hair to revert back to its curly state — and that is true for all of these spray heat protectors.
Unlike It's a 10, this TRESemme spray is strictly a heat-protectant, without the benefits of a leave-in conditioner, and that means it's a less expensive option. What this spray does have is that all-important keratin that Williams says "gives a smooth polish."
Serums are another essential part of the silk press process, and our experts recommended that you put it on after the heat protectant but before blow-drying, as they help seal in even more moisture and help you achieve a smooth, straight finish. Both English and Williams love this CHI serum, and Williams says it "adds softness and leaves the hair feeling light, with a natural, silky shine." English points out that it is also a "reconstructor," which she says it's good if you have really damaged hair, because this will act like an additional barrier to protect you from the heat.
Another favorite of English's is this Paul Mitchell Super Skinny Serum, which conditions and seals the strands for a smooth and silky finish. I use this serum when I do my own silk press and think it is crucial to that smooth finish. It's super-lightweight and feels silky in my hand, so I can only imagine what it's doing to my hair, too.