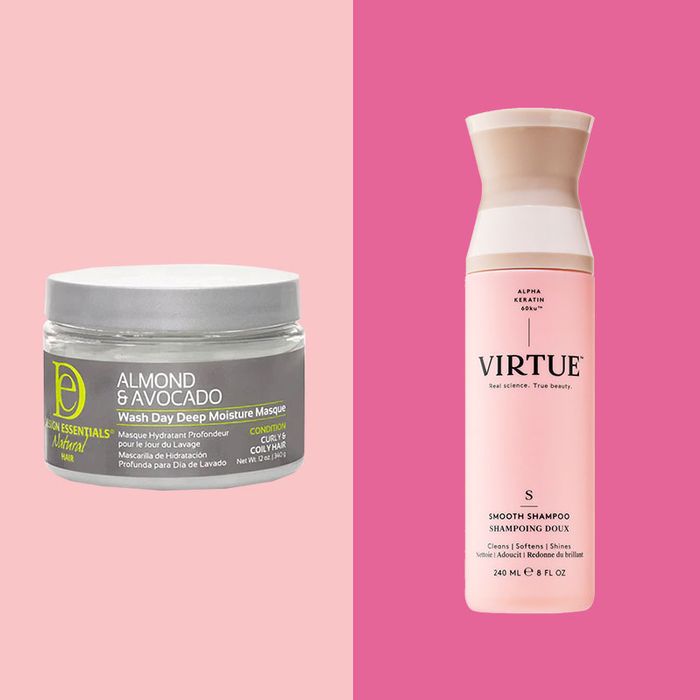 Photo-Illustration: retailers
Editor's note: This article first appeared on the Strategist in July 2020, and the products are still some of our favorites for an at-home silk press. So we're republishing it today as part of Natural Hair Week.
Straightening natural hair is no small feat, and it requires more than just a blowout. For years, the go-to method has been the press and curl, traditionally done with a hot comb heated up on the stove to press out kinky hair to make it straight. But more recently, I've seen the silk press pop up on more and more salons' service lists, replacing the press and curl. "A silk press is an upgrade to a traditional press and curl, just with less heat," says Latanya Williams, a stylist with mobile hair salon Yeluchi. That means you're less likely to get a burn (and no longer have to flinch and grab your ear at the words "hot comb").
"Now we have tools that will give you the same effect, but you can control the heat settings," explains Mika English a stylist at Ursula Stephen the Salon. With a silk press, "The heat settings stay the same because it's a plug-in. It's not just sitting on a stove going by your own temperature and tolerance, so it's more controlled." The other advantage of a silk press over a press and curl is that the process "smoothes and stretches your hair while giving it a natural shine," says Williams, adding: "and unlike a basic blowout, a silk press adds volume."
Here's the bad news: Trying to detangle, blow-dry, and flat-iron your own thick, curly, and kinky hair can be a time-consuming, tricky, and sometimes frustrating process — not to mention a workout, thanks to all the tools you have to use and hold at unnatural angles for hours. Plus, if you're new to this and don't use the right tools, you also run the risk of heat-damaging your hair.
But if you want to try a silk press at home, you can get a damage-free, salon finish — as long as you have the right tools and remain patient. To make it as easy as possible, we asked Williams, English, and two other professional stylists about all the best tricks and tools for achieving a salon-quality silk press at home.
Shampoos
and
Conditioners