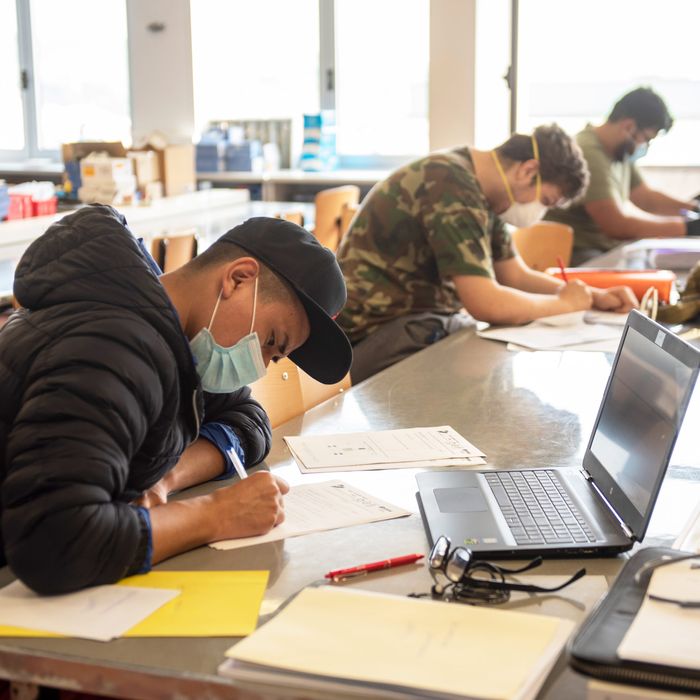 Photo: Gari Garaialde/Getty/Getty Images
Despite uncertainties about campus life and more than 6,600 coronavirus cases already linked to universities across the country, nearly 40 percent of colleges are planning to welcome students back to campus this fall for in-person or hybrid classes — where some students learn remotely and others in person for part or all of the year. Although plans differ from school to school — Yale's hybrid model includes in-person classes for some lab or studio classes, and first-years and sophomores will alternate which semester they're allowed on campus, whereas Texas Tech University is planning to be primarily in person, inviting all of its 30,000-plus undergraduate students back to campus with social-distancing and contract-tracing measures and mask guidelines — both models include some option of living on (or near) campus, a seminal part of the "mythical" college experience.
"It's really hard to choose between living on campus and potentially getting the virus, or staying home and missing out on your first semester of college, which is a major life experience," says University of Michigan rising freshman Zoe Storer, who is counting on having more independence in Ann Arbor than she does in her rural hometown a couple of hours away. However, most of the returning students we spoke to (Storer included) are wary of how their universities will enforce social-distancing policies in dorms or on campus. "Most people returning to campus are aware that this is a somewhat risky decision," says Audrey Yao, a rising junior at Rice University. For her, she adds, the social isolation of being at home outweighs the risk of returning to campus. "I have hope and faith that other students will be as responsible as I am on campus."
Since returning students are still uncertain about what dining halls and libraries will look like, those we spoke to have chosen to focus on what is within their control: their living space. "I know that I'm going to be spending more time than usual in my room and in my house, so I'm trying to focus my energy on cultivating the kind of space and community that I want there," explains Stella Vujic, a rising junior at Yale who was planning to live in her college's residential campus, but decided to move into an off-campus apartment after realizing that it would no longer be an option to experience the usual "hustle and bustle" of places she loves, like the dining halls. In addition to bringing Clorox wipes (if you can find them), hand sanitizer, and lots of masks, we spoke to nine college students from universities across the country — from UCLA to Bowdoin — about how they're turning their dorm rooms, or off-campus apartments, into places to study, unwind, and eat.
For studying
All nine of the students we spoke to are returning to campus this fall, but most are planning to take some (if not a majority) of their classes online and from the comfort of their rooms, since libraries, and other shared study spaces, are limited by reservation at many of their campuses. As soon as Anne-Laure Razat, a rising senior at Barnard College, decided to move into an off-campus apartment with her three suitemates from last year, she thought about getting noise-canceling headphones. "It's almost as a protection against getting annoyed, so I'm able to lock into my workspace despite being around them all the time," she explains, adding that while she and her suitemates are good friends, they're used to spending much less time together in their living space. Even Yao, who is a self-proclaimed "dorm-room studier," is thinking about investing in noise-canceling headphones to focus better in her suite of four. For students sharing a room with others, the prospect of taking simultaneous virtual classes is a little more challenging, even with headphones. "All of our classes are at the same time," explains Yael Homa, a rising freshman at Colorado College, where students attend one class per four-week block period, who is sharing a dorm room with another incoming student. "We'll just try to be as quiet as possible," she adds.
Most dorm rooms come with a desk, but Vujic says that in semesters past she basically used her work area "as a storage unit" and this semester is going to be more focused on "having a lot of table space" for work. We've said this minimalist steel and wood organizer is perfect for storing "all your little tchotchkes and random items that don't quite know where to go."
Since dorm space is limited, Homa is also planning to bring this fuzzy backrest pillow, so that she can work more comfortably while sitting in bed.
The students we spoke to say that their in-person classes are purported to be in less dense, larger spaces with social-distancing measures in place — like a seminar of ten in a giant lecture hall — but some universities, including Rice, where Yao attends, are planning to hold large lectures in giant outdoor tents, with a BYO policy: bring your own chair. Since Yao is a rising junior, she anticipates that her small, upper-level elective courses won't be held outside in a tent, but if she ends up needing a lightweight chair she'll get one — and this one is just the size of a Nalgene water bottle.
For hanging out
When they're not working (at home), all the students we spoke to anticipate spending most of their downtime in their living space too. "This year I'm going to focus on bringing more of the world into my room, rather than having it be a place for me to get away from the world," explains Vujic of her choice to get sheer curtains that brighten her room, in lieu of typical blackout shades. We've said the sheer, linen pairs from Target are a more affordable dupe of an interior-designer-recommended pick.