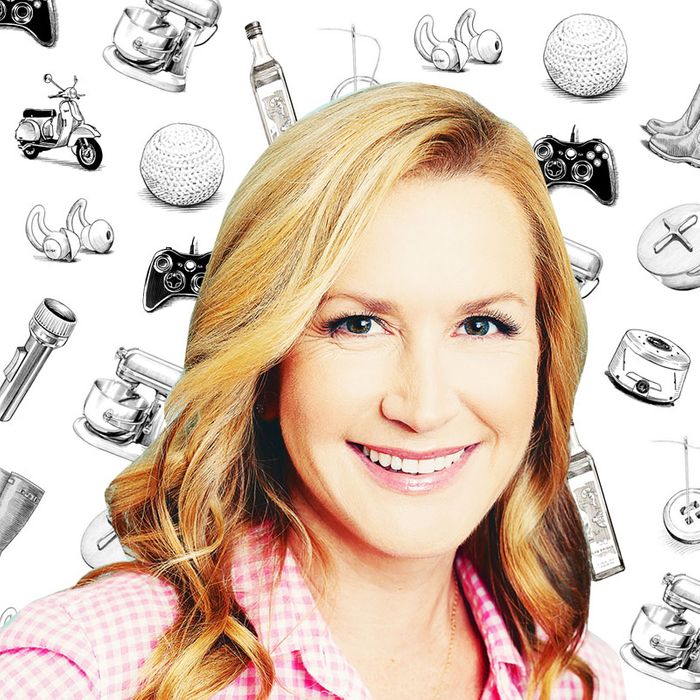 If you're like us, you've probably wondered what famous people add to their carts. Not the JAR brooch and Louis XV chair but the hairspray and the electric toothbrush. We asked actress Angela Kinsey — who hosts the new family cooking show Be Our Chef on Disney+ — about the board games, sweatpants, and coloring books she can't live without.
We have a family game night every weekend, but now we're doing it nightly. We all sit down at the dining room table, make a little tray of snacks, and sit there and play. Right now, we're really loving Catan. I love the strategy part of it, and it gets the kids thinking, like: "Okay, to build this town, we're going to need wood and clay; how do we get that?" You have to learn to barter and trade. There's a little bit of luck with the roll of the dice, but I think the strategy portion is what makes it fun for the kids.
Since I'm basically homeschooling right now, we're doing art in the morning, so we've been coloring more than we have in a long time. But I colored a lot when my daughter was little; it's soothing. My kids love the color-by-numbers book: They will divide up the numbers and assign each number a color — like the four is purple and the nine is green or something — and then color it in number by number. They're really into that one, and I sit across from them and color in the Enchanted Forest book. All of the pages have these really cool, sci-fi, magical-looking places. Right now, I'm coloring a castle that's floating in a sea of leaves in the sky. Coloring in our different books has been a wonderful thing for us to do together each morning.
My makeup artist — anything I know about makeup or skin care comes from a makeup artist — told me about this. Some lip balms you have to constantly reapply, but this lasts for so long. It's soothing, too. I have tubes in my desk drawer, my car, on my nightstand, in my purse — everywhere, basically. It comes in a couple different flavors, but I like the original one because it has no taste and it's not scented either.
Since we're basically not leaving the house, I have been in these Target sweatpants for like four days straight. I joke to my husband that I have my daytime sweatpants and my nighttime sweatpants. These are my daytime ones. I've had them forever. They're really soft and aren't expensive — I would have a very hard time paying a lot of money for sweatpants. I have a bunch of different types from Target, but these are particularly comfortable. I'm also short, so I hit the kids' department at Target pretty hard because I can get a kid size 12 or 14 and the length fits me perfectly.
If I could only wear one shoe for the rest of my life, it'd be flip-flops. Because I'm a dork, sometimes I'll even wear socks with them. My daughter hates that and rolls her eyes, but whatever — they're functional. The Roxy ones are comfortable, and I like how I look in them. I have a really small foot — I'm like a lady's size five — and these fit me really well.
Most nights, we make dinner together. My kids really love to help, so I have them wash and peel the vegetables. I'm not super comfortable having them wield a big knife yet, so I put them on the safer tasks. We make a lot of soups and stews, which are what we mostly use our Le Creuset for, especially in the winter. Soups are a great way to conserve your pantry and use everything you have. I love Italian Wedding Meatball Soup. It's super-easy for anyone to make. You just get kale, carrots, white beans, some tomatoes and a glass of red wine cooking in the Le Creuset and then make the meatballs to throw in. You can use ground turkey or chicken — just mush it into little balls, roll them in some breadcrumbs and parmesan, throw them in the soup that's already cooking, and you're done. It all cooks together and tastes amazing. It's also really healthy.
My grandmother lived until she was 100, and one of the things I will always remember from staying with her is opening up her fridge and seeing how she saved everything because she lived through the Great Depression. Like, if you were eating a handful of grapes and left four on the plate, she would take those four grapes, roll them up in tinfoil and put them in the fridge. So we try to tell our kids it's incredibly important to not be wasteful. I love these storage containers for saving food: They keep everything fresh, stack easily, and are super kid-friendly.
I have three kids, so I can't, you know, be drinking wine constantly. But there have definitely been a few evenings recently where we get the kids to bed and my husband and I have a glass of wine to decompress. I love New Zealand wine, and this is a great Sauvignon Blanc. It's not too sweet, kind of crisp, and really affordable.
I've used this for years and years and years. I think I started using it in college. It's easy to find and not expensive. I know there are fancier skin-care products that you can use, but I'm a working mom, so this is what I can commit to. It hydrates my skin without being too heavy; I also have sensitive skin, and it doesn't break me out.
I honestly don't know how anyone with multiple children can have a huge face-care regimen. I wash my face, spray this on it, and then top it off with some Cetaphil moisturizer. Sometimes I'll add an under under-eye cream because I'm 48 and why not? I started using this spray when I was traveling a lot for work; the air travel dried out my skin a lot. It looked so thirsty, so one of the gals that was doing my makeup for a show I was on said, "You really should try a rosewater spray." She told me it doesn't have to be some super-fancy one, so I picked this up, and it's been in my routine ever since. A few squirts and I look so much more hydrated. My skin drinks it up.
For years, we made our own tea on the back porch. That's what my grandmother always did. She'd get a huge jug of water, put some tea bags in, and let the sun just brew it. Tejava is kind of the next best thing. It has nothing artificial; it's just brewed, unsweetened black iced tea. I'm about to run out of it, though, so I think I'm going to get back to brewing my own tea now that I have the time.
We bake all the time — my husband is a phenomenal baker and cook. We love cooking together so much that we have a baking channel on YouTube. The kitchen is the heart of our home: It's where everything happens, like the big life talks and impromptu dance parties and those other really special moments. We probably make cookies in our KitchenAid the most. Everything gets mixed evenly, which is important in baking, and it's already rotating, so you can have your kids easily be your little helpers by adding stuff in — it's not like they're trying to mix and add things at the same time. With little hands things can sometimes get too complex, but using this makes it easy to give them one task at a time.
The Strategist is designed to surface the most useful, expert recommendations for things to buy across the vast e-commerce landscape. Some of our latest conquests include the best acne treatments, rolling luggage, pillows for side sleepers, natural anxiety remedies, and bath towels. We update links when possible, but note that deals can expire and all prices are subject to change.