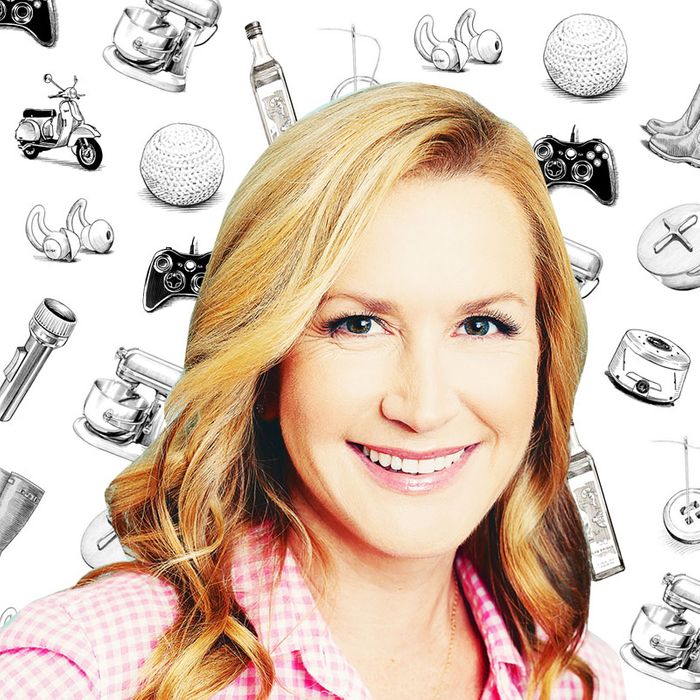 If you're like us, you've probably wondered what famous people add to their carts. Not the JAR brooch and Louis XV chair but the hairspray and the electric toothbrush. We asked actress Angela Kinsey — who hosts the new family cooking show Be Our Chef on Disney+ — about the board games, sweatpants, and coloring books she can't live without.
We have a family game night every weekend, but now we're doing it nightly. We all sit down at the dining room table, make a little tray of snacks, and sit there and play. Right now, we're really loving Catan. I love the strategy part of it, and it gets the kids thinking, like: "Okay, to build this town, we're going to need wood and clay; how do we get that?" You have to learn to barter and trade. There's a little bit of luck with the roll of the dice, but I think the strategy portion is what makes it fun for the kids.
Since I'm basically homeschooling right now, we're doing art in the morning, so we've been coloring more than we have in a long time. But I colored a lot when my daughter was little; it's soothing. My kids love the color-by-numbers book: They will divide up the numbers and assign each number a color — like the four is purple and the nine is green or something — and then color it in number by number. They're really into that one, and I sit across from them and color in the Enchanted Forest book. All of the pages have these really cool, sci-fi, magical-looking places. Right now, I'm coloring a castle that's floating in a sea of leaves in the sky. Coloring in our different books has been a wonderful thing for us to do together each morning.
My makeup artist — anything I know about makeup or skin care comes from a makeup artist — told me about this. Some lip balms you have to constantly reapply, but this lasts for so long. It's soothing, too. I have tubes in my desk drawer, my car, on my nightstand, in my purse — everywhere, basically. It comes in a couple different flavors, but I like the original one because it has no taste and it's not scented either.
Since we're basically not leaving the house, I have been in these Target sweatpants for like four days straight. I joke to my husband that I have my daytime sweatpants and my nighttime sweatpants. These are my daytime ones. I've had them forever. They're really soft and aren't expensive — I would have a very hard time paying a lot of money for sweatpants. I have a bunch of different types from Target, but these are particularly comfortable. I'm also short, so I hit the kids' department at Target pretty hard because I can get a kid size 12 or 14 and the length fits me perfectly.