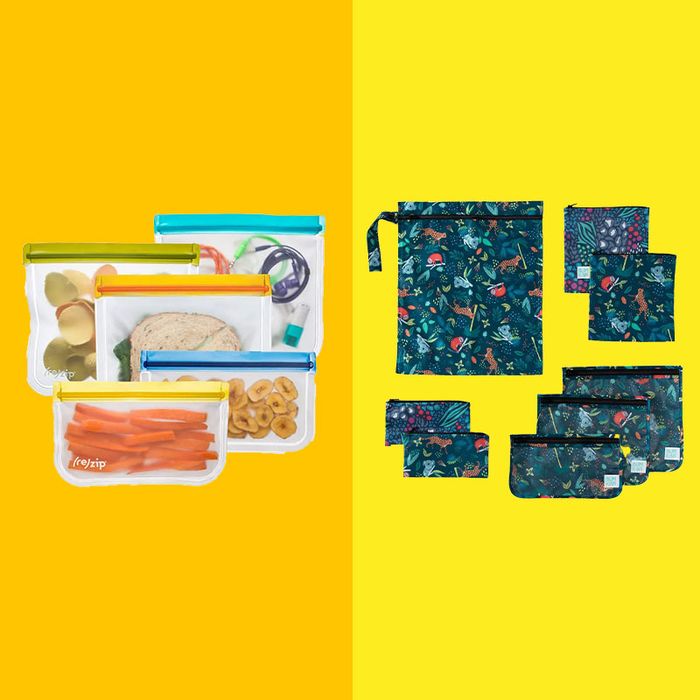 Photo-Illustration: The Strategist; Photos: Retailers
One way to reduce the amount of plastic you go through at home is to choose reusable food-storage bags instead of disposable plastic baggies. And though you might use those disposable plastic bags for any number of tasks — such as keeping food in the fridge or pantry or storing things like toiletries or office supplies — it's hard to find a reusable option that's as versatile. But it's not impossible, and to find the best, I tested several options and spoke with nine experts including a zero-waste blogger, a chef, a chemist, and anti-plastic activists.
Reusable food-storage bags require some heft to maintain a longer life span. Food-grade silicone made from sand and PEVA, non-chlorinated vinyl, are both FDA approved and last an eternity. PEVA bags tend to be both lighter and more affordable than silicone bags, and dust and hair don't stick to PEVA the way they do to silicone. Nor does it develop a slick, oily coating like silicone, which absorbs oils it comes in contact with that then become difficult to wash off. On the other hand, PEVA can't handle heat, so you can't cook with it, microwave it, or throw it in the dishwasher, as you can with silicone. Platinum silicone, the purest grade of silicone, is fabricated with platinum, which creates a stable, nontoxic material that can withstand heat up to about 400 degrees Fahrenheit. Products made from platinum silicone cost more than those made with PEVA.
Fabric — cotton, polyester, beeswax coated, etc. — may be more prone to rips and tears. But it's also breathable and light, which may be preferable for food shopping in bulk or storing produce in the fridge. Sturdier PUL (polyurethane laminate) fabric, coated with a thin layer of water-resistant, pliable plastic (usually BPA-free), can be used for carrying a sandwich or storing things like cosmetics, but this coating can wear off over time and with use or washing.
Cloth bags close with either a zipper or drawstring and are not designed to be airtight. They can be good for carrying crackers for snacking but not for storing crackers without them going stale. Most silicone and PEVA bags close with a pinch-top seal, which is airtight and works better for long-term food — even liquid — storage in the fridge, freezer, or pantry.
Reusable bags follow the sizing you're used to in disposable baggies: from snack size to quart and gallon size. Some manufacturers make only snack- and sandwich-size bags, while others offer mini and mega sizes to accommodate everything from earrings to pet food.
Hand-washing bags is not for everyone. If you prefer to clean your food-storage bags in the dishwasher, then silicone is the answer. Some fabric bags can also go in the dishwasher, though these may clean up better in a washing machine. Although some companies may suggest otherwise, PEVA should be hand-washed in cool water as it breaks down under high heat.
Best overall reusable food-storage bag
Material: Silicone | Closure: Pinch seal | Size: Pocket size (4 fl. oz.) to stand-up mega (104 fl. oz.) | Care and maintenance: Dishwasher safe
Silicone is the one material that will handle all things hot and cold, and Stasher is the undisputed leader of the pack (as well as a Strategist favorite). Online reviewers note the bags are sturdy and leakproof. Food stays fresh longer in these silicone bags than when stored in plastic. Frozen food retains its flavor, and there's no freezer burn. You can use the stand-up mega bag to microwave popcorn. And the convenience of being able to run them through the dishwasher makes them worth it for many.
Still, Stasher bags aren't perfect. Online reviewers say that the seal can get moldy and is difficult to open and to clean and that the thick material can make it challenging to hold bulkier items. When frozen, the bags can be difficult to open. Strategist senior editor Winnie Yang bought several sizes three years ago and uses them mainly for snacks and lunches. "I wouldn't use them for anything that usually stains silicone (like tomato sauce) or is especially oily since I hate dealing with the sticky residue that develops on silicone," she says. You might also find that they absorb fragrances and off-flavors from dish soap or the freezer: To neutralize those, you can bake silicone for an hour at 350 degrees.
Best less expensive reusable food-storage bags
Material: PEVA | Closure: Pinch double seal, zipper, roll top | Size: Mini (½ cup) to 40-cup pet-food-storage bag | Care and maintenance: Hand-wash
Wen-Jay Ying, founder of the café and farmers' market Local Roots NYC, likes PEVA-based (Re)Zip bags. "They're light," she says. "They feel like Ziplocs." She uses (Re)Zip for everything — bulk shopping, storing leftovers, and freezing food. "I also like them because they're thin, so they take up less space than containers." As a material, PEVA is less bulky than silicone, which gives the bags a slender profile that fits nicely in the freezer. The bags also cost a fraction of the silicone bags from Stasher. We like (Re)Zip's innovative sizes, which include a 40-cup roll-top closure that is marketed for pet-food storage but would work equally well for bulk flour or a kayak trip. Remember that PEVA, unlike silicone, does not hold up under high temperatures. Although (Re)Zip says the bags are dishwasher safe, hand-washing them in cool water will make them last longer.
Best reusable food-storage bag for nonfood items
Material: Polyurethane-coated polyester | Closure: Zipper closure | Size: Snack size (3.5 by 7 inches) to wet bags (12 by 14 inches) | Care and maintenance: Dishwasher safe and machine washable
I've been using Bumkins fabric reusable food-storage bags for sandwiches and for organizing all the small things that end up at the bottom of my backpack. They're superlight and come in colorful prints that can cheer up all things snacks to ChapStick as well as in patterns with Disney princesses or Batman that will appeal to kids. The materials are certified as Standard 100 by Oeko-Tex, which means they were tested for toxic materials and passed. They are water-resistant but not waterproof. A little mayonnaise could be contained, but I wouldn't pack, say, slices of watermelon.
I found the large wet bag ideal for packing potentially leaky shampoo bottles in my suitcase. A multipack of three clear-front bags (the largest is 9.5 by 8.5 inches) is useful for both TSA regulations and just knowing what's in there. On the downside, any fabric food-storage bag will not last as long as something made of silicone or PEVA. One Amazon reviewer noted that the inside of the bag became sticky and then broke down over time despite hand-washing the bags. Other reviewers wrote that their food got stale, which makes sense since fabric bags are not airtight. For cleaning, I preferred hand-washing or a cold cycle in the washing machine. My dishwasher didn't remove food residue or smells from the bags.
Best reusable food-storage bags for bulk-food shopping
Material: Organic cotton | Closure: Double drawstring | Size: Small (3.5-inch base diameter by 6-inch height by 4.5-inch open-top diameter) to large (8-inch base diameter by 10-inch height by 9-inch open-top diameter) | Care and maintenance: Machine washable
For bulk-food shopping, Life Without Plastic's organic-cotton fabric bags were thoughtfully designed for the task. The bags have a flat, round bottom so they stay open while you fill them, and they're sturdy enough that they won't fall closed and get beans or flour all over everything while you do so.
The large size has two layers to hold flour, sugar, or anything fine enough to sift through fabric. The inner layer is a dense weave, while the outer layer is a heavy cotton. Each layer has its own drawstring to tightly twice-seal the bag shut. The seam on the inner bag sits on the outside so particles don't get stuck there. And every bag has its tare weight printed on the front so the weight of the bag can be deducted from the total price of your items.
Best compostable reusable food-storage bags
Material: Beeswax-, jojoba oil–, and tree resin–coated organic cotton | Closure: Fold and press | Size: Small (6.5 by 4.5 inches), medium (6.5 by 8.5 inches), large (14 by 11 inches) | Care and maintenance: Hand-wash
If you are as concerned about eventually disposing of your reusable-food-storage bag as using it, then beeswax bags are a great pick. Jackie Nuñez, founder of the Plastic Pollution Coalition's Last Plastic Straw project, likes BeeBAGZ because they can truly be diverted from the waste stream. Once they've lost their coating, they are compostable or can be repurposed into fire-starter strips. Many Amazon reviewers praise the bags for doing a great job of keeping food fresh. "A cut apple did not oxidize after three days," one reviewer writes.
• Anne Marie Bonneau, zero-waste author and blogger
• Alexis deBoschnek, author and chef
• Cindie Kehlet, acting chairperson, department of math and science at Pratt Institute
• Rhonda Keyser, outreach and cafeteria-program director at Cafeteria Culture
• Mary Lempres, artist and designer
• Jackie Nuñez, founder of the Last Plastic Straw
• Lauren Singer, founder of Package Free
• Winnie Yang, senior editor at The Strategist
• Wen-Jay Ying, founder of Local Roots NYC
The Strategist is designed to surface the most useful, expert recommendations for things to buy across the vast e-commerce landscape. Some of our latest conquests include the best acne treatments, rolling luggage, pillows for side sleepers, natural anxiety remedies, and bath towels. We update links when possible, but note that deals can expire and all prices are subject to change.