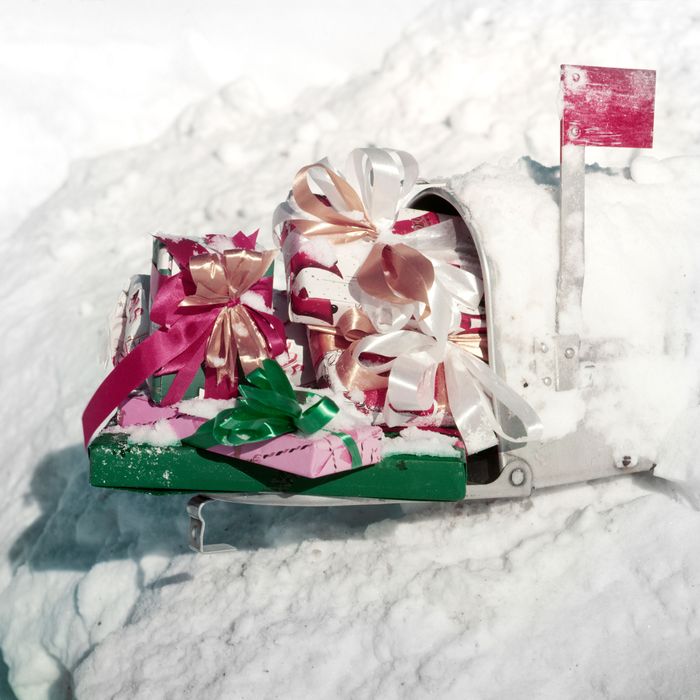 Photo: H. Armstrong Roberts/ClassicStock/Getty Images
Holiday shopping — like most things — will look a lot different this year. Many of us will be skipping out on the usual nightmarish parking lots, long lines, and near brawls trying to secure that sold-out toy in favor of ordering gifts from the comfort of our couches — but unless you place your orders plenty early, you just might be faced with a nightmare of a different sort: shipping delays.
Because of the increase of online shoppers and the decrease of warehouse staff, shipping will likely take even longer than usual. To ensure your gifts arrive on time for the holidays, we're rounding up all of our favorite stores' shipping drop-dead dates — the absolute last day retailers suggest you order from them for Christmas Eve delivery. Hurry, some of the standard-shipping deadlines have already passed. And be sure to check back because we'll be updating this list as more dates are confirmed.
If you are gifting anything from Alex Mill (we especially like the jumpsuits and chore coats), the cutoff for standard shipping has passed — but you can still get your items with expedited shipping. Two-day shipping orders must be placed by December 21 at 11 a.m. ET, and for overnight shipping you can wait as late as December 22 at 11 a.m. ET.
To get your gifts from Anthropologie on time with standard shipping, order by midnight on December 18. If you miss that date, your orders should still arrive by Christmas Eve if you order by December 21 with express shipping or by December 22 with overnight shipping.
December 16 was ASOS's order-by date for Christmas delivery. If you missed that, you can still order by December 21 with express shipping or by December 22 with next-day delivery. And if you're more concerned about your New Year's Eve outfit, you have a few more days — the company suggests ordering by December 22 for end-of-year delivery; you can order as late as December 28 with express shipping and as late as December 29 with next-day delivery.
An Away suitcase just might be the closest thing to travel you can give this year. You've missed the standard shipping deadline, as well as the opportunity to personalize. Now, you'll need to choose the the "fastest" delivery option and order by December 18.
To get all of your outdoor goods from Backcountry in time for the holiday, order by 7 p.m. ET on December 21 with two-day shipping, or by 5 p.m. ET on December 22 with next-day air.
At this point, it's too late for guaranteed delivery from Baggu. The company suggested ordering by December 7 with priority mail, but you can buy its face masks and reusable bags at places like Shopbop, Urban Outfitters, and Nordstrom, where you are still guaranteed to get your gifts in time.
Best Buy says that shipping times will vary based on the regulations in place in different regions. In most areas, they recommend ordering by December 21, but always check the earliest delivery date in checkout. Depending on local availability, you'll be able to get certain items on time if you order by 8 p.m. on December 23. In some areas, same-day delivery will even be an option on Christmas Eve. Best Buy is also offering curbside pickup if you want to play it safe.
At this point, you need to use expedited shipping to get your gifts from Brooklinen by the 24th — and make sure to place your order by 1 p.m. EST on December 18. (To get you started, here are a few of our favorite things from Brooklinen.)
Order by December 18 at noon ET to receive your gifts by Christmas Eve with standard shipping. Or for next day shipping, order by December 22 at noon. Catbird is also offering same-day delivery and, if you're local, in-store pick-ups — but the last day for these is December 23 at noon.
To get your gifts from COS by December 24, the deadline for standard delivery — December 17 — has passed, but you can order by 2 p.m. EST on December 22 with express delivery.
The date has passed to get your Christmas-morning pajamas in time direct from Eberjey – but you can still order the brand's beloved PJs (and anything else you may need) from Neiman Marcus through December 21 with the code NMHURRY.
Surely your list has tons of loungewear on it this year. If it's coming from Entireworld, you'll need to use two-day shipping by December 18.
With Etsy, it all depends on the seller, but the company suggested ordering by December 17 for delivery in time for the holidays.
There are endless gift-worthy Strategist favorites from Everlane. If you want them to arrive on time, the shipping cut-off date for holiday deliveries is December 20.