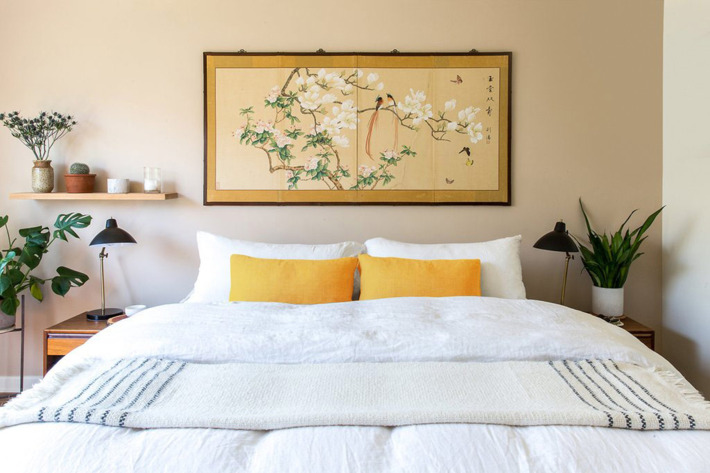 Perhaps you caught our guide to shopping for linen, in this moment of Peak Linen. Perhaps you also noticed that the article was entirely absent of any mention of linen sheets. That's because this particular bedding trend has taken on a life of its own, and there are so many companies — new and old — making sheets out of flax that we decided it deserved its own article. So Lauren Levy — who first wrote about her Brooklinen sheets back in November — and I test-slept sheets from eight different brands. There are many more out there, especially if you're shopping in Europe, but our list covers the new popular players (Parachute, Brooklinen), the even newer start-ups (Olive Wren, Loomstead), and some beloved standbys (West Elm, Matteo) as a control group.
We both agree that for the feel, the price, and the colors, Parachute is your best bet. But Lauren also loves Matteo, a company based out of Los Angeles that also does linen clothing and home goods, and I fell hard for Morrow and would also highly recommend West Elm's sheets. If you're contemplating linen sheets and want all the details, here's what we think.
Margaret: You wrote about linen sheets on the Strategist first, making you the resident expert. Should we first establish why they're so incredible?
Lauren: I used Brooklinen sheets first, and those made me fall in love with linen sheets. They feel so light, it's almost like you don't feel it. It's just brushing against you when you sleep. If you've only used cotton or whatever, you can't even compare it to the feel of linen sheets.
Margaret: I've been trying to come up with the vocabulary to describe it, and people always say it's breathable; it's cool to the touch. But I still don't feel like I have the right word to describe how it feels like such an embrace.
Lauren: It's like an angel's kiss.
Margaret: There's a live quality to it. You feel like you're being whispered against. Which makes me sound like a psycho, but —
Lauren: But it's true.
Brooklinen
Seen here in cream; Brooklinen's sheets also come in white.
Verdict: You can't go wrong with Brooklinen. We say buy, so long as you want nothing more than a white or cream color.
Parachute
Lauren: There is a tactile-ness to good linen, which is one reason I love Parachute. If I'm picking favorites, these are one of my top two. In a weird way, the most important thing to me is the color options because if I don't want cream sheets, then I don't want to be limited to just that. I put aesthetics above a lot of things. So I bought Parachute sheets in coal, and have the duvet cover in fog.
Margaret: I tried Parachute as well, and was especially curious about it because I think it's become the go-to brand. Like when Simone [Kitchens, fellow Strategist editor] wanted linen sheets, her friend who's a fashion buyer told her to just get the West Elm ones, but Simone was like, "No, I just wanted the Parachute ones." She got the fog color, but the coal color we both have is great — there's something so relaxing about waking up with all that darkness around you. You can get away from the light that bounces off white sheets.
Lauren: I also think the price is right on Parachute. I would have bought Matteo from the jump, but I wasn't ready to spend $430 on sheets.
Margaret: The Parachute sheets feel a bit more like what I imagine European heirloom sheets to feel like. They have that heavy, grainy, but still really soft feeling. They felt great right out of the box, like they had been washed many times already.
Parachute's "fog" color is so popular, it's only available right now in a full. Updates are surely coming, though. Add a top sheet and it's $279.
Linen Sheet Set in "Bone"
Linen Sheet Set in "Coal"
The "coal" sheets both of us are obsessed with.
Verdict: We both think Parachute is the best all-around company, factoring the middle-of-the-road price, the substantial feel of the linen, and the color options. We say buy.
Matteo
Margaret: What about Matteo? It's been around longer and is definitely a known go-to for seriously good linen. (Its sheets also cost considerably more.) It has 18 colors — was the color swatch on its website faithful to the color you got?
Lauren: Well, it sent white ones. But that's a good question. It would make me nervous to choose a color online and buy them. With just the "fog," you can tell what you're going to get. But at the same time, 18 colors — killing it. I fell in love with the Matteo sheets because they're so light. They feel like a thin nothingness that's also incredibly soft and cozy, whereas the others have a heavier quality.
Vintage Linen Sheet Set (King)
Heads-up: Matteo is currently on sale at Huckberry.
Vintage Linen Sheet Set (Queen)
The so-called vintage linen isn't actually secondhand — Matteo puts its raw linen through an enzyme wash, which helps break down the roughness of the flax. "It makes it feel like it's been washed over and over," said Jessica Lester, who works on design at the company. "It's never been used. But it feels like it."
Verdict: Matteo makes the closest thing to a Status Sheet, among the brands on this list. It shows up in the price, though, so this sale is an especially good one. We say buy while they're on sale — or put them on a registry and hope you get lucky.
West Elm
Lauren: I'm curious to hear about the West Elm. Multiple interior designers recommended them to me when I first did this post.
Margaret: They were across-the-board great. I thought they felt a little crisper than the others — just enough that they had a bit more of that just-washed, clean-sheet feeling. It was still better and softer than the regular percale Casper sheets I've been sleeping on, but for linen, it was the cleanest feeling.
Lauren: That, I think, is nice for people who are not sure if they want to go full linen. And other ones get wrinkly, so maybe you can fold these and make your bed in a more crisp way.
Margaret: It's dip-your-toe-in linen. Maybe you get them for the guest bed in the house, so your guests don't get full linen, but just a little. Also, the elastic on the fitted sheets was a lot tighter, so it snapped under my mattress in this very satisfying, at-attention way. Which was nice because I hate it when a sheet bags out and gets loose.
Lauren: I have a lot of opinions on the fittedness of the sheets. Every queen-size and king-size bed is the same, so they should all be fitted. I will note that the Parachute ones I have are baggy. But the Matteo ones are immediately the right fit and they stay tight.
Margaret: It's also worth pointing out that the West Elm ones are currently on sale, so you can get a queen set for under or around $200. Plus, I don't know, if you're getting married and you're registering at traditional stores instead of Zola, you can add these.
Belgian Flax Linen Sheet Set
Belgian Flax Linen Pillowcase (Set of 2)
Verdict: West Elm's options are a super-solid, entry-level linen sheet. Especially with the current (and likely recurring) sale, we say buy.
Morrow
Margaret: So my next ones are Morrow. Or More-oh?
Lauren: I think it depends on where you grew up.
Margaret: Maybe it's tomorrow, but without the to. Like you get in your sheets and wake up tomorrow. Anyway, these are phenomenal and they are soft in this slightly downy way that the other sheets I tried were not. Jean Godfrey-June recommended them and they are every bit as good as she says. I got them in greige, and that was so much nicer than other regular cream-colored sheets I've slept on in the past. I dig that flaxen, undyed look. I also really like that they come in just one full set with the fitted and top sheets and pillowcases because a lot of other places sell the sheets piecemeal —
Lauren: Asking if you want a top sheet? Everyone wants a top sheet! I use a top sheet, 100 percent.
Margaret: The crazy thing is, some people don't. My best friend hates them, so for her to buy linen sheets from one of these other companies and save almost $100 on the top sheet is a deal. But I love a top sheet and give major props to Morrow for selling one sack of linens, one and done.
Lauren: To your word on greige: I'm declaring white sheets over. We can all be more creative than that.
Margaret: Your fog sheets are a great new neutral. There's another way to keep it clean without paper white.
Lauren: I think that's why millennial pink blew up — people just needed something different.
Heirloom French Linen Sheet Set
Heirloom French Linen Sheet Set
Yes, Lauren just declared white sheets over. But if you're not done with them yet, here you are.
Verdict: These are exquisite, especially if you want something on the softer end of the spectrum. We say buy.
Coyuchi
Lauren: So what's up with Coyuchi?
Margaret: Coyuchi is a California company that started in the '90s, and I wanted to try these because they have an interesting business model. Now that there's this new wave of interest in bedding, they're trying to reinvent things with a subscription model so that you sign up and pay a little bit each month, and then over time you get new ones. You can pay $39 a month for a queen set of linen sheets and then get new ones every 12 months. Or $19 a month, and get new ones in 24 months. When you return them, they upcycle the old ones. They use all kinds of crazy machinery and liquefied carbon dioxide at some factory and then "refresh" the fabrics. I read that in Fast Company, not just on their website, so I don't think it's just marketing.
Lauren: I kind of love that.
Margaret: These felt great, too. Sturdy, substantial, and soft enough out of the box that I'm sure they'll get even better. Just as good as Parachute and West Elm. The top sheet also has a really subtle but really nice stitching detail on it: tiny contrast stitches across the top. I liked that.
Organic Linen Chambray Sheet Set (Queen)
Squint and you can see the stitching detail I'm so fond of.
Verdict: A super-solid choice, but an expensive set if you pay all at once. We say buy, but only if it's because Coyuchi's sustainability model is very key for you. Otherwise, other sheets are a better deal. We also find the Coyuchi for Life program compelling.
Loomstead
Margaret: My next one was Loomstead. I really wanted to like its sheets because it's new and the prices are pretty good — maybe around $40 to $60 cheaper, depending on what size you're getting and if you include a top sheet. But they were pretty scratchy. I thought at first that it was my fault because I took them with me to a weekend at a house upstate near Phoenicia, and it was that weekend that it was almost 100 degrees, and we were in a room with no air-conditioning. So it was just hot no matter what. But then I put them on our bed at home and cranked up the air, and they were still scratchier than the others. And I put them through the wash, with fabric softener, twice.
The top sheet is optional.
Verdict: Even at the low on-sale price, we can't recommend these.
Olive Wren
Lauren: This is actually why I didn't love the Olive Wren ones. The bedding companies will always tell you to wash them and that they'll get softer with each wear, and I admit that I didn't do that. But I found the Olive Wren sheets to be scratchy the first night I used them. It went away the second night, and I slept on them for four nights total, but it was still something you notice. They also have a thicker feeling than Matteo or Parachute sheets.
Margaret: I will say, to both of these, for the other linen story I worked on, I interviewed a costume designer named Olga Mill who worked on that movie Hereditary. And because they will often buy new linen pieces, but for the character need those clothes to look really old, she has a trick: If you wash linen with soda ash, it accelerates the softening. She said it's like ten washes in one. Use about half a cup per small or medium load, she said.
These come in three pale colors and also include an (optional) additional top sheet.
Verdict: Ditto here. Or try the soda ash trick!
The Strategist is designed to surface the most useful, expert recommendations for things to buy across the vast e-commerce landscape. Some of our latest conquests include the best women's jeans, rolling luggage, pillows for side sleepers, ultra-flattering pants, and bath towels. We update links when possible, but note that deals can expire and all prices are subject to change.
Every editorial product is independently selected. If you buy something through our links, New York may earn an affiliate commission.