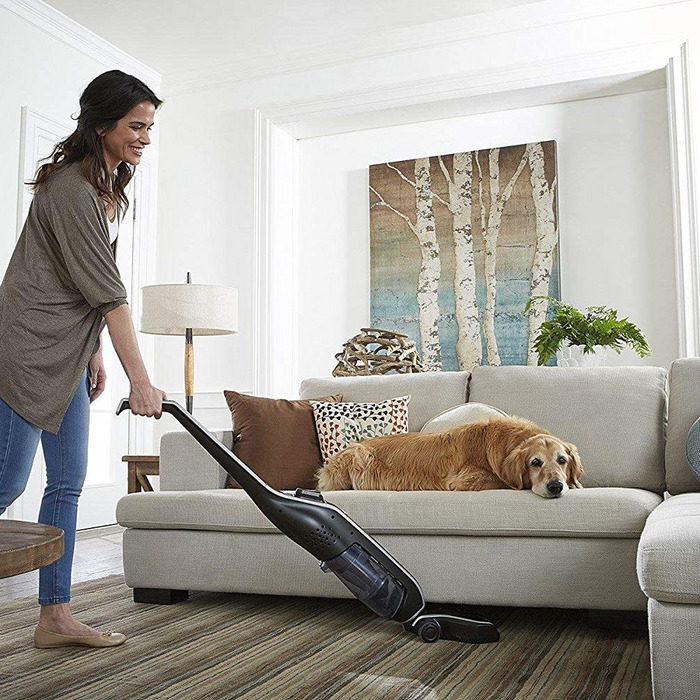 Photo: Courtesy of Retailer
Here at the Strategist, we like to think of ourselves as crazy (in the good way) about the stuff we buy, but as much as we'd like to, we can't try everything. Which is why we have People's Choice, in which we find the best-reviewed products and single out the most convincing ones. (You can learn more about our rating system and how we pick each item here.)
And while we've written about lots of vacuums — including the best handheld vacuums and the best standing vacuums — here, we've rounded up the best cordless stick vacuums, as praised by the most enthusiastic reviewers on Amazon.
Best-rated cordless stick vacuum
With over 2,000 reviews, the Tineco A10 is the most beloved cordless stick vacuum on Amazon. "After combing through the products on Amazon, I landed on this little gem. It is, far and away, the very best stick vacuum I have ever owned," writes one woman. "It is very light and intuitively easy to use. Also, my cats and I are noise sensitive, and it is very quiet." Reviewers also noted that the vacuum comes with several nifty design elements, including two batteries, which are "very handy when doing upstairs and downstairs, as well as LED lights on the front, which are "very helpful because it can show me clearly where the dirt is." They also praised the power of the suction. "This powerful little vacuum takes all the work out of vacuuming. The regular suction level picks up everything effortlessly and the MAX power level is impressive." The vacuum also comes with a HEPA filter for better air filtration. One reviewer with allergies and asthma writes, "Filtration was a big deciding factor in choosing this unit, and again, it did not disappoint. There is ZERO dust kickback while in use, and the dust bin empties easily. The HEPA is also easily accessible and rinsable. It's like having a new vacuum every day."
Best-rated (less expensive) cordless stick vacuum
"This product is everything it says it is. Easy to clean, charges up quickly, and stays charged for days, with surprisingly good power," writes one reviewer about this bagless vacuum cleaner. "Well-built, and the best part is you need nothing to purchase after you buy this product. The bagless catch tray works superbly. Another reviewer writes, "Easy to assemble, attachments are well-designed and work well. I love the fact that it works cordless and does not require bags. Best vacuum cleaner I ever had." A third reviewer sums up the pros simply: "Lightweight, inexpensive, efficient, good selections of attachments, highly maneuverable, good battery life, and powerful enough for light jobs (don't buy this 'cuum if you need to vacuum up engine blocks, bowling balls, or the forest floor)."
Best cordless stick vacuum with removable batteries
Reviewers loved the fact that this vacuum comes with two batteries, with one reviewer writing, "Since this comes with two batteries, you can always have one on the charger, so you're always ready to go. I have pets and this thing works great on pet hair." Reviewers were also impressed by the longevity of the charge: "The battery holds a good charge, and it comes with a backup so, when it runs out, you can just swap." Another reviewer, who uses the vacuum to clean her one bedroom apartment, writes, "It's a good vacuum and comes with two batteries. Each battery lasts a couple of weeks for me. Folding up is convenient for storage and also for easily getting under furniture. I like that there are no waste bags and you can just empty out the solid dustbin with the touch of a button (no need to buy replacement bags)."
Best lightweight cordless stick vacuum
While lots of these Dyson vacuums may seem the same, this is the newest model that we've included on our list, and many say it's lighter and more powerful than the V7. One customer just upgraded from the V7 and says this model makes his "V7 look like a broom" because the V10 even got glitter out of the carpet. And another thinks this is even better than the V8 model too. "We're NOT dirty people, only have two basset hounds. We're not bathing them more often or switching our vacuum schedule and I think my house smells less doggish," she explains. Writer Lori Keong reviewed this exact Dyson model, writing that "it's apparent that the Dyson is way better at deep-cleaning carpets" than her "scrappy" Bissell. An Amazon reviewer even thinks "this is one of the best purchases [she has] made in the last year." She calls it "lightweight, effective for its purpose, and easy to operate and articulate around objects." One customer even gave her corded vacuum away after two weeks of using this Dyson. "This is all I have now and it's great. Suction is impressive for a cordless. It's lightweight and really maneuverable." She warns that "if you have a 5,000 square foot home with kids and pets, this will not work for you," because the battery only lasts about 30 minutes on high, according to Keong, but for those with small to medium sized homes, this will be great.
Best (less expensive) lightweight cordless stick vacuum
Yes, this is another Dyson recommendation, but it's supposedly just as lightweight as the V10 and a lot less expensive. According to one reviewer, the Dyson V8 is "so lightweight you could run a 5K with it" and "swivels on a dime (basically 360 degrees)." It's a slight upgrade from the V7 — and not the newest cordless Dyson on the market — but even experienced reviewers think that the V8 is particularly lightweight. "Go ahead and do it one-handed because this baby doesn't need all your body weight to move from room to room. All that time you spend dragging out the bulky old fashioned vacuum is over," one reviewer writes. She also appreciates that it's cordless because it saves so much time: "It's easy to dump and you won't have to untangle hair from the roller." One reviewer loves the vacuum so much he declares, "This vacuum is the Holy Grail of all cordless vacuums. Honestly, one should not love a piece of cleaning equipment as much as I love this. But alas, I do!" And a third reviewer writes, "Fantastic vacuum — powerful, lightweight, so easy to use. Should have bought this years ago. Nothing else we've had works as well. As light as an electric broom, but far more versatile."
Best cordless stick vacuum with attachments
Reviewers say if you're looking for a cordless stick vacuum with lots of bells and whistles, this is the one for you. While you can get the V8 and the V10 with attachments, it won't be nearly as cheap as the V7, which has the attachments included in the price, and reviewers seem to think this one works spectacularly. The vacuum includes the flexi-crevice tool, mini motorized tool, stubborn dirt brush, combination tool, crevice tool, direct drive cleaner head, and a docking station. "This vacuum is ready to go when I need it and has the right attachments so I can easily use if for any household use (or to clean cars)," says one reviewer. She hated that she had to basically take apart her old vacuum in order to change the attachments, but this Dyson is easy to change. Plus, it's overall just easier to use. "I can reach up high for cobwebs or use the floor cleaning attachment which gets under the couch and under the cabinets unlike my other vacuums," she writes. Another customer was also impressed by how much this vacuum could do: "I vacuumed my rugs, got under furniture, cobwebs, my hardwood stairs, vacuumed the couch, and there is no more dog hair in my home!" She says this was all made possible because of the attachments that each work equally well. "The attachments don't reduce suction AT ALL," she says, which was an issue with the attachments on her old vacuum. She advises, "I'm telling you, if you're thinking of getting this vacuum, just do it."
Best cordless stick vacuum for carpet