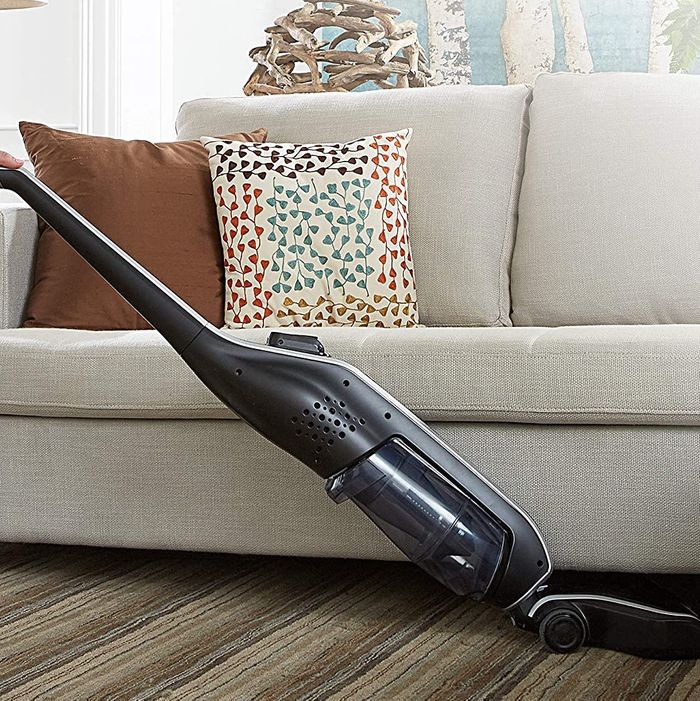 If you're now staying at home basically all the time, you might be feeling the need to clean a bit more. That little bit of extra pet hair in the carpet or dirt tracked in from your dog's paws maybe never bothered you before (or enough to do something about it), but now that your house has simultaneously become your office and your gym on top of, well, your place to sleep, those extra messes are super noticeable — and annoying. To get you through this truly confusing time, we found a bunch of cordless stick vacuums, as praised by the most enthusiastic reviewers on Amazon, that can tackle even the biggest of places but take up the least amount of room. But don't worry, if you're more the type who prefers a standing vacuum or a handheld vacuum, we have roundups for you, too.
Related: Best Vacuums for Pet Hair | Best Robot Vacuums
Best-rated cordless stick vacuum
While lots of these Dyson vacuums may seem the same, this is the newest model that we've included on our list, and many say it's lighter and more powerful than the V7. One customer just upgraded from the V7 and says this model makes his "V7 look like a broom" because the V10 even got glitter out of the carpet. And another thinks this is even better than the V8 model too. "We're NOT dirty people, only have two basset hounds. We're not bathing them more often or switching our vacuum schedule and I think my house smells less doggish," she explains. Writer Lori Keong reviewed this exact Dyson model, writing that "it's apparent that the Dyson is way better at deep-cleaning carpets" than her "scrappy" Bissell. An Amazon reviewer even thinks "this is one of the best purchases [she has] made in the last year." She calls it "lightweight, effective for its purpose, and easy to operate and articulate around objects." One customer even gave her corded vacuum away after two weeks of using this Dyson. "This is all I have now and it's great. Suction is impressive for a cordless. It's lightweight and really maneuverable." She warns that "if you have a 5,000 square foot home with kids and pets, this will not work for you," because the battery only lasts about 30 minutes on high, according to Keong, but for those with small to medium sized homes, this will be great.
Best-rated (less expensive) cordless stick vacuum
Nearly a quarter of all five-star reviewers say this Hoover vacuum great for carpets. "It works, plain and simple," writes one customer. He and his wife apparently "have had many vacuum cleaner sagas in 51-plus years of marriage. One of them will be told at one of our funerals!" But this one cleared up all their issues. "It cleans well, is so easy to charge, takes up little space, and is a cinch to empty." He goes on to say that the surprisingly best part of it, though, is how well it works on carpet. He had to clean the carpeted staircase and reports, "It was so easy because of how light this unit is. It also picked up an amazing amount of unseen particles." Another says it picks up things better than Dyson. She bought herself the Dyson as an upgrade, and immediately returned it, because this Hoover vacuum is better, especially on fabric. "The Lynx has a much bigger container for the dirt, Dyson is tiny and requires a lot of dumping. The Lynx will vacuum deeper carpet. The Dyson only throw rugs with short pile. I thought the Dyson would do the carpets and dog hair better. Well, NO!" And for those who have more than just carpet in their house, another reviewer confirms that it works just as well on hardwood and tile. She writes, "I would give this 100 stars if I could. I can't believe I was still using a broom and dustpan for cleaning my hardwood floors. This makes it so fast and easy and FUN!"
Best cordless stick vacuum for large houses
This is the newest Dyson vacuum (and, as a result, also the most expensive), but customers say some of the updated features — a longer battery life, a machine filtration system, and a high-torque cleaning head that automatically adjusts suction for different surfaces — make it worth the extra money. One customer's 17-year-old Dyson died, so she sought out a new one to last yet another 17 years. "I admit I was a bit skeptical that a smaller stick vacuum could do the job in an almost 2,000-square-foot house," she says — but it actually works very well, especially since it's "easy to use, quick, and nice to not drag a cord around." And even though it is cordless, it is still powerful. "I feel as though the suction power and cordless feature make it priceless in a large home with two sets of stairs," one reviewer writes. He had a Bissell before the Dyson, which he liked, but this one picks up so much more dust and dirt, and he could do his whole house with one battery charge.
Best cordless stick vacuum for pets
Bissell's vacuums are all-around favorites for picking up pet hair — its handheld vacuum, wet-dry vacuum, and bagged vacuum included — so it's no surprise its cordless stick vacuum also gets a lot of praise for picking up pet hair. Reviewers even say it's better than "having carpets professionally cleaned," thanks to the tangle-free brush roll that scoops up all the hair (even those strands embedded in the carpet). One customer with "three great Danes, two cats, about a dozen hamsters (one of which is with child), and a parakeet whose reign of terror is enough to strike fear in the heart of any God-fearing man," picked up this vacuum, and wrote: "This powerful little Bissell changed my life FOREVER. I can finally walk barefoot without needing a tetanus shot." And one more customer with a plethora of animals at home had lost hope that her carpets and floors would ever be cleaned. But after using this Bissell, she writes, "My house has not been this clean and free of dog hair and bird feathers ever." Plus, she notes, "the air vent is at the top so it doesn't blow those tiny down feathers around the room like my other vacuums did." That means all hair and feathers are trapped inside until you empty it.
Best foldable cordless stick vacuum
A cordless stick vacuum that also folds up seems like an odd concept, especially since stick vacuums are already pretty compact to start with, but according to reviewers, the extra bit of space they save from this vacuum has been helpful. "It can easily fold over so you don't have to lay it on the ground or hang it up," explains one reviewer. Another also says the folding comes in handy when trying to get it under furniture and her bird cages, because she doesn't have to move anything out of the way. She also appreciates the many attachments: "I love the brush roller for cleaning the garage, and the allergy duster my other Shark vacuum didn't come with." She vacuums "three times a day," despite noting that she is "NOT a clean freak," and says the vacuum battery lasts the entire time (though you can buy extra batteries if you want to be safe).
Best cordless stick vacuum with removable batteries
Reviewers loved the fact that this vacuum comes with two batteries, with one reviewer writing, "Since this comes with two batteries, you can always have one on the charger, so you're always ready to go. I have pets and this thing works great on pet hair." Reviewers were also impressed by the longevity of the charge: "The battery holds a good charge, and it comes with a backup so, when it runs out, you can just swap." Another reviewer, who uses the vacuum to clean her one bedroom apartment, writes, "It's a good vacuum and comes with two batteries. Each battery lasts a couple of weeks for me. Folding up is convenient for storage and also for easily getting under furniture. I like that there are no waste bags and you can just empty out the solid dustbin with the touch of a button (no need to buy replacement bags)."
Best cordless stick vacuum with attachments