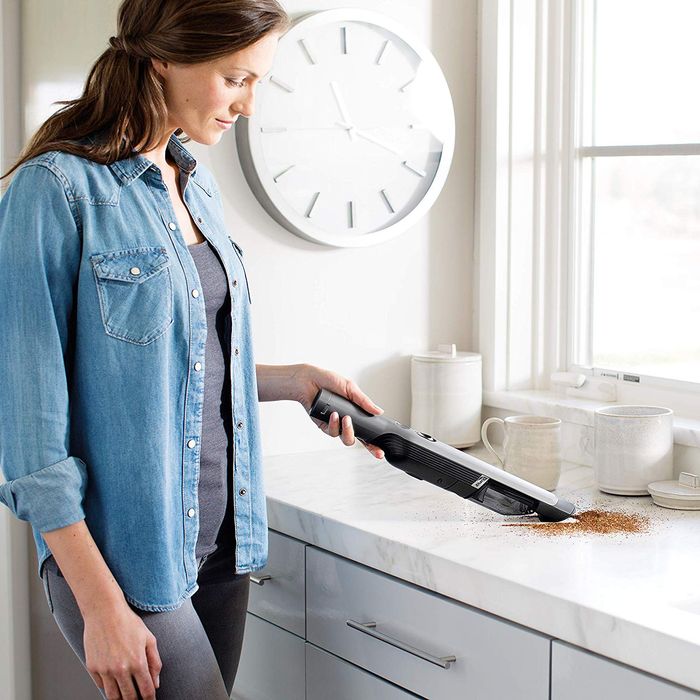 Here at the Strategist, we like to think of ourselves as crazy (in the good way) about the stuff we buy, but as much as we'd like to, we can't try everything. Which is why we have People's Choice, in which we find the best-reviewed products and single out the most convincing ones. (You can learn more about our rating system and how we pick each item here.)
While we've written about our favorite vacuums here before, then dove back in for a more comprehensive look at the best vacuum cleaners on Amazon and rounded up stick vacuums, robot vacuums, and vacuums specifically for pet hair, here, we're looking at the best handheld vacuums according to the most enthusiastic reviewers on Amazon.
Best-rated handheld vacuum
Sporting "suction [that] is incredibly powerful for a little cordless handheld vacuum," reviewers trust this Black + Decker to deal with tasks ranging from cleaning "5 and 8 year old [kids'] messes" to "vacuuming stink bugs from my [organic] plants." A reviewer notes, "It quickly and easily sucks up crumbs, hair, dust, litter and all those other little items that plague our surfaces and makes our space look soooo much nicer," while another calls it, "Almost as powerful as a full blown sweeper." The rechargeable lithium battery gets plenty of props, as well. "One day I used it to clean all the baseboards, the stairs, the couch and, well, heck, I got carried away and did most of the floors … it didn't run out of charge until the bitter end," writes one reviewer. Another writes, "It seems that it is ALWAYS charged and always provides great suction."
Its longevity also impresses reviewers, like one who writes, "I have been using this vacuum for six years now. No broken parts, battery still holds a decent charge and the vacuum basically functions as it did when I purchased it." It's so good that reviewers implore you to buy one: "Look, if you are thinking about getting this … STOP WAITING AND JUST GET IT."
Best-rated (less expensive) handheld vacuum
"We have never had a couch or furniture that wasn't constantly covered in dog hair … until I found this," reads one of thousands of positive reviews for Bissell's Pet Hair Eraser. "I was skeptical that the rubber brush attachment was a good idea — wouldn't it collect hair and resist the suction? Nope. This thing powers through couch hair," a converted skeptic writes. "Often, only a single swipe is needed, which makes for a quick job. There was hardly any hair stuck to the brush. All of it ended up inside the dust container, which is super easy to detach, empty, and clean." Another pet owner writes, "I have a grey cat that prefers a particular chair of my dining set. Just a few swipes with this Bissell product and I knew I had a winner." The nozzle is versatile, too. "It gets alllll the hair off of furniture, the bed, the fabric shower curtain. rugs, clothes, everything," exclaims one reviewer.
Best handheld vacuum for tight spaces
Hundreds of reviewers describe this vacuum as small but powerful, like one student who writes, "I normally don't take the time to write Amazon reviews, but I was blown away by how powerful this little vacuum is. It picks everything up no matter what size and very quickly! Makes vacuuming so easy for me in my dorm room." And dozens specifically cite the flip-open crevice tool as the feature that makes this handheld vacuum especially useful in tight corners. "The crevice tool is incredibly useful for nooks and crannies that gather dust," writes one, who adds, "The attachable nozzle has been great for vacuuming our rug. We have a delicate faux sheepskin rug that really shouldn't be vacuumed using such a powerful tool, but with the nozzle it's much more manageable and doesn't cause too much shedding." Another satisfied reviewer raves, "The flip-up yellow crevice cleaning attachment is a stroke of genius — it's onboard so you can never misplace it. No messy bags. The filter is very quick and easy to clean. Love the long cord. I can't find a single negative thing to say about this vacuum cleaner."
Best handheld vacuum for stairs
"I have always HATED vacuuming my stairs and never could find an easy way to do it. This vacuum is a game changer," one reviewer declares. "The brush head bends backwards slightly making it super easy … Everyone with stairs in their home needs one of these!" Dozens of other five-star reviews agree that this "lightweight, easy to hold" Shark Rocket is made for the stairs. "The motorized head does a fantastic job at getting my stairs clean. My husband could not believe the difference," one says. "We have two large shedding dogs … [I] can do the whole staircase in less than five minutes," another reviewer notes. "The amount of stuff that came up the first couple times we used this was unbelievable!"
Best handheld vacuum for pet hair
Reviewers writing about the cordless cousin of the Bissell Pet Hair Eraser mentioned above rave over the brush attachment. "I have a white dog with hair that embeds (EMBEDS!!!) into fabrics — our sofa, car seats, etc. This vacuum does a MUCH better job than anything else I have used. And it is very easy to use," notes one reviewer. "The rotating brush in this little vacuum is SO MUCH BETTER than just using a regular attachment."
"It has several nice attachments but the only one you really need is the motorized brush. It cleans as well as my upright vacuum and my canister vacuum," while another reviewer says it "did a better job of cleaning [dog] hair than the shop vac." Another says they "went to town on the steps with the motorized brush attachment, and in under five minutes, they were cleaner than they've been since I moved in (and the vacuum's canister had the cat hair to prove it)."
Best handheld vacuum with brush attachment
The brush attachment on this Black+Decker stood out to reviewers who regularly vacuum their couches and area rugs. It's not the only handheld vacuum on this list with a brush attachment: The Bissell Pet Hair Eraser also has them. But customers think this one is more versatile, since it's not just for pet hair. "It is small but powerful," says one customer who "used the brush attachment on the couch and the rug" and reported back that "it worked great." She recommends this vacuum to anyone "looking for a quick and easy way of cleaning up messes without having to take out the vacuum." Another customer uses hers "pretty much every day to clean up small messes," and she says the attachments "help get into crevices and to 'brush' the dirt up." She hasn't used it for an extended period of time, so she can't comment on how long the battery lasts, but one more customer says they've "used it for up to 30 minutes with no problems." Plus, reviewers say it's so powerful, you don't even need to use it for that long. Take it from this customer who writes, "My life no longer sucks, but my vac sure does, boys and girls. The first time I turned this vac on, it was pointed toward the sofa and it started pulling the sofa toward me and I yelled 'HOLY MOLY' and quickly turned it off." She goes on to say that this vacuum has "changed [her] life in an amazing way," and she thinks it'll change yours, too.
Best handheld vacuum with lithium battery
"In one afternoon, I did my Jeep, my minivan, my stairs and outer perimeter of my kitchen and could have still kept going," one reviewer says of this Black + Decker's 20-volt lithium-battery cordless model. "Extremely happy with the power and battery life of this," adds another. Another reviewer describes the charging unit as "wonderful. Just set the vacuum on it, no snapping into place." And the powerful lithium battery means "you can leave it on the charger without losing charge," as another writes. "The battery lasts sufficiently long for such a small unit, and it charges quickly," an owner writes. "Love this little guy. We have a 600 square foot apartment so sometimes it's just not worth pulling out the big ol' Miele to do a deep clean. I highly recommend getting this version." Another reviewer, who works as a Lyft and Uber driver and uses this vacuum to regularly clean their car, says of the battery, "I charge it overnight … after several uses, and it lasts for several days of five- to ten-minute uses."