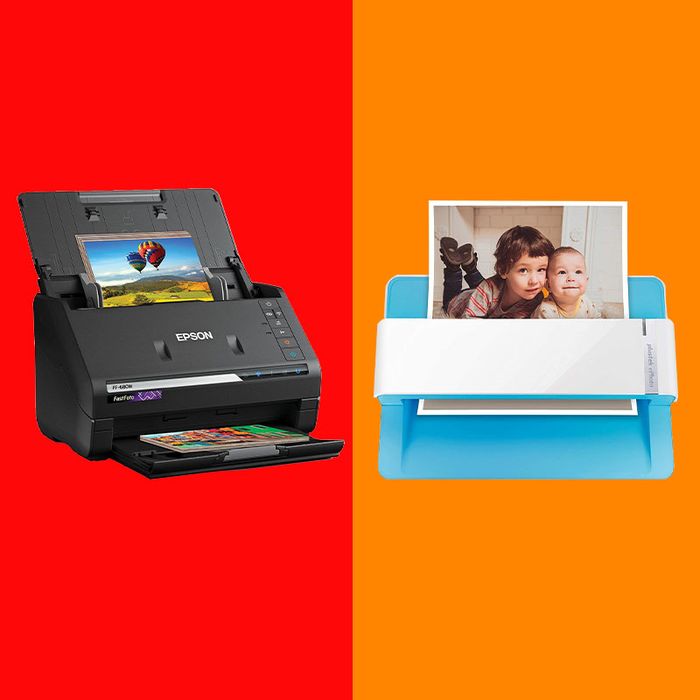 Photo-Illustration: The Strategist; Photos: Retailers
Whether you're looking to digitize old photos or new images taken with a film camera, one of the main things to consider when you shop for a photo scanner is how many photos you'd like to scan at a time, what format they're in (prints, negatives, or slides, for example), and what kind of files you'd like to create. We spoke with Robert Kern, a customer-service agent at B&H Photo who specializes in photo scanners, about these considerations and more to find the best options for a range of needs.
There are two types of photo scanners you can get: upright or flatbed. Upright scanners are easier for scanning stacks of photos since you can just feed them directly in without having to open or close anything, while flatbed scanners are more time consuming but allow you to scan your photos at a significantly higher resolution. Either type should be able to scan documents into a format that supports OCR (optical character recognition), which makes text within that document searchable and editable.
The main thing to consider before picking a scanner is figuring out just how many photos you need to scan and how much free time you have to get it all done. Kern says, above all else, you'll want a scanner that can handle more than one photo at a time if you're dealing with a large stack of old photos. Some scanners, usually those that stand upright, have a bulk-scanning feature that lets you drop a stack of photos into it and let the machine handle the rest. "You can sit there while you're eating popcorn and pop the photos in," Kern says. They may be limited to smaller print sizes, such as four by six inches, but each photo can be scanned in about two seconds, and you don't need to feed each one into the machine individually. Kern does warn that, because of their feeding mechanism, these scanners may not work well if you're working with old, worn photos: "If the prints are wrinkled from age, you'll have some trouble, and you'll need a flatbed scanner, which is a lot more time-consuming."
Flatbed scanners take up more desk space, and they're more time-consuming, as they require you to manually place each photo on the scanner. That said, Kern notes that they're also usually capable of scanning photos at a higher resolution than upright scanners, so you'll need to weigh your priorities between image quality and free time.
Typically, the higher the resolution of your scans, the slower the scan speed will be. On top of that, since flatbed scanners require you to manually open the scanner and replace photos after every scan, that time adds up quickly. If you have a smaller volume of photos to scan, or image quality really matters to you, that may be worth the trade-off.
The higher the resolution of the scan, the better the quality of the converted image. With that higher resolution, you'll be able to produce larger prints without losing as much quality as well as have more pixels to play with in Photoshop when you want to do some touching up. These specs are typically measured in dpi (dots per inch), and Kern says a scanner with 600 dpi will do a good job for most use cases, gives you enough pixels to work with in a photo editor, and should look good on phones and the web. You can get consumer-grade scanners with a resolution of up to 6400 dpi, which will allow you to make higher-quality and larger prints than the images you'll get from a stand-up scanner.
All of the scanners in this list can be used to scan photo prints, but some photo scanners — primarily the flatbed kind — support scanning 35-mm. and medium-format film, as well as slides, and may even come with adapters that work with the scanning software to turn those negatives into digital pictures. That's mostly limited to flatbed scanners, but some let you place multiple negatives on the scanner at once, which can speed up the process a bit.
Operating-system compatibility
Another thing to look out for, Kern advises, is scanners that don't support your computer's operating system (you'll need to connect your scanner to a computer for it to transfer any photos). "Updating to the latest macOS can leave you hanging," he says. "There are a lot of things that aren't ready for Ventura," the latest version of macOS. But if you're rocking older hardware, a newer scanner may not work with that gear, so just check the specs and make sure everything will work nicely together.
No matter what you plan on doing with your photos, you'll also want to make sure you can scan those photos into a file format you can work with later on. Some scanners may be limited to two file types, such as TIFF (which produces high-resolution, high-quality images with more detail) and JPEG (a lighter file format that retains less information and produces less detailed images), while others add support for more obscure file types such as BMP and PCT, but most will also support scanning documents (A4-size paper, typically) as PDF files.
Best overall scanner
Scanner type: Upright | Scanning speed: Approx. 2 sec. for 4-by-6-inch print (bulk feed only), approx. 5 sec. document (A4) | Scanning resolution: 600 DPI maximum. | Film type: None | Operating-system compatibility: Mac OS X 10.5.x through macOS 13.x, Windows 7 through Windows 11 | File type: PDF, JPG
If you've got a large stack of old family photos you'd love to convert to digital files, Kern recommends Epson's FastFoto FF-680W, a standing scanner that can scan at a speed of 80 pages per minute or can be bulk fed four-by-six-inch prints that will be scanned in two seconds per photo (but only in landscape orientation).
This scanner has settings for auto-enhancement, color restoration, and red-eye reduction as well as cropping and rotating. Scanners that have these capabilities can work fairly well, Kern says, but it's better to manually touch them up using photo-editing software when possible. He does warn that, when dealing with old prints, you should be careful with how many photos you feed it at a time because the scanner can get jammed and harm the photos.
The FastFoto supports operating systems as old as Mac OS X 10.5 and Windows 7 and goes all the way up to the latest versions of both systems, so unless you're running super-old gear (or you never hit that update button), you should be covered. It also has an auto-upload feature for Dropbox and Google Drive, so you can send your photos straight to the cloud without having to touch your computer.
Best less expensive scanner
Scanner type: Upright | Scanning speed: Approx. 2 sec. for 4-by-6-inch print, approx. 5 sec. For 8-by-10-inch print | Scanning resolution: 600 DPI maximum. | Film type: None |  Operating-system compatibility: Mac OS X 10.8.x through macOS 13.x, Windows 7 through Windows 11 | File type: JPG, PDF, TIFF
If you only need to scan photos up to eight by 11 inches and are fine with a lower resolution of 300 DPI at that size, Kern recommends the more affordable Plustek ePhoto Z300. Its scanning speeds are about on par with the Epson's (though you have to feed them in one at a time), its smaller footprint will take up less space on your desk, and it lets you drop in photos of different sizes without much trouble (which Kern suggests avoiding with the Epson).
You can scan photos up to eight by 11, though those larger photos will scan at a lower resolution than you can get on other scanners. There are automatic crop and rotate options as well, so you won't have to worry about doing that yourself after scanning a bunch of photos.
Its support for Macs is slightly behind Epson's, though only by a couple versions of smaller and older updates. Unless you're on a particularly old Mac, that shouldn't be an issue, though.
Best flatbed scanner
Scanner type: flatbed | Scanning speed: Not listed, maximum photo size: 17 by 22 inches | Scanning resolution: 6,400 DPI maximum. | Operating-system compatibility: Mac OS X 10.8.x through macOS 13.x, Windows XP through Windows 11 | Film type: 35-mm. slides, negatives, and 6 centimeters by 22 centimeters on medium-format panoramic film | File type: JPG, PDF, TIFF
If you're fine with a flatbed scanner that'll take up more space on your desk and require more hands-on time scanning individual photos, Kern recommends Epson's Perfection V600 flatbed scanner. It's hard to find in stock at times, but its low price and support for higher-resolution photos up to 6400 DPQ for enlargements up to 17 by 22 inches. That's a big jump from the other scanners, but it comes at the expense of your time. Kern says it's able to scan a couple photos at a time by placing them all on the scanner's surface, but even then, it'll take some time when you're dealing with larger volumes of photos. Depending on the size of your photos, you can place a few photos on the scanner at a time and it'll save each one as its own file.
Strategist senior editor Winnie Yang used the V600 for many years to scan 35-mm. and medium-format film. She likes that it comes with plastic frames to hold the negatives in place but finds they could be a little finicky to work with. "The other thing that's tricky about scanning your own negatives is that you have to be really careful about dust management," she says. "Ultimately, I found having to use gloves and hunt down lint and dust to not be worth the savings from scanning them myself." She prefers to get her film scanned by the photo lab, which is true for many amateur and professional film photographers we spoke to.
Best less expensive flatbed scanner
Scanner type: Flatbed | Scanning speed: Not listed; maximum photo size: 8.5 by 11.7 inches | Scanning resolution: 4800 DPI maximum. | Operating-system compatibility: macOS 10.6.x through macOS 10.10.x, Windows 7 through Windows 8 | Film type: None | File type: JPG, PDF, TIFF
If you can't find the Perfection V600 in stock or you're fine with a lower-resolution scan and want to spend less, the Epson Perfection V39 Color is one of the top-rated flatbed scanners on Amazon with a 4.2-star rating from nearly 4,000 users. Its scanning resolution is significantly higher than that of the upright scanners we recommend but lower than the V600's, and it's still a great resolution for restored photos. The V39 is also able to scan multiple photos at a time (as many as you can fit on the scanner), and it'll make a separate file for each one.
Like the FastFoto FF-680W, it supports cloud uploading to Microsoft OneDrive and Dropbox, so you can automate the process a bit if you like storing things in the cloud. Its software support isn't as current as that of other scanners, according to Epson's website, though several reviewers on Amazon have said their scanners work fine with Windows 10.
Some more photography essentials we've written about
Our experts
Robert Kern, customer-service agent at B&H Photo specializing in photo scanners

Winnie Yang, Strategist senior editor
The Strategist is designed to surface the most useful, expert recommendations for things to buy across the vast e-commerce landscape. Some of our latest conquests include the best acne treatments, rolling luggage, pillows for side sleepers, natural anxiety remedies, and bath towels. We update links when possible, but note that deals can expire and all prices are subject to change.