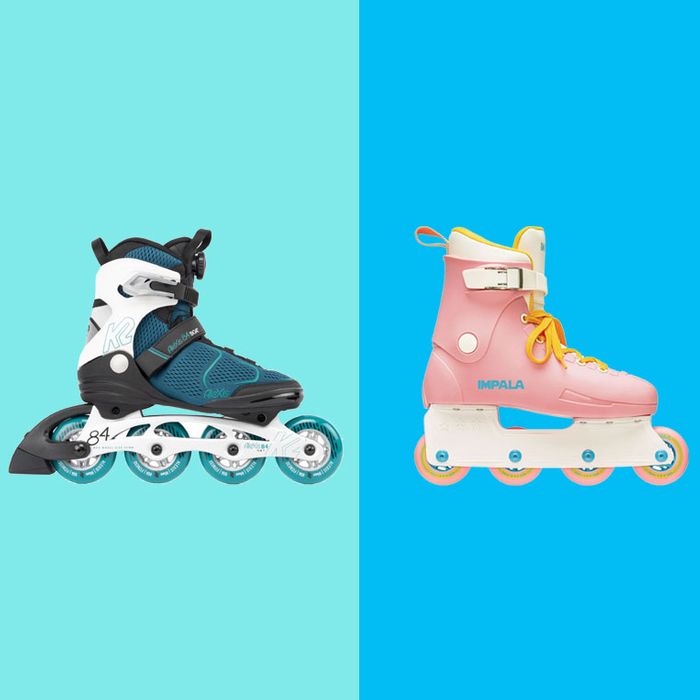 Photo-Illustration: United Artists
Over the past two years, you've probably encountered a lot of people (including us) talking about how roller-skating is experiencing a bit of a boom. But Rollerblades, as with so many '90s things, have also experienced a comeback. If the last time you strapped on a pair of Rollerblades (also known as inline skates) was for your eighth-grade best friend's birthday party, you might be surprised to know there are plenty of modern options out there for all experience levels and road conditions. When it comes to investing in a pair, there is a surprising amount to consider: the number and size of the wheels, the length of the frame (the part the wheels are attached to), and the stiffness or cushiness of the boot, all of which affect control and maneuverability. To find the best pairs for skating in the city, for recreation, and more, we asked 12 Rollerblading instructors, retailers, and skaters about their favorites.
Before we get to their picks, the experts note that, as with roller-skating and bicycling, anyone who's putting on a pair of Rollerblades should also be putting on a helmet — especially if you're a beginner. Teshia Robinson of RollATL says she recommends Triple8 and S1 hard-shell helmets, which she says provide much more protection than a typical bike helmet. She also suggests beginners check out the route that they plan to take so they can get a sense of the terrain before they attempt it on inline skates. "New skaters should avoid rough or uneven pavement and downhills, even moderate ones, as you can pick up speed quickly and it is difficult to brake," she says. "Smooth, flat pavement is the best place to practice." Those just learning to skate can consult lots of resources for help, too. Skating instructor Arnav "Sonic" Shah, a member of the Empire Skate Club of New York, told us about three: the Skate Instructors Association, which offers hundreds of online classes; Alex Shulgan of InMove Skates' YouTube channel; and the free online lessons led by 20-year teacher Asha Kirkby of Skate Fresh.
Some of the Rollerblades recommended below come in both men's and women's styles, and we've included both whenever possible. Other skates have unisex sizing, so if you see a pair you like, be sure to check the retailer's size chart to ensure you find the best fit. While Rollerblades tend to be expensive, investing in a pair with quality parts will ensure that they perform better, last longer, and be significantly safer compared to cheaper models. This list of Rollerblades includes the best pairs that take price, performance, and durability into consideration.
Best overall | Best (less-expensive) | Best for beginners | Best for intermediate skaters | Best (less-expensive) for intermediate skaters | Most stable | Best three-wheel | Best for narrow feet | Best for city skating | Best for aggressive skating
What we're looking for
Wheels: The smaller the wheel, the better it is for agility and tricks, while larger wheels are better for absorbing shock and traveling longer distances. So if you prefer general fitness skating and cruising outdoors, opt for a larger wheel, while city skaters should choose a smaller one. Roller-skate wheels also come with a durometer rating, which tells you how hard they are. The higher the number, the harder the wheel. Softer wheels are ideal if you need extra shock absorption while skating outside or for long distances, while harder wheels are better if you're rolling around a rink or want more speed.
Number of wheels: In addition to the type of wheel on your skate, you always want to pay attention to the number of wheels. Most skates will have either three- or four-wheel setups. Shah explains that, in general, inline skates with "three bigger wheels let you go faster because they put you higher off the ground" and have lots of maneuverability. While four-wheel skates don't go as fast, they will provide more stability. Beginner skaters should stick with four wheels, which will be easier to learn on, while intermediate to advanced skaters may want to experiment with three-wheel setups.
Frame: The frame of the skate typically comes in two materials: nylon/composite plastic or aluminum. Aluminum is generally longer-lasting, but nylon is less expensive, so if you're on a budget it's probably the way to go, especially as a beginner.
Heel brake versus no heel brake: Shah told us that, for beginners, heel brakes are "super important because they are easy to learn and very effective" when it comes to getting comfortable with stopping in Rollerblades. Intermediate and advanced skaters may prefer a pair that does not have one.
Best overall Rollerblades
Soft-shell boot | 84-mm. 80A | Four wheels | Aluminum | Heel brake 
Several of our experts recommended Rollerblades from K2, a 25-year-old inline-skate manufacturer that also makes helmets and pads (another piece of protective gear you should consider). Brian Long of Shop Task skate shop explains that both the men's and women's Rollerblades have a soft-shell boot, which generally does not give as much support as a harder-shell boot, but makes the skate "lighter in weight, slimmer, and allows for a more precise, accommodating fit." Page Baker, a doctor of physical therapy and member of the Central Park Dance Skaters Association, notes that K2's skates have a Boa closure — a dial that tightens laces when you turn it — and 84-mm. wheels that make it much easier to gain velocity, as well as do toe-heel moves and tricks like the grapevine. Long describes the Boa lacing system as "an amazing feature" for soft-shell inline skates that help ensure a snug fit. The wheels, he adds, are a good size for general-purpose outdoor skating because they're "big enough to be smooth over bumps and cracks, but not so big that it makes the skate significantly more difficult to control." Rollerblading enthusiast and personal trainer Kate Timofeeva also recommends K2 inline skates, because they are "comfortable, very good quality, affordable for a beginner," and even stylish. Unlike other skates, these don't look bulky and have a nice design, she adds.
Best (less-expensive) Rollerblades
Hard shell boot | 70mm, 84A | Four wheels | Plastic | Optional heel break
Impala is a Melbourne-based brand we've dubbed among the best for beginners. Originally it was best known for its candy-colored quad skates (I own a pair), but the brand expanded with a line of inline skates that are equally loved by skaters. (I recently spotted them on the feet of Margot Robbie and Ryan Gosling on the set of Greta Gerwig's Barbie.) Its Lightspeed skates feature a hard-shell boot and four wheels, which skater Danielle O. says make them "very sturdy," which is great for those who are just starting out. The skates also come with an optional heel break and two Allen wrenches for easy installation. Impala skates are typically ready to go straight out of the box, and Danielle told us she found that they had "little to no break-in time" and that they are very well padded so you can skate without getting sore feet. Skater Sandy Ramos agrees and adds that they offered a smoother ride and are "more cushioned" than her first pair of skates, which she paid almost double the price for.
Best Rollerblades for beginners
Soft-shell boot | 80-mm. 82A | Four wheels | Composite plastic | Heel brake 
For those who want to spend less, Rollerblade's Zetrablades come recommended by two experts who say they share many qualities with the K2 skates above. Those qualities include a soft shell, a heel brake, and four (80-mm.) wheels, all things that Robinson says make them "super comfortable and easy to use" for beginners. Ben Vanderhaeghen of Back to Blading agrees that the Zetrablades are a great pick for people interested in trying skating without spending a ton of money. "The soft upper boot makes them less expensive but still responsibly comfortable, and the wheels and bearings are fast and long-lasting," he adds.
Best overall Rollerblades for intermediate skaters
Hard-shell boot | 80-mm. or 110-mm., 85A | Three or four wheels | Aluminum | No heel brake 
Shah calls Rollerblade's Twister Edge skates a good intermediate option, explaining that most pairs made for people at this level won't have heel brakes. Long also recommends them, noting that you can get the skates with four 80-mm. wheels or three 110-mm. wheels. As he explains it, the four-wheel style would be better for beginner-to-intermediate skaters, and the three-wheel style for true intermediate or more advanced skaters. Long adds that these "have a slightly slimmer boot" (something to keep in mind when choosing a size) and are one of his store's best sellers.
Best (less-expensive) Rollerblades for intermediate skaters
Soft-shell boot | 80-mm. 82A | Four wheels | Aluminum | Heel brake 
This more-affordable pair of intermediate-level skates comes recommended by Daniel Nodzak, a co-owner of Blader Union, who notes its heel brake may make it more attractive to beginners looking for their first upgrade. Other features Nodzak calls out are their breathable soft-shell and nonremovable aluminum frame, which comes with 80-mm. wheels attached (but can fit 84-mm. ones should you want to swap them in down the line). These details, he says, make the Macroblade 80 skates "a great choice for beginners who'd like a skate that will keep up with their needs as their skills develop." While he does admit their nonremovable frame isn't "ideal for longevity," he says this pair is "a reasonable compromise for budget-conscious skaters looking for the power transfer and stability benefits of an aluminum frame without paying for higher-end inline skates." This pair has another fan in Shulgan, who calls it a "good recreational skate."
Most stable Rollerblades
Hard-shell boot | 90-mm., 85A | Four wheels | Aluminum | No heel brake 
For a pair that'll give wearers a bit more stability, Long suggests Rollerblade's Maxxum Edge 90. They have a hard shell and larger 90-mm. wheels that he says are the most stable option in many situations, because not only do they allow you to sit a bit lower to the ground, but they also extend at the front and back of your foot a bit more, giving you better balance. The larger wheels, he adds, also allow for a "very smooth, easy ride" without losing maneuverability. Interested buyers should know that while the design makes this skate feel more stable, it does not have a heel brake.
Best three-wheel Rollerblades
Hard-shell boot | 100-mm. 88A | Three wheels | Aluminum | No heel brake 
If you're looking to try a pair of three-wheel skates, Shulgan recommends the three-wheel Rollerblades from Powerslide. Robinson also cited the brand, naming the Powerslide Next, which has three 100-mm. wheels, as the style to try. "Skaters love the maneuverable, speedy, three-wheel setup; sleek look of the skate; and comfort of the wider boot," she explains, calling these "perfect for experienced skaters wanting to do some urban skating around the city or their local bike path."
Best three-wheel Rollerblades for narrow feet
Hard-shell boot | 100-mm. 85A | Three wheels | Aluminum | No heel brake 
Robinson says the Powerslide Swell skate works particularly well for those with narrow feet, adding that it has become popular in her store in part because of the "fun, bright colors" it comes in. The shell is on the stiffer side, which can make it more challenging to break in for beginners, but she says she's heard about novice skaters using these with success. "It helps that their 100-mm. wheels are capable of rolling over debris and rough pavement more easily than some smaller, four-wheel designs," she adds.
Best Rollerblades for city skating
Hard-shell boot | 80-mm. 84A | Four wheels | Aluminum | No heel brake or heel brake
"City skates are designed to work on not-ideal surfaces," Shulgan explains. According to him, the best pairs will have "strong foot support (especially ankle support)," a shorter frame with 80-mm. wheels, and an anti-shock system that will help you feel more comfortable while maneuvering hard surfaces and stopping short. This brand's FR1 skate, he says, is a particularly good one for city skating. Long also recommends it, telling us that the harder shell is "very rigid and supportive," so the skate will be more effective in helping you balance and "move more precisely with the movements of your foot." Justin Eisinger, the publisher of Rollerblading magazine One, agrees, adding that the skate has "a stiff underfoot and is wide enough to accommodate most feet." Robinson told us that the FR1 skate continues to be one of her store's best sellers, due to its "comfort and high quality." Shah is also a fan, explaining that the brand's FR W80 skate is "essentially the women's version of the FR1." He concludes, "These are quality skates that are comfortable, affordable, can work for different kinds of skating, and will last for years."
Best Rollerblades for aggressive skating
Hard-shell boot | 58-mm. 90A | Three wheels | Aluminum | No heel brake 
For aggressive skating — think street skating with grinds and jumps — two of our experts suggest inline skates from Them, an independent brand based in California. One contributor John Adams, who organizes inline-skating contests, says the 909 is "a classic hardshell" that is versatile enough to wear on the street, bike path, or pavement at your local skate park. Jonathan Labez, the visual director and photo editor at Rollerblading magazine Be-Mag, adds that these look as good as they perform. "If you're into looking chic on skates, no other inline skate on the market compares," he promises.
Some Strategist-approved Rollerblading pads and helmets, too
Our experts
•John Adams, One contributor
•Page Baker, doctor of physical therapy and member of the Central Park Dance Skaters Association
•Justin Eisinger, publisher of Rollerblading magazine One
•Jonathan Labez, visual director and photo editor at Rollerblading magazine Be-Mag
•Brian Long, Shop Task skate shop store manager
•Daniel Nodzak, co-owner of Blader Union
•Danielle O., rollerblading enthusiast
•Sandy Ramos, rollerblading enthusiast
•Teshia Robinson, owner of RollATL
•Arnav "Sonic" Shah, skating instructor and Empire Skate Club of New York member
•Kate Timofeeva, rollerblading enthusiast and personal trainer
•Ben Vanderhaeghen, rollerblader and founder of Back to Blading
The Strategist is designed to surface the most useful, expert recommendations for things to buy across the vast e-commerce landscape. Some of our latest conquests include the best acne treatments, rolling luggage, pillows for side sleepers, natural anxiety remedies, and bath towels. We update links when possible, but note that deals can expire and all prices are subject to change.