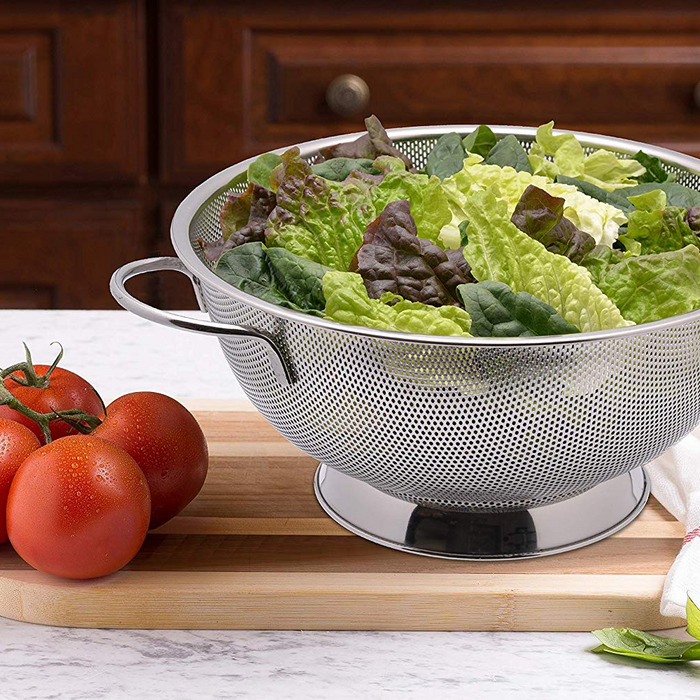 Here at the Strategist, we like to think of ourselves as crazy (in the good way) about the stuff we buy, but as much as we'd like to, we can't try everything. Which is why we have People's Choice, in which we find the best-reviewed products and single out the most convincing ones. (You can learn more about our rating system and how we pick each item here.)
And while we've written about lots of kitchen tools — including the best kitchen knives, coffee makers, and even the best dish racks — here, we've rounded up the best colanders, as praised by the most enthusiastic reviewers on Amazon.
Best-rated colander
Bellemain Micro-perforated Stainless Steel 5-quart Colander
Of the nearly 3,ooo positive reviewers, many said they love this colander because it's big, sturdy, and has tons of tiny holes that allow you to strain everything, from fruit, to pasta, to rice. One reviewer expressed his love for the Bellemain colander by saying, "Wow does not begin to describe this colander. I have a few things in my life that make my life feel complete: my wife and kids, my home, and now this colander. From the way that it is perfectly round to the way it has as many holes as there are stars in the sky, it is truly perfection. The way the water goes through the holes is truly magical." Another happy customer writes, "I love this colander so much that I just ordered a second one. I did not realize the difference it would make, but this drains so much easier than my old plastic OXO colander and is easier to clean." And a third reviewer explains, "I would buy this as a gift for someone, because it's so sturdy; the holes are small enough that you can drain anything in it (though I haven't tried quinoa, yet), not to mention it is very nice looking. Oh, and BIG!"
Best-rated (less expensive) colander
Chef Craft, 5-Quart, Deep Colander, White, 11 by 5 inch
Over and over again, reviewers called this colander "heavy duty." Many of them also said that they chose it for its low price, and were pleasantly surprised by the quality. "When moving into my home I needed to purchase several staple kitchen items and didn't want to shell out a ton of money for every single product. This one caught my eye because of its price point," one reviewer explains, adding, "But I've had it for months and it still looks brand new and it's done its job super well!" Another reviewer says, "This colander is wonderfully sturdy, heavy, and sure to last. The previous colander I had sadly had small holes in latticework formation that weakened and broke over time, thus defeating the purpose." They note, "Although the holes are rather large, this works well for me. It is ideal for washing and rinsing fruits and vegetables." And this happy customer writes, "Because of the cheap price I expected this to be a lot more flimsy, but it a solid product that can withstand a decent weight of rinsed materials."
And now for some micro-picks of every type of colander you might be looking for.
Best stainless-steel colander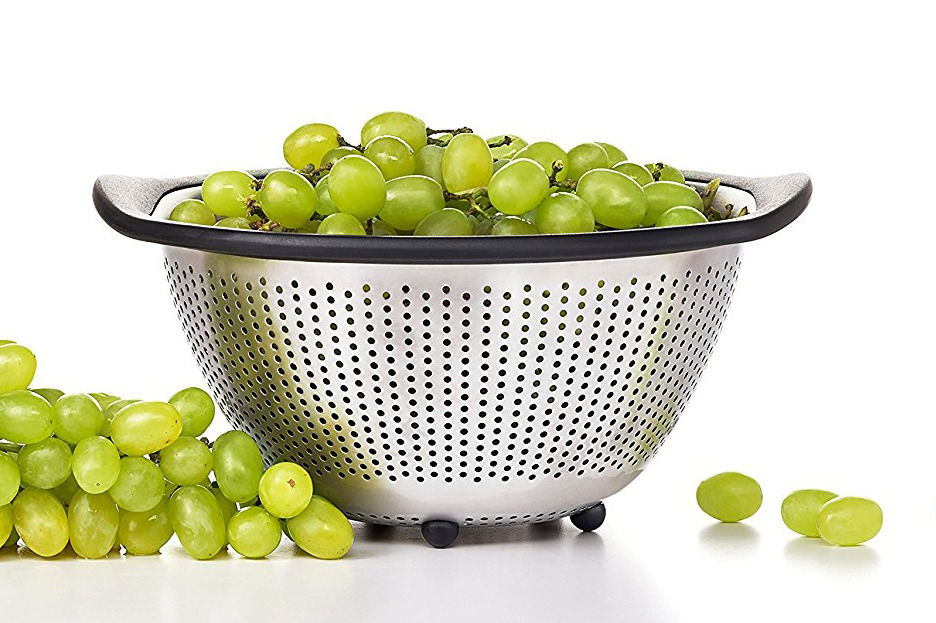 OXO Good Grips Stainless Steel Colander
Lots of reviewers report that this stainless-steel colander "drains quickly" and is "easy to clean." One reviewer who appreciates the silicone handles and little feet says, "This is a really nice colander and I'm glad I went with this brand and size. It is sturdy, and I like the way it looks and functions. It has very nice handles with a comfortable grip, too. I like that I can put it in the sink and the bottom doesn't touch the sink. Pasta drains well in it." Another reviewer says, "I love OXO products, the brand is always so reliable and durable, and this colander is no different. The colander is all one piece which is a huge positive in my book (I once had a handle break while draining potatoes)." And this satisfied shopper praises the small holes, which "allow water to drain quickly while keeping my pasta inside the colander." They add that the heavy-duty construction allows for different uses, as well: "Because the feet are silicone I don't worry about placing the colander with pasta back inside my pot with a little boiling water in the bottom to act as a steamer/warmer."
Best plastic colander
OXO Good Grips Colander
More than one reviewer used the word "durable" to describe this plastic colander, and one says, "I am absolutely in love with this colander! I'm one of those picky people who get grossed out by putting my colander in my sink, even if my sink is clean, so the feet on this have really been helpful for me." Another reviewer who prefers plastic colanders to metal ones likes this one in particular, "because of how easy it is to clean and most importantly, the feet that it has that raises the colander from off of the kitchen sink. Overall, the quality of colander is extremely good. I love the heaviness and thickness of the hard plastic used so that if it is dropped, it won't break." And a third satisfied OXO customer calls this colander "a treasured workhorse in my kitchen and is better than any other strainer I've had. Thank you, OXO, for making such a sturdy, stylish strainer!"
Best clip-on colander
Kitchen Gizmo Snap 'N Strain Strainer
"Easy" is a word often used to describe this strainer, which attaches to a number of different sizes of pots. One reviewer calls this, "the best kitchen gadget I've purchased in a long time! I've tried it on several sized pots and pans and it's worked great each time. It's so much easier than a traditional colander! Even my skeptical husband loves it now." Another happy reviewer admits, "I received one as a wedding present and was kind of skeptical that it would work well. I was wrong. It works great. I can use it on my large pots and my small pots. It is easy to clip on and strain quickly. I have used it straining boiled potatoes and noodles. It cleans up easily and is not overly bulky." And in a review entitled "Pasta Game Changer," one reviewer says, "Um, this thing is seriously awesome. I don't know that I have ever written a review on anything other than a book or a movie, but I love this enough to make a change."
Best colander with handle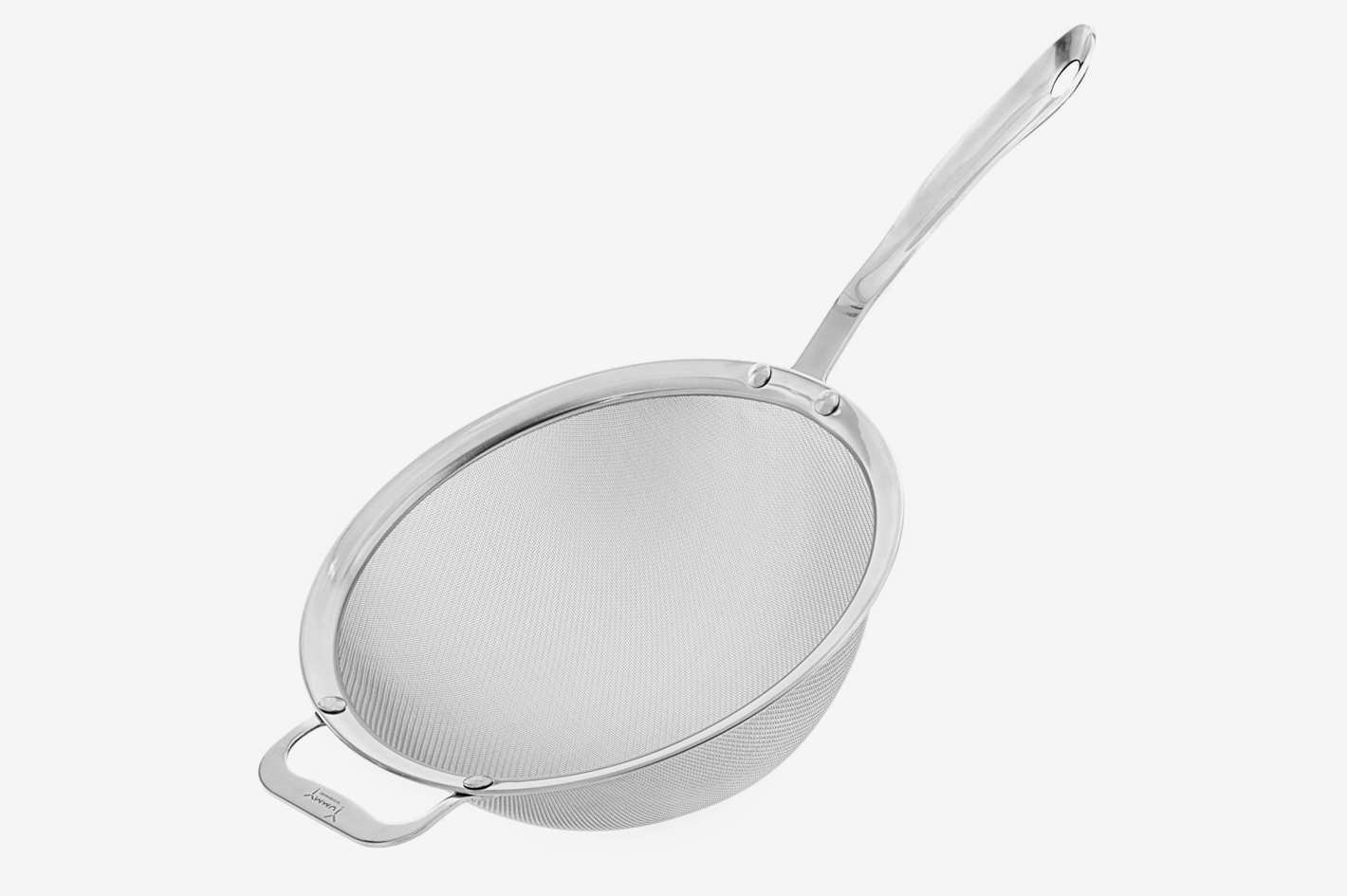 9" Kitchen Fine Mesh Strainer With Sturdy Handle and Wider Hook
The reviews for this mesh colander with handle were full of comments about straining and rinsing rice, quinoa, and even grains of sand due to the fineness of the mesh. "I needed a strainer for quinoa with finer mesh than my colander, which allows both rice and quinoa to get through the holes. This is perfect," exclaims one reviewer, adding, "It drains well and does not allow any escapees." Another satisfied reviewer writes, "I am happy that the mesh is very fine. I cook clams often, and as I am shucking them, this strainer catches most of the sand in the clam juice. I hate throwing away the clam juice, so this is important to me. Fine, fine quality metal and mesh." Another reviewer attests, "It's perfect for quinoa and for rinsing off rice, two tasks that we've used it for over the two days we've owned it."
Best over-the-sink colander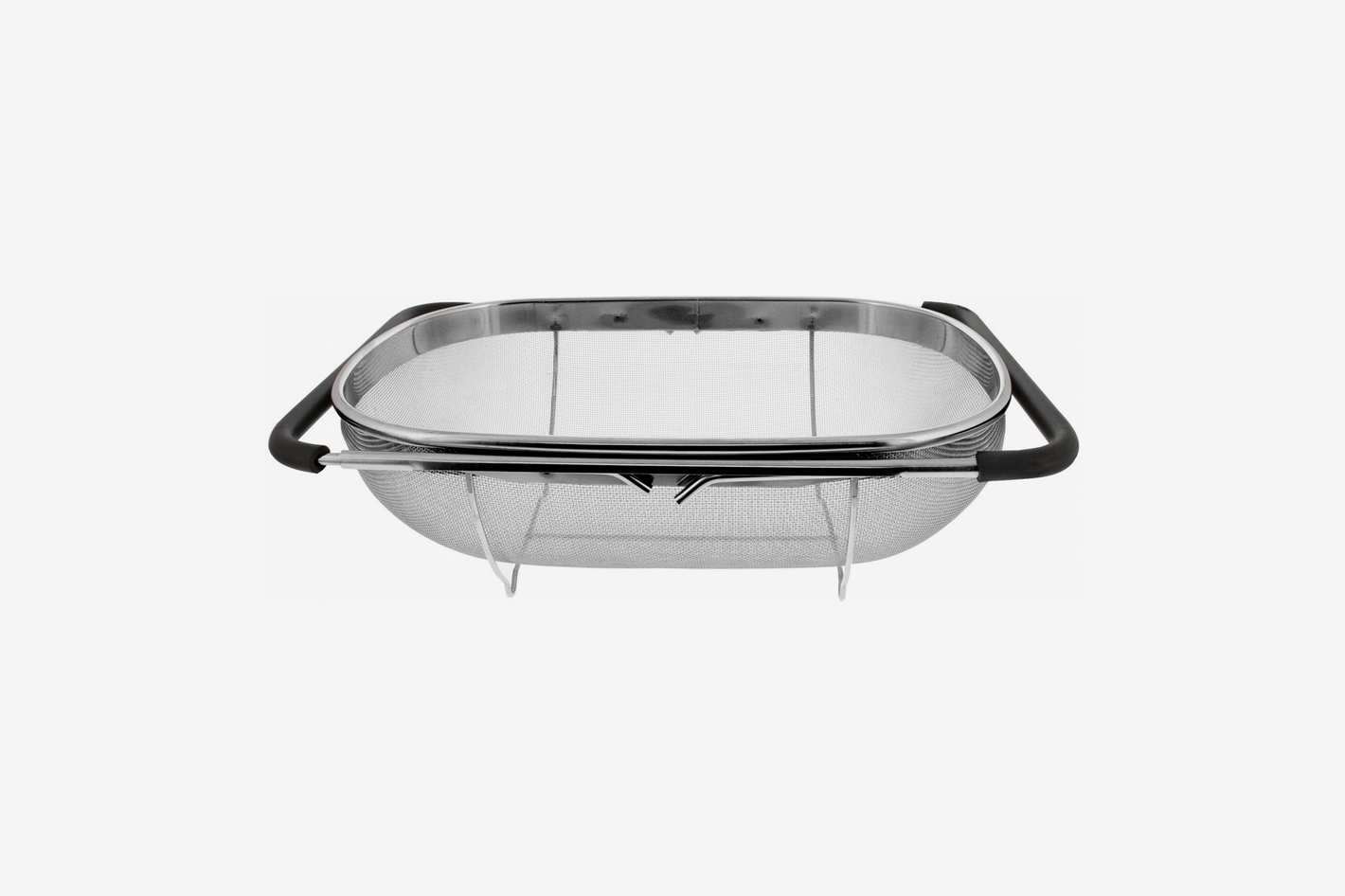 U.S. Kitchen Supply Over The Sink Stainless Steel Colander with Expandable Rubber Grip Handles
More than anything else, reviewers liked that this colander kept their food away from the bottom of the sink. "I was tired of setting my bowl shaped colander into the bottom of my sink only to have the hot pasta water pool up around the bottom of the bowl. It felt so wrong," says one reviewer, continuing, "So I wanted to find a colander that felt more sanitary. This one is perfect. It stretched out over my great big sink and the water goes through quick as lightning." Another five-star reviewer writes, "This thing got a workout with all of my Thanksgiving prep. It held up great. I have a double sink, but it's a bit smaller than average (my kitchen is from the '70s). The sides pull out across my sink with room to spare — would still work great with a larger sink." And a woman whose husband does all the produce washing says, "He is very happy with it. It fits on one side of our double sink. The adjustment handles make it simple to fit over the garbage disposal."
Best collapsible silicone colander
Colander Collapsible Over the Sink Colander With Handles
The biggest takeaways from the hundreds of positive reviews of this colander was that it allows you to drain hands-free, while saving space. "Saw this at a friend's house and had to get one," says one reviewer, who explains, "The arms extend far enough for even a farmhouse sink and are strong enough to hold a pot of potatoes. This frees up both my hands for holding a heavy pot (no scalding) and keeps the food from sitting in the water." Another reviewer says that despite the small footprint, this is not a small colander: "When expanded, it has ample depth for enough pasta to feed a family of seven or one fat Italian plumber. When collapsed, it stores away neatly inside a kitchen drawer. The extending handles are a nice touch. It allows for straddling larger sinks and because it's fitted with rubber padding, it won't slip." And one happy customer concludes, "If you're looking to buy this, chances are you're in a similar boat as me in that you have limited storage space in your kitchen but know you can't get by without a size-able strainer. This is, in my opinion, a perfectly functional alternative."
Best stainless-steel colander set
HÖLM 3-Piece Stainless Steel Mesh Micro-Perforated Strainer Colander Set
Reviewers loved how this set lets them choose the right tool for each straining job, and lots of them said they like the micro holes better than traditional mesh colanders. "I used the colander to strain the juice out of celery after I had put it through the blender. With this set, I can choose just the one that fits over a bowl beneath, and easily press the celery juice through the fiber and the colander," one reviewer explains, calling them a "Great size for every job, easy to clean, stackable, and easy to store. " Another happy reviewer calls them "great. I can see that I haven't wasted my money. I particularly like the fact that there aren't any additional places for food to hide during the cleaning process, but the construction is heavy-duty. The stainless-steel mesh is small enough to keep small foods from falling through, but strong enough to handle heavy foods and still allow water to escape easily." Plus, they look nice as a set, according to one reviewer who writes, "My husband and I really like these! Lightweight and hang beautifully on our pot rack — where they are handy to grab while cooking."
The Strategist is designed to surface the most useful, expert recommendations for things to buy across the vast e-commerce landscape. Some of our latest conquests include the best acne treatments, rolling luggage, pillows for side sleepers, natural anxiety remedies, and bath towels. We update links when possible, but note that deals can expire and all prices are subject to change.
Every editorial product is independently selected. If you buy something through our links, New York may earn an affiliate commission.