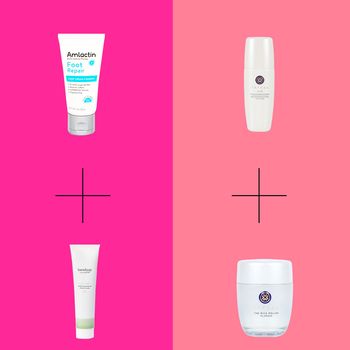 Photo: Courtesy of retailer
The beauty world has its culty standouts — the hero items, the icons, the unicorns, as they're known in the trade. But me, I think products work better in pairs. The wrinkle-reducing effects of a niacinamide serum are only fully realized with the follow-up of the right moisturizing cream; a non-greasy body oil sinks in best after a certain coffee scrub. (I am pairings-focused in my makeup routine, too — I dilute Lorac Pro Skin Glass Skin Primer with Lorac Pro Soft Focus Longwear Foundation for a velvety stay-put finish; I get denser-yet-still-tidy brows by following Glossier's Brow Flick with a few swipes of their Boy Brow brush — but this article is focused mainly on skin care.) And so, here, I've rounded up seven of the most synergistic duos in my face-and-body regimen (plus one for hair, because I couldn't resist). Some of the couplings are same-brand; others are disparate, even unlikely. In my fervid, skin-care-obsessed imagination, either I had a hunch that such and such would work together, or I stumbled upon and combined them, only to find that their tandem power was much greater than the sum of their parts. That's what I call serendipity.
My favorite skin-cleansing duo:
Confession: I'm a longtime aficionado of AHAs, not to mention prescription tretinoin — all potentially irritating. So when it comes to mechanical exfoliating cleansers, I value the gentlest among them. Especially Tatcha's exquisitely soft-touch Camellia Cleansing Oil and The Rice Polish: Classic combo. Together, they're a mini-ritual of sorts. I start by dousing and massaging my face in camellia oil (rich in cushiony oleic oil). FYI, camellia oil is also used in Japan to protect precious woodworking tools and cutlery from erosion. Next: splashings of very warm water that turn the oil milky. I continue massaging for half a minute or so. Then …
Once the cleansing oil is rinsed off, my face still dripping wet, I create a paste, in the palm of my hand, of a teaspoon or so of Tatcha's The Rice Polish: Classic (for normal and combination skin) with more water. A foaming lather appears. That's the "scrub" — rice bran specks as tiny as finely ground salt, combined with enzymatic papaya extract. These add up to a feathery-soft exfoliation that leaves my complexion cleansed but not depleted.
My favorite skin-treatment duo:
No wonder Drunk Elephant TLC Sukari Babyfacial is a best-seller. It's full of high-grade, skin-sloughing AHAs, BHAs, and lactic, tartaric, and citric acids. But they're calmed down with the addition of soothing matcha tea, milk thistle, and apple. Once I ply it on, I get an initial sting (which I love), followed by a steady, circulation-boosting warming sensation (not the fiery redness traditional AHAs produced). It's supposed to be left on for ten minutes. I stretch that to 15 or 20. Then …
As per Drunk Elephant's recommendation, I follow up the Babyfacial with their Omega-rich Virgin Marula Luxury Facial Oil — a complexion soother and restorer of lost oils. The ultimate takeaway? Even-toned radiance. And that warming sensation I mentioned? For me, it lasts a couple of days.
My favorite skin-hydrating duo:
I've been tracking doctors' skin-care brands — which often contain AHAs and active vitamin C — ever since they first appeared in the late 1980s. There's now a bonanza of such safe and effective high-potency product lines out there. Even so, and not to mince words, I wasn't expecting how extra-excellent and state-of-the-art the New York dermatologist Howard Sobel's recently introduced comprehensive Sobel Skin Rx collection is. The key ingredients — glycolic acid, retinol, hyaluronic acid — need no introduction. But their diesel-powered formulations, buffered for gentleness, feel and look gorgeous on my skin. Most surprising for me was the result of a particular combo from the line: Start with the wrinkle-reducing, pore-minimizing, hydration-restoring, maximum-strength 15% Niacinamide Gel Serum. Then see how it out-performs itself when followed up with …
This non-greasy Bio Hyaluronic Moisturizing Cream is, in effect, a light coverlet for the niacinamide gel, maximizing its effectiveness. The pairing makes my complexion look fully revitalized and feel newly sensuous.
My favorite complexion-evening duo:
There are times when I want just the merest whisper of foundation. That's when I turn to minimally pigmented, minimal-coverage 3CE Stylenanda Glossing Waterful Foundation. This K-Beauty discovery does one thing beautifully — it evens out my complexion while leaving it looking desirably un-done. But …
The Waterful Foundation doesn't cover dark discolorations like tiny spider veins and age spots. For those I turn to a recent discovery that's become a daily essential: Face Stockholm's Blemish and Capillary Concealer. This little pot of thick-ish pigmented cream absolutely camouflages not only the broken capillaries on my inner cheeks, but my brown spots too. And somehow its muddy pink-brown color blends right in.
My favorite lip-treatment duo:
Finally — I've found a lipstick impossibility: A glossy yet defiantly deep-pigmented, paint-thick lipstick that seriously lasts most of the day — even surviving an olive oil-rich Greek Salad lunch. Glow Color Squeeze, from the K-Beauty brand Unicorn, comes in 11 shades, including a perfect bold red with hints of brown, aptly called Pomegranate. This wondrously thick gel — with hyaluronic acid, shea butter, sugar maple extract, and argan-macadamia oil — lives up to its soothing promise for the first couple of hours. But then, even while the stain-like color remains, my lips begin feeling dry. So …
I cover the Unicorn Glow with colorless Bee Raw Butchwax (also recommended for butcher blocks). Loaded with jojoba, and fragrant rosemary, peppermint, and tea tree oils, as well as beeswax, it tops up the Unicorn Glow's shine while eliminating the parched feeling. And it has a clean-toothpaste-y aroma. Bonus: the generously sized old-fashioned screw-top tin it's packed in.
I cover the Unicorn Glow with colorless Bee Raw Butchwax (also recommended for butcher blocks). Loaded with jojoba, and fragrant rosemary, peppermint, and tea tree oils, as well as beeswax, it tops up the Unicorn Glow's shine while eliminating the parched feeling. And it has a clean-toothpaste-y aroma. Bonus: the generously sized old-fashioned screw-top tin it's packed in.
My favorite body-treatment duo:
And now for my latest bodily pleasure (with apologies). This is an admitted indulgence (which I try to save for once every few weeks; no sense in going overboard). It starts with a high-voltage morning shower using, instead of soap, Juara Invigorating Coffee Scrub — actual moist Sumatra coffee dregs with added rice protein and coconut cleansing agents, invigorating my skin and senses, and causing the shower stall to look like my Bodum coffee beaker exploded inside it. (Quite a sight; but no worries, it washes off instantly.) Next …
With my skin still slightly damp after the coffee-scrub routine, I ply on light-to-the-touch, non-greasy Eminence Stone Crop Body Oil, which sinks right in. FYI, stone crop is a water-absorbing succulent with skin-lightening powers and an intoxicating, almost floral aroma. Also in the mix: anti-inflammatory arnica and rose hip and avocado oils. The overall effect of this pairing? Soft, smooth, plumped-up skin, exuding an outrageous, mixed-message sensual-wakeup scent.
My favorite foot-treatment duo:
An industry newcomer, Barefoot Scientist almost qualifies as foot-care lifestyle company, with an inventory running the gamut from peels and a moisturizing gel to a blister-prevention spray, cleansing cloths, and toe spacers. My favorite item is Pure Grit, a eucalyptus-scented, mineral-rich in-shower foot scrub. Key ingredients: Icelandic volcanic sand, bentonite clay, and quartz. It not only scruffs, but leaves my feet smelling unbelievable fresh and clean. (And scrubbing my feet in the shower is a perfect yoga opportunity — to practice forward-bending, crossed-knee Tree Pose.) I follow that up with …
AmLactin Foot Repair — another light exfoliant like the Pure Grit — is a lactic acid sloughing cream in an emollient base. Pairing the two takes a minimum amount of time, but used as daily maintenance, keeps my feet soft to the touch.
… And one bonus duo for my hair:
My all-knowing colorist, Marie Sigismondi, at the Warren-Tricomi Salon in New York, is always giving me product tips. Her latest comes from Olaplex, a hair-care line run by chemists and sought out by professionals for its smoothing and moisturizing keratin-bond repair technology. Marie urged me to try Hair Perfector No. 3, its home-use pre-shampoo treatment that she says is ideal for my curly-frizzy-single-processed hair. Per the instructions, I keep this creamy serum, containing aloe leaf juice and jojoba seed oil, on for a minimum of ten minutes before rinsing and shampooing. Result? Lushness so startling I can't help but touch my hair in disbelief. But …
Every couple of weeks, for an extra hair treat, just before bedtime I dilute the Olaplex serum with Tweefontein Herb Farm's Botanical Face Serum, containing a nourishing and mesmerizingly fragrant concoction of coconut, lavender, ylang ylang, and jojoba oils. I leave this blend on my hair overnight. Divine!
The Strategist is designed to surface the most useful, expert recommendations for things to buy across the vast e-commerce landscape. Some of our latest conquests include the best acne treatments, rolling luggage, pillows for side sleepers, natural anxiety remedies, and bath towels. We update links when possible, but note that deals can expire and all prices are subject to change.