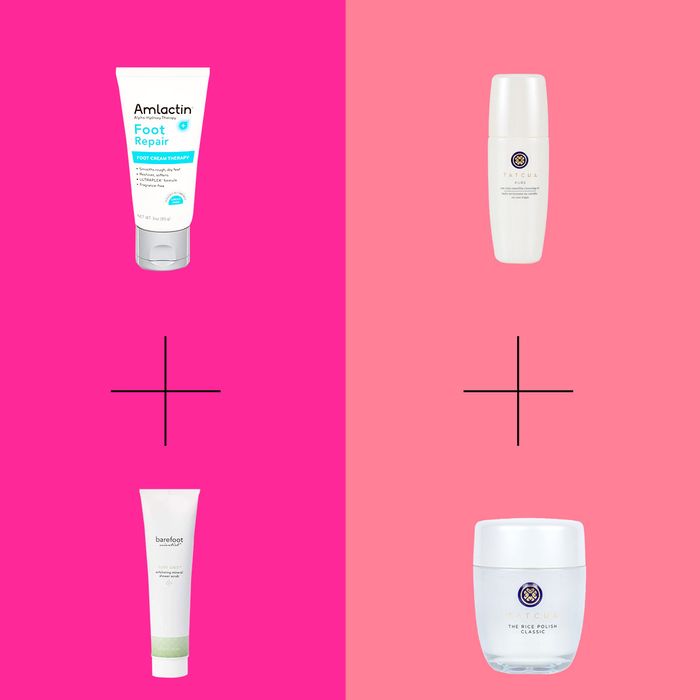 Photo: Courtesy of retailer
The beauty world has its culty standouts — the hero items, the icons, the unicorns, as they're known in the trade. But me, I think products work better in pairs. The wrinkle-reducing effects of a niacinamide serum are only fully realized with the follow-up of the right moisturizing cream; a non-greasy body oil sinks in best after a certain coffee scrub. (I am pairings-focused in my makeup routine, too — I dilute Lorac Pro Skin Glass Skin Primer with Lorac Pro Soft Focus Longwear Foundation for a velvety stay-put finish; I get denser-yet-still-tidy brows by following Glossier's Brow Flick with a few swipes of their Boy Brow brush — but this article is focused mainly on skin care.) And so, here, I've rounded up seven of the most synergistic duos in my face-and-body regimen (plus one for hair, because I couldn't resist). Some of the couplings are same-brand; others are disparate, even unlikely. In my fervid, skin-care-obsessed imagination, either I had a hunch that such and such would work together, or I stumbled upon and combined them, only to find that their tandem power was much greater than the sum of their parts. That's what I call serendipity.
My favorite skin-cleansing duo:
Confession: I'm a longtime aficionado of AHAs, not to mention prescription tretinoin — all potentially irritating. So when it comes to mechanical exfoliating cleansers, I value the gentlest among them. Especially Tatcha's exquisitely soft-touch Camellia Cleansing Oil and The Rice Polish: Classic combo. Together, they're a mini-ritual of sorts. I start by dousing and massaging my face in camellia oil (rich in cushiony oleic oil). FYI, camellia oil is also used in Japan to protect precious woodworking tools and cutlery from erosion. Next: splashings of very warm water that turn the oil milky. I continue massaging for half a minute or so. Then …
Once the cleansing oil is rinsed off, my face still dripping wet, I create a paste, in the palm of my hand, of a teaspoon or so of Tatcha's The Rice Polish: Classic (for normal and combination skin) with more water. A foaming lather appears. That's the "scrub" — rice bran specks as tiny as finely ground salt, combined with enzymatic papaya extract. These add up to a feathery-soft exfoliation that leaves my complexion cleansed but not depleted.
My favorite skin-treatment duo:
No wonder Drunk Elephant TLC Sukari Babyfacial is a best-seller. It's full of high-grade, skin-sloughing AHAs, BHAs, and lactic, tartaric, and citric acids. But they're calmed down with the addition of soothing matcha tea, milk thistle, and apple. Once I ply it on, I get an initial sting (which I love), followed by a steady, circulation-boosting warming sensation (not the fiery redness traditional AHAs produced). It's supposed to be left on for ten minutes. I stretch that to 15 or 20. Then …