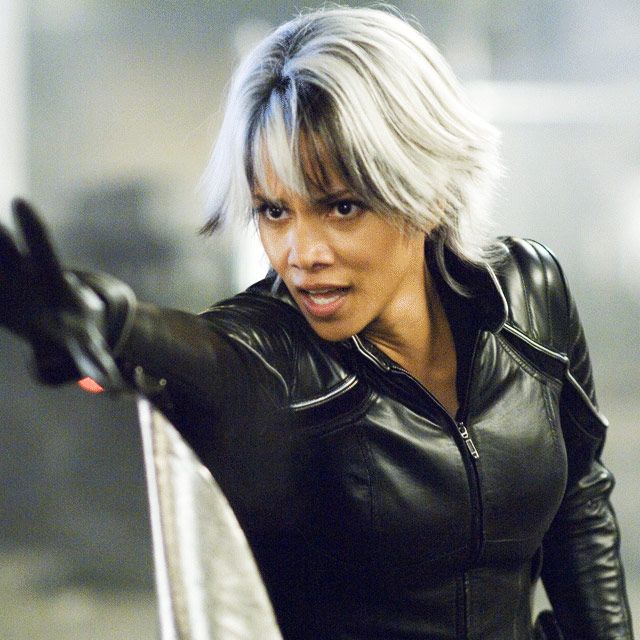 Photo: ©Twentieth Century Fox Film Corp. Photographer: Kerry Hayes
"As you age, your hair changes," says Tahlya Loveday, a master stylist at the salon the Drawing Room New York. And altering your hair-care routine to accommodate these changes is key to maintaining great locks — especially when hair starts to go gray, according to Loveday and the ten other stylists we spoke to. Not only does the color change necessitate using products designed to keep gray hair bright and toned, but going gray means the texture of your hair will likely change, too. Gray strands tend to be coarser, drier, and more unruly, thus requiring products that deliver lots of moisture. Below, our experts recommend their favorite shampoos, conditioners, masks, and accessories for taming and nourishing gray hair.
Best overall products for treating gray hair


To preserve and maintain the color of gray hair, it's essential to find the right shampoo and conditioner to keep gray strands from taking on a yellow or blue tint. Three of our experts recommend Davines Alchemic Shampoo and Conditioner, which is formulated with a slight tint to counteract any brassy color and will "help neutralize any yellow tones to keep gray looking a cool silver," according to Jehnna Mahoney, a hairstylist at Kennaland Salon. In addition to toning the hair, the Davines conditioner is also super-hydrating (which is important since gray hair generally needs more moisture), so it will leave hair looking healthy and shiny. Davines is also a favorite of Ryan Cunningham, a stylist at Whittemore House, who recommends shampooing and conditioning gray hair twice a week to keep your color looking its best.
Best products to use when you start to go gray


Brit Kenna, celebrity stylist and owner of Kennaland Salon, also likes Iles shampoo and conditioner, which he says are ideal for those who are just starting to go gray because the ultralight formula with silk protein "won't overwhelm naturally colored hair while smoothing incoming grays." Chelsey Pickthorn, master stylist and founder of Pickthorn Salon, also likes these Iles products for the way they treat gray hairs' texture. "I just find that they soften the hair and have the ability to weigh down some of those unruly textures without overweighing the rest of the hair."
Best clarifying shampoos for gray hair


Using a clarifying shampoo in addition to an everyday shampoo like those above will help keep gray hair looking bright by removing yellowing pollutants and preventing the buildup of products and minerals found in water, all of which can dull hair. But all the stylists we spoke with recommended using clarifying shampoos sparingly — at the most, once a week; at the least, once a month, depending on your hair's needs. Both Mahoney and Pickthorn use Davines Solu Shampoo, which is formulated with buckwheat extract to give hair an even deeper cleanse.
Emaly Baum, a colorist at Suite Caroline (and the woman responsible for Rio's transformation from brunette to platinum blonde), also suggests using a clarifying shampoo. She likes the Christophe Robin Clarifying Shampoo, which she says will help "lighten the hair and get rid of any buildup that has occurred."
Best hair mask for moisturizing gray hair
Fringe Salon owner Amy Schiappa agrees that gray hair "can be dry, unruly, and different to take care of," which is why she recommends incorporating masks into your routine as another way to condition and tone grays. Masks pump your hair full of moisture, and should be used about once a week, depending on how dry your hair is. Baum also suggests using masks, specifically this one from Christophe Robin. "What's great about this product is that not only is it moisturizing, but it helps deposit cool tones back into the hair to keep it looking silver and fresh," she explains.
Best hair mask for preventing yellowing


"For those who want to keep their gray icy or cool (less yellow), I highly recommend Fanola No Yellow Mask," says Joey Silvestera, founder of Blackstones Salon. The mask, which is 100 percent vegan, is formulated with a purple pigment to specifically counteract brassy tones.
Best leave-in treatment for frizzy gray hair
Gray hair can get frizzy fast, which is why Anessa Daviero of Headdress Hair Salon likes to use leave-in treatments to keep frizz under control. She says this one from Rahua is "a magic leave-in treatment that calms hair down and adds shine." Plus, the texture is somewhere between an oil and cream, which she calls "the perfect combo."
Best leave-in treatment for coarse gray hair