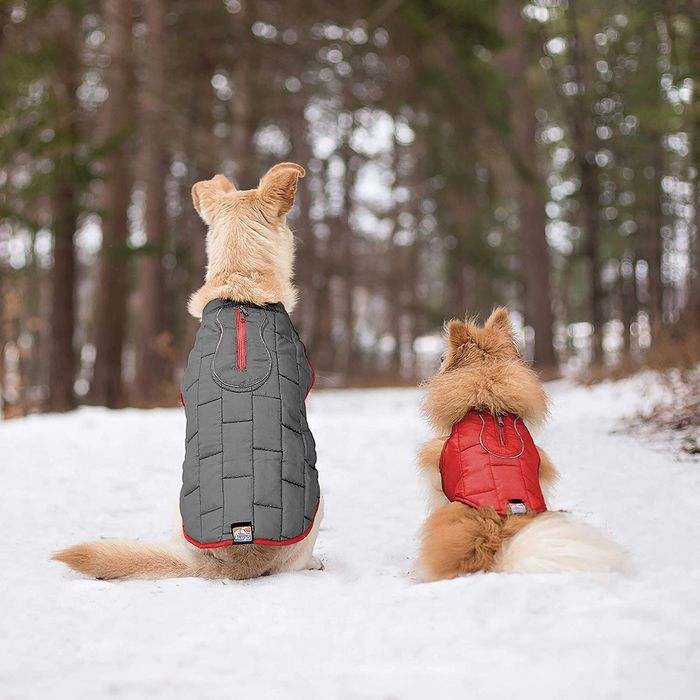 Here at the Strategist, we like to think of ourselves as crazy (in the good way) about the stuff we buy, but as much as we'd like to, we can't try everything. Which is why we have People's Choice, in which we find the best-reviewed products and single out the most convincing ones. (You can learn more about our rating system and how we pick each item here.)
While we've written here before about the best raincoats and rain boots for dogs, as well as the best cold-weather gear for dogs and the best leashes, here we've rounded up the best dog coats on Amazon, according to the people.
Best-rated (and least expensive) dog coat
Along with being a reviewer favorite, this affordable poncho comes highly recommended by dog walkers – so much so that we said it's "basically the Amazon coat, but for dogs." A reviewer whose dog wore it on a hike in "extreme conditions" was pleasantly surprised that it "performed like a champ," writing, "the raincoat stayed in place and kept my dog's body dry." Reviewers love that the poncho's easy to put on and take off, "packs up quite nicely in a small vinyl pouch," and can "truly keep the rain off." It's also durable, as this reviewer explains, "we've taken many hikes in the woods with pointy branches…and it's never gotten even a hole."
The lightweight material is apparently very comfortable for dogs since it "isn't oppressively heavy so there's less for one's dog to object to." The owner of a Golden Retriever says, "it's the first piece of clothing my dog will actually wear without acting like I'm torturing him. After the first couple times of wearing it he actually waggles his tail when I pull it out of the little pack." A Chihuahua parent agrees: "He does not shake it off nor does he mind wearing it."
And now for some micro-picks for every type of dog coat you might be looking for.
Best fleece-lined, water-resistant dog coat
In cold climates, this coat – that's "warmly lined yet the outside is smooth and resistant to wetness and dirt" – makes winter walks bearable. One reviewer was "impressed with the water resistance," and another says the coat is "quite thick and warm…I think my dog is warmer and appreciates it." A reviewer who bought a pair for two Dobermans writes, "the dogs were chasing rabbits like crazy and the garments didn't slip off and didn't restrict their movement." After a below-freezing morning walk in Boston, this reviewer found that her terrier "was still warm under the coat."
Best fleece-lined, windproof dog coat
One reviewer raves that this dog jacket – that's "super soft on the inside" – is "so well made, and well-tailored [that] it literally looks like it was made especially for my dog." Another says that even though her "pup doesn't like wearing sweaters," the JoyDaog jacket "fits so nicely that she gladly wears it out on walks during cold or rainy days." Although it isn't waterproof, a Chihuahua owner says, "it cuts the wind on a chilly/windy day," and a reviewer who bought two for their dogs writes, "they wouldn't protect them from a downpour but [are] good for light to moderate rain."
Best reversible dog coat
"A water resistant jacket that won't soak in rain and snow," this coat also has "a zipper that allows for easy leash attachment to a harness or collar." Aesthetically, owners like that it's "entirely reversible so there are two looks in one jacket," and many agree that the "colors are lovely." One reviewer writes, "the material is bright and slick, both colors are beautiful, and a little padding for warmth is perfect. Very easy to put on a wiggly dog." Another, who brought their dog on a hike, liked that "she kept it on the entire time, no fuss, didn't seem to overheat, [and] didn't seem to chafe."
Best full-body dog coat
With coverage for all four legs, reviewers call this snowsuit-like jacket "'richly made and warm," and perfect for snowy days since. As this reviewer describes, "it covers [a dog's] legs and underbody enough to prevent the snow from sticking." One reviewer writes that it "fits just fine with room for her to move and make dressing and undressing a little easier," and others also commented on the fit:"It is snug where it needs to be, so there is no dropping material under her belly and there is enough room for her to walk and run comfortably." The jacket also gets lots of attention for its looks, or its look, with one reviewer saying simply, "this coat is the cutest thing."
Best dog coat with a removable hood
According to one reviewer this stylish plaid cost "does its job, my dog loves wearing it [and] we get LOTS of compliments." Dog owners, like this one, are fans of all the coat's different features: "I was surprised by the excellent quality of this sweater. It has buttons, the hood is cute and it's removable, plus there's little pockets on the back." One reviewer's dog wore it on a hike in cold weather and liked that it "did not come off once and she did not look uncomfortable but instead loved the attention from fellow hikers."
Best dog coat with a faux-fur hood
"It's been below freezing many days in Brooklyn this winter and my pup has been happy to have this coat," writes one reviewer, and many more agree it's perfect for helping dogs stay warm in the cold. "We've already worn it around town and are stopped constantly to be told how adorable she looks," says a reviewer who purchased the coat for a trip in cold weather. "The fur on the hood is of excellent quality and my favorite thing is that the hood stays up keeping her little head warm! " Another dog owner thinks it's "absolutely adorable" and likes that "there's also a functional pocket on the back of the jacket you could put little treats in if you feel the need."
Best padded, water-resistant dog vest