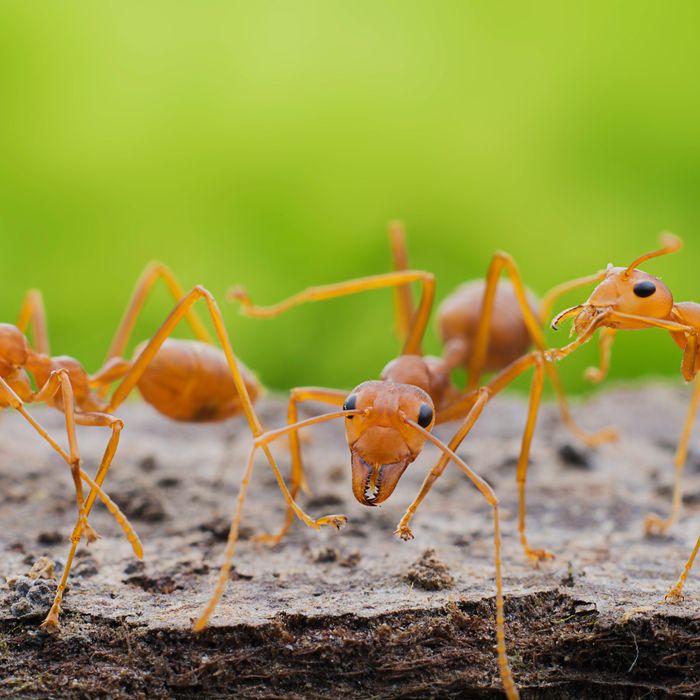 Photo: VCG/VCG via Getty Images
Here at the Strategist, we like to think of ourselves as crazy (in the good way) about the stuff we buy, but as much as we'd like to, we can't try everything. Which is why we have People's Choice, in which we find the best-reviewed products and single out the most convincing ones. (You can learn more about our rating system and how we pick each item here.)
And while we've written about lots of bug repellents and killers before — including the most effective tick repellent, the best mosquito repellents, and the best bug zappers— here, we've rounded up the best ant killer, as praised by the most enthusiastic reviewers on Amazon.
Best-rated ant killer
Over 4,000 reviewers gave a five-star rating to this liquid ant bait, many of whom were enthusiastic that it actually rid them of pesky ants. "I deployed the Terro liquid ant baits on a Saturday night. Every time I glanced at the ants marching to and fro from the trap, I thought of how doomed their food scavenging mission was. Yes, I was the evil super villain that was destined to eradicate their entire colony," one customer writes, adding, "By Tuesday, there were no more ants." Another similarly enthused reviewer calls this ant bait "ridiculously effective," explaining, "I bought some, opened up three of the six packs on Ant Bait, and within minutes, yes minutes, the ants were literally coming out of the woodwork to get to this stuff. Within two days, not a single ant survived." A third reviewer bought this bait after "alien-like black carpenter ants" infested their apartment, and the ants haven't come back since her first use: "About a half an hour later, I got up to check them and they were swarmed with ants. After the initial feeding frenzy (about 12-24 hours), smaller groups of ants came and went over the next few days before eventually dwindling to nothing. They never came back. I really think we took out the whole colony."
Best-rated (less expensive) ant killer
"I like the clear drops best because it gives me the flexibility to put the bait right in the middle of an active ant trail," explains one practical reviewer of this liquid ant killer. Most customers mention that they used this indoors, but one used this "both inside and outside," noting that that method really works. "I put a couple squares of this down and dripped some of the stuff on it. Within 30 minutes there were rings of the little black spawns of Satan drinking it down while I laughed and danced around their impending demise." One customer says it wasn't until he tried this Terro ant killer that he was freed from his ant infestation, explaining, "When I came back hours later, sure enough, the buggers were surrounding the thing, dunking their heads in it like fools. Literally hundreds of them, where up until now the bathroom had seen only a dozen at one time. And sure enough, as the days went by and those gullible ants gave the poison to their nest, the numbers dwindled until there was nothing left. I hope there was chaos and anarchy when the queen died, and I hope their civilization went down in flames."
And now for some micro-picks for every type of ant killer you might be looking for.
Best ant killer for infestations
Reviewers of this ant bait lament over how challenging it is to deplete an ant infestation — before citing this ant killer as the solution to their problem. One gloats that they "went from having a massive ant infestation every spring to seeing no ants at all," adding that his secret is "these baits placed around the house foundation early every April. No kidding, from armies of ants in the house to no ants. Zip, zero, zilch." Another customer thinks this bait is "worth every freakin' penny," noting that the next day he had no ants in his house. "I could not believe it. I believe in this stuff more than I believe that rice is white." And one more five-star reviewer has a slightly more dramatic interpretation of how well this ant bait takes out large infestations: "Any invasions are as ubiquitous in Los Angeles as aspiring actors. If you put bait traps inside, good luck to you, Sir. What you will have accomplished is inviting every goddamn ant and all of its cousins in the Western Hemisphere to come dine at the trough of plenty. Instead, you need this Terro Outdoor Bait. Put it outside in the invasion line. Marvel at how many ants appear like they have a free coupon to eat at Nobu."
Best indoor ant killer
"This thing works like a miracle," rejoices one reviewer who used this indoor ant killer in her kitchen. "Within an hour there were hundreds (without exaggeration) of ants who came out of nowhere eating the gel like there's no tomorrow." Another reviewer didn't mind ants until she had an infestation, then her "sympathy gave way to rage" and she used this inexpensive option to kill them: "I was ready to pay $550 to a local pest company to eradicate the nest once and for all. I had tried everything. But $550 is a lot of money, and I decided to 'throw away' $10 to try Combat Max so I knew I really had exhausted all pre-$550 options. OMG, it worked in less than a week." Another reviewer recalls a similarly life-changing experience with this ant killer: "At first it's like wow, swarms of ants will start collecting to eat but be patient, drink some wine, watch a movie or go to sleep because when you wake up no ant will be found at all. Forget ant baits, liquid baits, or vacuuming them into your Dyson for an ant party, this gel will show the ants that you mean business. And by mean business, I mean kill all of them and make you feel like Iron Man."
Best professional-grade ant killer
People with serious ant infestations called upon professionals to help kill the population, and many learned that most exterminators actually use this ant bait. One reviewer admits he "t