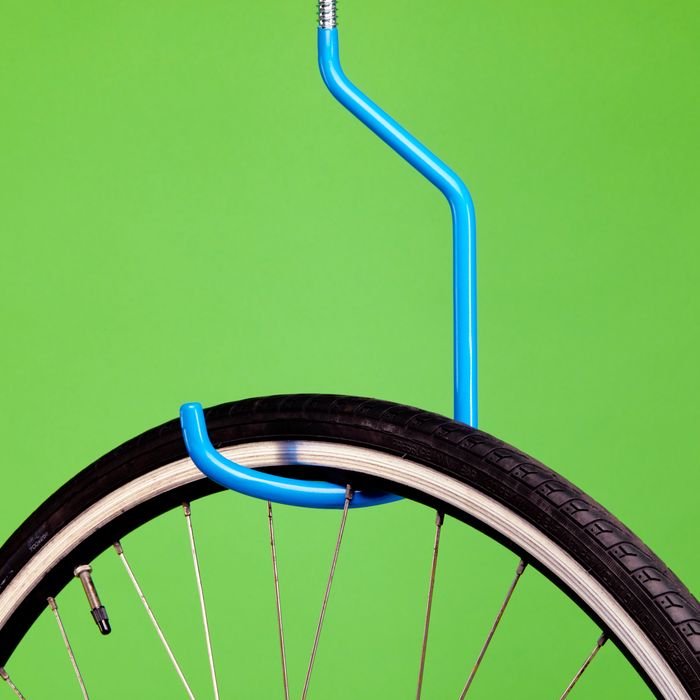 If you own a bike (or were one of the thousands of people who acquired a new one in the past couple of years), you've probably had to give some thought to storage. Bikes generally take up a big amount of space — more so than most other everyday possessions — and can be awkward to store. And while keeping your bike outside might feel like the easiest solution, there are a lot of benefits to storing it indoors. Keeping your bike locked up outside (and uncovered) will only lead to maintenance headaches. Prolonged exposure to the sun, rain, and wind can lead to rusty components — not to mention the dirt and grime that naturally collects over time. Plus there's always the possibility of theft. Even then, once you consider storing your bike in your home — especially if you live in a cramped city apartment — simply leaning a bike against a wall can crowd your space, lead to scuff marks, and cause other interior-design frustrations. Luckily, there are plenty of options to streamline your bike storage — many of them both inexpensive and drill free. That's right: You don't have to touch that drywall if you don't want to. To find the best mounted bike racks, tension poles, and floor stands, we asked eight experts — including avid cyclists, bike mechanics, and bike-store employees — to tell us about the ones they recommend for every type of indoor space. We also combed through our cycling archives to surface any standouts we've written about before.
Wall-mounted versus freestanding
According to Andrew Crooks of NYC Velo (a bike shop that has been operating in the East Village since 2005), the best bike racks are "one of three kinds": wall mounts, floor stands, or tension poles that reach from floor to ceiling, with the two latter styles requiring no wall drilling to install and better suiting those who move a lot or like to change up their décor. We've included expert recommendations for all three types, including minimalist and maximalist options — because while some may wish to make their vintage Schwinn a living-room focal point, others may wish to simply save as much space as possible between rides. We included options that hang bikes by both their wheels and their frames.
If you think you want to store your bike on a hook or wall mount, all of our experts remind us that the higher you put it, the more effort it will take to hang up your bike and take it down. So if your bike is superheavy, it may be better to position the hook or mount lower. Crooks adds that any mount or hook designed to hold a bike is only "as safe as the wall you're mounting it to," so it's worth double-checking that your walls have studs, beams, or something beyond drywall as an anchor.
Single versus multiple bikes
If you've got cyclist roommates or just a burgeoning bike collection of your own, it makes sense to invest in a storage solution that will accommodate at least two sets of wheels. We looked for wall mounts and floor stands for single and multiple bikes, including a surprisingly sleek six-bike option for families.
The process of using and storing your bike on a daily basis can be a little arduous for both you and the bike — particularly its frame and spokes. Because bumps and bangs can lead to damage or just annoying little paint scratches, we're recommending wall mounts and floor stands that protect your precious rims with materials like rubber, vinyl, and even foam padding.
Best overall bike mount
Storage type: Wall mount (front wheel) | Bike accommodation: Single bike | Scratch protection: Vinyl coating
While floor stands are easier to install (we've got plenty of them further down on this list), a majority of our experts — four, to be precise — told us that Park Tool's inexpensive hooks are the best way to store a bike. "Sometimes the best choice is the simplest solution," explains cyclist and outdoors writer Morgan Tilton, who uses the hooks herself. Each is "made from seven-millimeter steel and burly," Tilton says, explaining that she uses "a single hook to vertically hang my 29-pound Specialized bike by the front wheel in a corner of my bathroom." Using two hooks, she says, you could "hang a bike by both wheels" from the ceiling. Because the hooks are coated in vinyl, Tilton says she's "not worried about my rims getting scratched." Most important, she adds, they're genuinely affordable and "easy to install." (Speaking of installation, the brand says the hooks "can be installed into ceiling joists, wall studs, or any piece of wood that can support the weight of a bicycle.") Ben Sawyer, a mechanic at Maine's CycleMania bike shop, told us about these hooks, saying they "do the job." Crooks likes Park Tool's hooks too and notes that they're quite effective for being "about the size of your hand." Their fourth fan is Thomas Dunn, the founder and owner of the Hilltop Bicycles stores in New York and New Jersey, who says the hooks are "the cheapest and simplest" way to store a bike. The numerous expert recommendations (combined with an unbeatable price) make this our best overall pick for easy, effective, and pleasingly minimalist bike storage.
Best adjustable bike mount
Storage type: Wall mount (front wheel) | Bike accommodation: Single bike | Scratch protection: Rubber coating
For a little more customization, here's an only slightly more expensive wall-mounted bike-storage solution. The Delta brand came up numerous times in our reporting, with two of our experts recommending this hinged wall rack that allows you to tilt your bike into different positions on the wall once it's hung. The vertical mount is "secure, minimal, and safe," according to Dunn, with Crooks adding that the "ability to shift it a little" makes it a "really good option," especially for people maneuvering around small apartments. For that reason, he says it's "the one we recommend the most." Like the Park Tool hook, this has a rubber coating to protect your bike's finish.
Best for two or more bikes
Storage type: Wall mount (front or rear wheel) | Bike accommodation: Two or more bikes | Scratch protection: Rubber coating
"For storing multiple bikes, the FastTrack storage system by Rubbermaid is definitely the way to go for most bikes per space," says Christopher Ick, a cyclist and CRCA athlete based in Brooklyn. You can alternate the way you hang each bike on the hooks, fitting the back wheels of one bike next to the handlebars of another. The FastTrack system requires drilling into wall studs — drywall anchors alone likely won't hold the weight of multiple bikes. "It's definitely a more involved installation," Ick says, "but that stacking combo saves on tons of space." (Rubbermaid makes a 15-piece storage system that comes with four rails and 11 hooks.)
Best floor stand
Storage type: Freestanding (top tube) | Bike accommodation: Two bikes | Scratch protection: Adjustable padded hooks
If you rent your home or aren't the DIY type, it's totally possible to find floor stands that (aside from their assembly) require little to no installation yet are visually almost indistinguishable from the trickier mounted racks. This one from Delta got nods from three experts — including cyclist Alexa Lampasona, a happy owner who calls hers a "stout, leaning wall rack that allows you to mount two bicycles in a narrow space." She adds that the rack's "arms adjust, so you can mount bikes with many different geometries from flat to sloping top tubes." Dunn recommends it, explaining that gravity racks like this are designed so that the weight of the bikes keeps the rack firmly in place. Ick says, "If you only have two bikes, gravity stands look nice and are super-easy to set up."
Strategist writer Jeremy Rellosa has used the Michelangelo to store his two bikes in various apartments for the past three years. He appreciates that it's a painless and drill-free solution to indoor storage as well as how easy it is to set up and put away. "There have been a few times when my roommate and I rearranged the layout of our apartment, which meant I had to collapse this rack when I wasn't using it," he says. "It only uses four screws, and the poles take up minimal space in the closet or under the couch."
Best vertical floor stand
Photo: Anthony Rotunno
Storage type: Freestanding (back wheel) | Bike accommodation: Single bike | Scratch protection: Stabilizing Velcro strap
When former Strategist senior editor Anthony Rotunno was looking for a bike stand last year, he wanted a space-saving solution (like a wall mount) but one that wouldn't require him or his husband to lift a bike up and down every day. "A floor stand that mimicked the effect of hanging a bike vertically" is how Rotunno described his ideal storage, which he found in the Bike Nook. According to Rotunno, this stand is easy to set up, holds bikes securely enough (thicker tires are a better fit for its one-size-fits-all design), and allows those bikes to be presented more like sculptures thanks to the way it props them up on their hind wheels just so. To keep things as secure and scratch free as possible, this stand is designed with a stabilizing Velcro strap.
Best family floor stand
Storage type: Freestanding (front wheel) | Bike accommodation: Up to six bikes | Scratch protection: Powder-coated steel
If you're looking for a floor stand the whole family (or all the roommates) can use, Sawyer recommends this "great industrial-style one" that can hold up to six bikes. However, because it doesn't store them on top of one another like the Michelangelo rack, he cautions that it will require more floor space. The stand is fairly bare bones: There's no rubber, vinyl, or padding to protect your spokes — but its utilitarianism can't be beat for larger households.
Best for small spaces
Storage type: Wall mount (front and rear wheels) | Bike accommodation: Single bike | Scratch protection: Powder-coated steel
If you plan to store your bikes in a narrow hallway or any area where bike storage might be a tight squeeze, angling your bikes can help maximize overhead space. These angled racks from Gootus come recommended by Ick, who uses them for his three bikes in the hallway of his Brooklyn apartment. "I like angled wall brackets because they let me make use of my slightly higher ceilings and are a nice display of my bikes," he says. The Gootus rack is a three-piece system in which the center point hooks onto the bike's pedal and the two trays support the wheels.
Best tension pole
Storage type: Tension pole (top tube) | Bike accommodation: Two bikes | Scratch protection: Rubber hooks
For ease of installation, tension poles fall somewhere between floor stands and wall mounts; they don't require drilling holes into walls or ceilings, but you may need to do a little more work to get one in place. They often cost more than (non-trainer) stands and mounts, but Crooks and Dunn say that may be money well spent if you think you'll move a lot and want bike storage that can easily move with you, no matter the size of the home. Tension poles, Crooks adds, are worth considering if you redecorate a lot. "Say you buy a new chest of drawers — you can redesign the whole apartment without having to work around that bike mount you screwed into the wall already," he explains. Made of aluminum with rubber-coated hooks for mounting each bike's top tube, this model recommended by Dunn has a sleek black finish, and though the pole can hold only two bikes as is, Feedback Sports makes add-ons that let it accommodate up to four. The brand makes a freestanding floor rack, the Velo Cache, which doesn't require a wall to lean on.
Best floor stand for stationary cycling
Storage type: Freestanding (both wheels) | Bike accommodation: Single bike | Scratch protection: Dual-lock mechanism
Cyclists have long told us about the virtues of trainer stands, which not only serve as a place to store a bike indoors but allow you to get in a full ride when outside conditions aren't suitable for hitting the streets. This particular trainer stand comes recommended by contributor Kelsey Mulvey, who described it as an "affordable alternative to Peloton" and credits it for saving her fitness and her sanity during lockdown. Like most of the other floor stands on this list, this one keeps bikes upright horizontally, so you will sacrifice more floor space — but that may be worth giving up if it means you can store your bike and have a workout at the same time.
Some Strategist-approved bikes to add to your rack
• Andrew Crooks, founder, NYC Velo
• Thomas Dunn, founder, Hilltop Bicycles
• Christopher Ick, cyclist and CRCA athlete
• Alexa Lampasona, cyclist and outdoors writer
• Kelsey Mulvey, Strategist contributor
• Anthony Rotunno, former Strategist senior editor
• Ben Sawyer, mechanic, CycleMania
• Morgan Tilton, cyclist and outdoors writer
The Strategist is designed to surface the most useful, expert recommendations for things to buy across the vast e-commerce landscape. Some of our latest conquests include the best acne treatments, rolling luggage, pillows for side sleepers, natural anxiety remedies, and bath towels. We update links when possible, but note that deals can expire and all prices are subject to change.