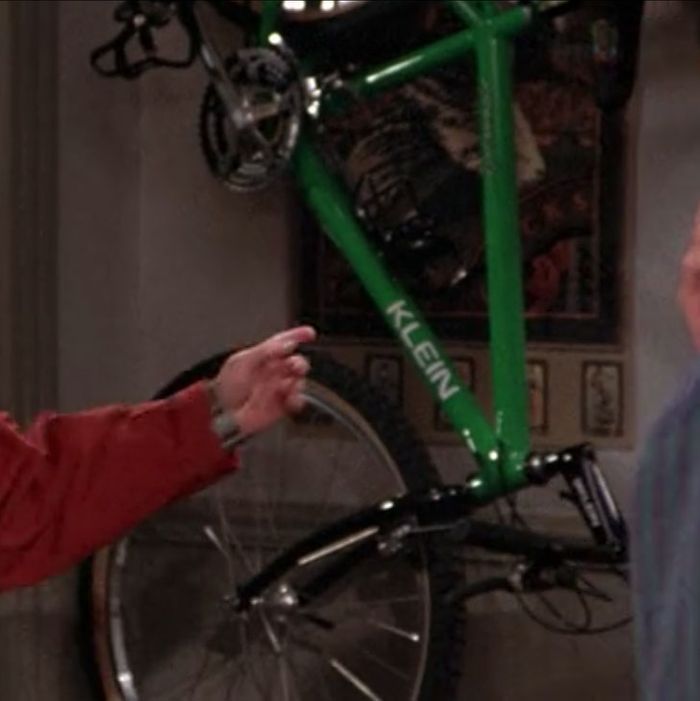 Whether it's a new bike you acquired to avoid public transportation amid the pandemic or an old one you've had for years, if "storing it" consists of simply leaning it against a wall (that likely now has scuff marks), you might be looking for a better way. Whether hung from that wall or set on a stand beside it, any proper bike-storage solution will still likely take up some space. But, as we discovered, there is a range of options, many of which are surprisingly unintrusive and, dare we say, stylish.
To find the best bike racks, we asked six experts — including avid cyclists and bike-store owners and mechanics — to tell us about the ones they recommend. According to Andrew Crooks of NYC Velo (a bike shop that has been operating in New York City's East Village since 2005), the best bike racks are "one of three kinds," namely floor stands, wall mounts, and tension poles. While Crooks describes bike racks as one of the "least sexy parts of the bike world," you might beg to differ after seeing our experts' favorites. From a bike rack that doubles as a handsome shelving unit to tension poles that can hold four bikes (with no drilling required) to an incredibly affordable bike hook beloved by a majority of our experts, their ten recommendations are below.
Wall mounts
Best overall wall mount for bikes
While floor stands will be easier to install (we've got plenty of them further down on this list), a majority of our experts — four, to be precise — told us that these inexpensive hooks are the best way to store a bike. "Sometimes the best choice is also the simplest solution," explains cyclist and outdoors writer Morgan Tilton, who uses the hooks herself. Each is "made from seven-millimeter steel and burly," Tilton says, explaining that she uses "a single hook to vertically hang my 29-pound Specialized bike by the front wheel in a corner of my master bathroom." Using two hooks, she adds, you could also "hang a bike by both wheels" from the ceiling. Because the hooks are coated in vinyl, Tilton says she's "not worried about my rims getting scratched." Most importantly, she adds, "they're easy to install and a pair costs less than a Starbucks grande pumpkin-spice latte." (Speaking of installation, the brand says the hooks "can be installed into ceiling joists, wall studs, or any piece of wood that can support the weight of a bicycle.") Ben Sawyer, a mechanic at Maine's CycleMania bike shop, also told us about these hooks, saying they "do the job." Crooks did also, noting that they're quite effective for being "about the size of your hand." Their fourth fan is Thomas Dunn, the founder and owner of the Hilltop Bicycles stores in New York and New Jersey, who says the hooks are "the cheapest and simplest" way to store a bike.
If you're thinking you want to store your bike via a hook or wall mount, all of our experts remind us that the higher you put it, the more effort it will take to hang it up and take it down. So, if your bike is superheavy, it might be better to position the hook or mount lower. Crooks adds that any mount or hook designed to hold a bike is "as safe as the wall you're mounting it to," so it's worth double-checking your walls have studs or beams or something beyond drywall as an anchor.
Best adjustable wall mount for bikes
Delta was a brand that came up numerous times in our reporting, with two of our experts recommending this hinged wall rack that allows you to tilt your bike into different positions on a wall once it's hung. The vertical mount is "secure, minimal, and safe," according to Dunn, with Crooks adding that the "ability to shift it a little" makes it a "really good option," especially for people maneuvering around small apartments. For that reason, he says it's "the one we recommend the most." Like the Park Tool hooks, this has a rubber coating to protect the finish on your bike.
Best fold-up wall mount for bikes
Dunn also told us about this pivoting wall-mounted rack that "swings the bike out of the way" and "can be folded up when not in use," making it that much less of an eyesore. He describes it as a "universal fit, vertical-storage solution that the front wheel fits into," adding that it's "one of our favorites" at Hilltop Bicycles.
Best wall mount (with space to store other stuff) for bikes
This just-as-sleek mantel from Specialized not only has space for a bike but also two ledges designed to hold a helmet and (if you use them) clip-in bike shoes. It's another wall mount recommended by Dunn, who calls it a "very simple metal unit that holds the bike by its top tube." The mantel offers protection for bikes in the form of some foam cushioning.
Most stylish wall mount for bikes
This wooden wall mount with storage from CB2 is arguably the most stylish of the bunch. Made of solid wood, Dunn says the "minimalist display shelf" is best "for traditional top tube bikes" with thicker frames. A thinner-framed bike, he explains, may tilt if hung from this wall mount.
Floor stands
Best overall floor stand for bikes
If you rent your home or are not the DIY type, three of our experts also told us about floor stands that (aside from assembly) require little to no installation. This one from Delta got nods from two of those three experts, including cyclist Alexa Lampasona, who owns a Michelangelo and calls it a "stout leaning wall rack that allows you to mount two bicycles in a narrow space." She adds that the rack's "arms adjust, so you can mount bikes with many different geometries from flat to sloping top tubes." Dunn is the other person who recommends it, explaining that "gravity racks" like this are designed so that the weight of the bikes on them keeps the rack firmly in place.
Best (less expensive) floor stand for bikes
"If people just want something to hold their bike upright on the floor," Sawyer says that this simple freestanding option is the rack his shop recommends the most. Its holster is wide enough to fit all tires except for fat bike tires (but if you have a bike with those, which are designed for ploughing through snowy fields, you probably have a garage to put it in). The stand is designed with attachments at the base, he adds, so you can clip more than one of them together if you want to store a bunch of bikes side by side.
Best floor stand for more than two bikes
If you're looking for a floor stand the whole family (or roommates) can use, Sawyer recommends this "great, industrial-style one" that can hold up to six bikes. However, because it doesn't store them on top of each other like the Michelangelo, he cautions that using it will require more floor space.
Tension poles
Best overall tension pole for bikes
In terms of installation, tension poles fall somewhere in the middle between floor stands and wall mounts. They don't require drilling holes into walls or ceilings, but you may need to do a little more work to get one in place. They often cost more than floor stands and wall mounts, but Crooks says that may be money well spent if you think you'll move around a lot and want bike storage that can easily move with you, no matter the size of the home. His favorite tension pole, which he uses at home and in his shop, is this one from Gearup. "It's durable, mounted on compression, and you can mount two bikes near a wall," he says, "or four if you put it in the middle of a room" and purchase a separate add-on. At home, he has the pole somewhat ingeniously set up behind his couch so that he can use that oft-neglected, above-the-couch wall space as valuable storage for his bike. Tension poles, he adds, are not only worth considering if you move a lot, but also if you redecorate a lot. "Say you buy a new chest of drawers — you can redesign the whole apartment without having to work around that bike mount you screwed into the wall already," explains Crooks.
Best (slightly less expensive) tension pole for bikes
This tension pole that Dunn told us about basically works the same way as the above model, but it's a few bucks cheaper. Made of aluminum, it has a black finish that some may prefer to the stainless steel of the GearUp tension pole. While the pole as is can only hold two bikes, Feedback Sports also makes separate add-ons that allow it to accommodate up to four.