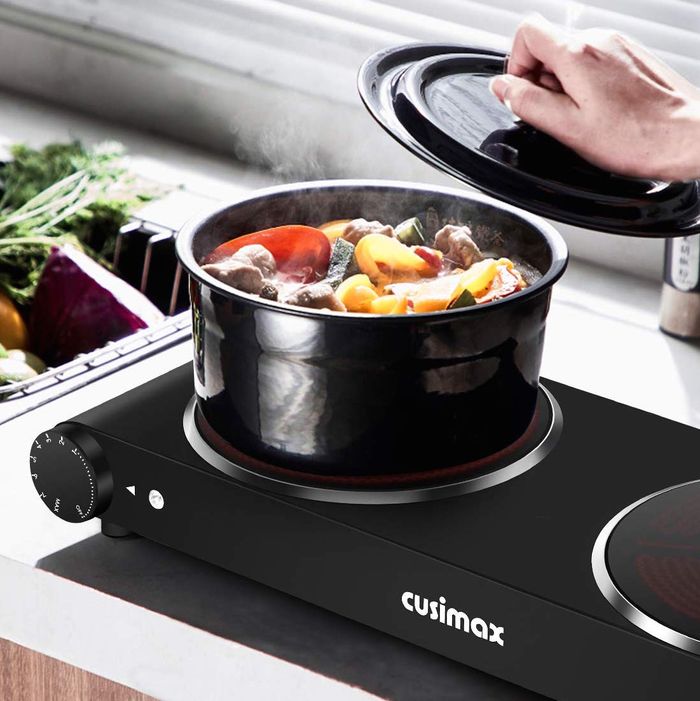 Here at the Strategist, we like to think of ourselves as crazy (in the good way) about the stuff we buy, but as much as we'd like to, we can't try everything. Which is why we have People's Choice, in which we find the best-reviewed products and single out the most convincing ones. (You can learn more about our rating system and how we pick each item here.)
And while we've written about the best slow cookers, electric griddles, and microwaves, here we're rounding up the best electric cooktops you can find on Amazon, according to the people.
Best-rated electric cooktop
There's a slight adjustment to cooking on an induction burner. "To begin, be certain a magnet will stick to your cookware," explains one reviewer. But many reviewers are hooked once they get the right cookware. "It's easy to learn how to use," adds another. "It can be set by heat factor or temperature and by time. Super simple. Example: Turn it up to boil a pan of water. Once its at boil bring the heat down where you get it at the rate you need. Then set the timer for how long it needs to run. Walk away, it will do the rest." Many reviewers note the convenience of the single burner when downsizing or renovating a kitchen. "I read up on induction cooking systems and found they are safer, have less heat for the surrounding areas of cooking, are efficient in electricity, cleaner, and easy to clean," says one who "recently" downsized their living space. The savings on heat and energy receive constant mentions; as this reviewer says, "More energy efficient than gas or electric. Lighter than you'd think, making portability easy. Cools down quicker." Plus, an RV dweller adds, "Heats up quick. Makes a huge difference over the gas top as far as time, energy efficiency, and creating a lot of heat in the RV." More than one person describes cooking with this induction cooktop as magic, like one reviewer who writes, "Induction cooktops are like magic, you have to use one to fully appreciate how great they are. I love the features on this one and found it very easy to adapt to. And, it really is hard to go back to a conventional stove top after using one of these."
Best-rated (less expensive) electric cooktop
"It has held up through omelets, four-hour beans, pancake batter spills, and pretty much all the crusty kitchen remnants I have drip dropped and dragged its way," says one reviewer of his hardy Proctor Silex electric cooktop. "For the college student, the poor freelancer living in a box of a room and sleeping on the floor, the newlyweds attempting to start a life, this is your burner. Cleans great, light, easy, and durable." For another reviewer, this makes for an excellent holiday helper. "I'm always running out of burners at holidays when I'm doing extra cooking for friends and family, and this is an ideal spare." The same goes for another reviewer, plus backup: "I purchased this burner as an extra burner when the kitchen stove is totally in use. I am also planning to use it with a generator in case of a power outage."
And now for some micro-picks of every type of electric cooktop you might be looking for.
Best cast-iron electric cooktop
Reviewers report that this Cuisinart burner is both good for cooking with cast-iron cookware and for heating because it's made of cast iron. "We bought a new ceramic-top stove and read we weren't supposed to use cast iron skillets," says one reviewer. "But I love my skillet! So I bought this hot plate so I can use it. It works as good as a stove top." Another adds, "The cast iron burner plate is easy to clean and I don't have to worry about scratches." One pleased reviewer describes it as "a clean-looking, efficient burner for those times when you are cooking for a crowd, or for when you want to fry something like bacon outdoors, in order to avoid having grease splattered all over your kitchen," while another notes that it "heats up super fast, no weird smells." It's so good that they admit, "Honestly even as a diehard gas stove lover, I sometimes completely forget that this isn't part of a real range."
Best heavy-duty electric cooktop
Many of the reviews for this burner come from people making recipes that require a lot of heat for long periods of time, like canning or making bone broths. "The heat up is fast, the control is simple, and the construction is top notch," says one canner. "The finish is lovely enough to sit on the counter top as an extra stove burner next to our glass top stove and holds the tea pot. It looks great, very industrial. It has no problem heating and maintaining heat for canning." The broth simmerer adds, "It has infinite heat settings and can be turned all the way up to bring something to a boil, or turned all the way down to keep something just warm. It is housed in a high quality and attractive stainless steel base that stays remarkably cool and doesn't damage the laminate countertop beneath it." Another reviewer, who just wanted to buy a high-quality hot plate, describes the cast-iron surface as "very well-finished, providing good friction to hold pots in place. There is fine control of the heat output and it works superbly with cast-iron Dutch ovens." But it's the hard-core canning enthusiasts who make up many of these five-star reviwers, like this one who explains, "I use a pressure canner and it is difficult for me to maintain a fairly steady pressure in the canner on my stove top. This range is ideal for this purpose and has made pressure canning into a joy for me. I highly recommend this to anyone who cans their own food."
Best induction electric cooktop
"I've spent anywhere between $50 and $300 on these burners, and so far this induction burner is my favorite," says one reviewer. "With the right pan, this burner rocks, boiling water in a blink and searing in a way that my poor little electric burner (even cast iron) just can't manage." Usable even with greasy hands, the button capabilities receive rave reviews. "I'm really enjoying the fast heating, instant cool down and quick touch control of temperature for cooking," explains one user. For thoughts on safety, this reviewer writes, "Simple to use. Push a couple of touch sensitive buttons to turn it on, and then use the knob to adjust the temperature or power level. Added bonus is that it is safer for my aging mother in law to use than exposed electric coils or burning gas." Another reviewer calls this cooktop "functionally safe, quiet, time-efficient, easy to clean, and maintains precise temperatures over an extended period of operation. We love it for Asian-style hot pot cooking, but can envision many other uses. It is the perfect size for a small dining room table—an excellent value for the price."