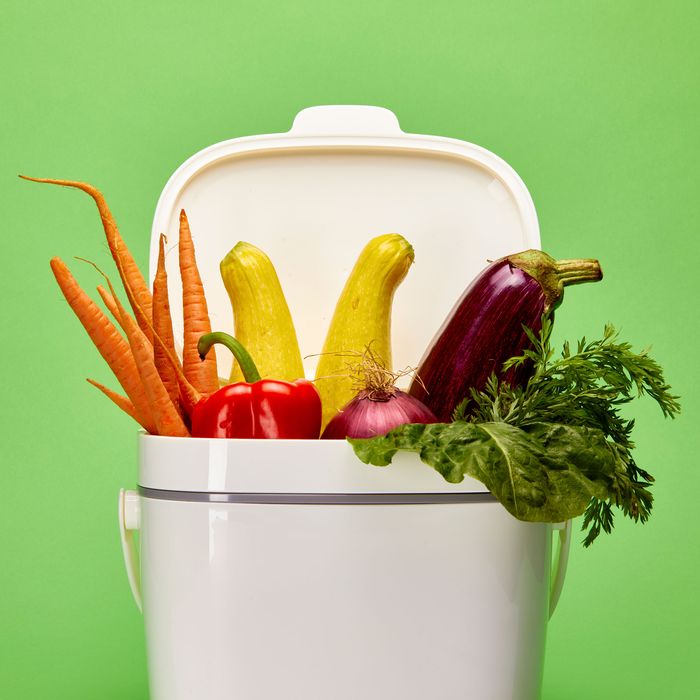 "Composting is the human version of re-creating what mother nature does out in the wild: Mixing together various organic materials" to facilitate healthy decomposition, says Rebecca Louie, founder of the Compostess website and author of Compost City. Those materials are a combination of carbon-based "browns" (cardboard, paper, sawdust, dried leaves, et cetera), nitrogen-rich "greens" (food scraps like apple cores or banana peels), water, and air. Over time, bacteria break down the scraps to create compost, a soil additive rich in plant nutrients — plus, you end up creating about 50 percent less trash.
Composting programs vary widely by municipality, so the easiest approach is to figure out where your compost will end up and work back from there. If you can empty your compost into a curbside bin once or twice a week, you may want a compact countertop option; if you'll need to travel to a drop-off site, you may want to buy yourself some time between trips by freezing your scraps.
What you can compost varies by site as well. In New York City, there is an underfunded city-run curbside composting system and a network of independent neighborhood drop-off sites. Curbside composting accepts a wider range of items, like bones, oily food, and BPI-approved compostable plastics, while drop-off sites have a narrower list. (You can find your closest spot on this DSNY map or on this spreadsheet.) Even if there isn't a good drop-off option near you, we've included a couple of options for creating your own compost, start to finish, indoors.
Best overall | Best countertop | Best stylish | Best freezer | Best modular | Best worm composter | Best Bokashi composter | Best green bag | Best brown bag
What we're looking for
Material: Compost bins should be low maintenance, and they don't need to be made from expensive or specially engineered materials. Still, there are a few principles to follow: It's useful if your bin is lightweight, durable, easy to clean, and doesn't take on the odors of its contents. Stainless steel and heavy-duty plastic work well — they're hardy enough to handle getting banged around but lightweight enough to carry a few blocks to a drop-off spot. Avoid materials that are flimsy or seem too precious to contain slimy compost or to get a heavier-duty cleaning.
Volume: "The first thing you should consider before you even look at the aesthetic — which I know is hard — is how much you produce on a given week and how often you're going to drop it off," says Anneliese Zausner-Mannes, the co-founder of Nurture BK. A standard countertop compost bin can fit around a gallon of scraps, but we're favoring systems that come in a few sizes, for households that cook often, and also including indoor systems that can process up to five pounds of food a day. Consider how often you'll empty a bin — whether it's a quick trip to toss your scraps into a backyard compost heap or tumbler or a trek to a drop-off spot — and whether you have space to store full bags in the freezer between trips.
Lid style: If you're keeping your compost on the countertop, a good lid will make the difference between a low-maintenance system and a hellscape of funky smells and summertime swarms of fruit flies. A compost bin should actually not be airtight — you want scraps to begin decomposing aerobically (with oxygen), not anaerobically, which takes longer and releases smelly gasses, like methane. Some countertop bins have holes to facilitate airflow or carbon filters to reduce odors; at the very least, a bin intended for the countertop should not create an airtight seal. If you freeze your compost, you don't need to worry about decomposition, but a lid will help prevent veggie-scrap smell from permeating your freezer.
Best overall
Plastic | 0.75 gallons, 1.75 gallons | Removable flip-up lid
The OXO compost bin is a great, versatile bin. It checks all our boxes: It comes in two sizes, works as both a freezer and countertop bin, has a non-airtight, removable lid, and is made of easy-to-clean plastic. It was first recommended to us by Tonne Goodman, sustainability editor at Vogue, who keeps it in her fridge and uses it to tote scraps to New York's Union Square compost center.
Best countertop compost bin
Stainless steel | 1.3 gallons | Vented lid and charcoal filter
I used this Epica stainless-steel compost bin for about three years, and it performed ably on the countertop through some hot New York summers — its vented lid allows for some airflow, and two layers of charcoal filters block compost smells effectively. (Another way to remediate smells is to add carbon-rich "browns," like shredded cardboard or brown paper, to your compost.) Although the lid could get grimy, it's easy to remove the charcoal filter and thoroughly clean it out, an essential quality in any compost bin.
Best stylish compost bin
Photo: Retailer
Plastic | 1.6 gallon, 4 gallon, 6.6 gallon | Removable lid
Brabantia's streamlined Sort & Go bins were included in Strategist editor Maxine Builder's roundup of stylish compost receptacles. It comes in three sizes, from 1.6 gallons (within the size range we think will suit most people) to a large 6.6 gallon bin, about half the volume of a kitchen trash can. It has a removable lid that can anchor bag-liners, is made from easy-to-clean plastic, and can be wall-mounted or hung inside a cabinet. It also comes in several colors, from basic black to sky blue. Brabantia is also a brand we trust: Strategist writer Ambar Pardilla confirms that its trash cans are "excellent."
Best freezer compost bin
Plastic | 1 gallon | Pail lid
In the freezer, where vegetable scraps will not be actively decomposing, you don't need to get complicated: Zausner-Mannes uses brown paper bags and leftover plastic containers, for example. I've used this Leaktite plastic bin for the past year and a half; it sits in the back of my freezer and gets emptied about once a month. I leave the lid sitting on top but don't lock it into place, so it's easy to toss a scrap in one-handed, and the pail's handle makes it portable. If a handle is less important, an inexpensive restaurant-supply-store food-storage container would work as well — plus its square shape makes more efficient use of fridge real estate than a round pail.
Best modular compost bin
Stainless steel casing, plastic bin | 1.1 gallons | Soft-seal lid
Simplehuman makes a compost caddy that is compatible with their bins (including our best-in-class trash can) and was recommended to us by Taryn Williford, managing editor at Reforge and former lifestyle director at Apartment Therapy. Its integration with her existing trash and recycling system "really soothes both the aesthetic and functional parts of my brain," she says. The caddy can be docked on the side of the bin or rest on your countertop, and the lid has a soft closure that isn't airtight.
Best worm composter
Plastic | Up to five pounds of scraps
If you have more time and space to devote to composting and want to keep the nutrient-rich end product to nourish your plants, Diane Miessler, permaculture designer and author of Grow Your Soil, recommends the Vermihut five-tray bin. "Worm bins require some simple maintenance to keep them thriving and odorless," Miessler says, but the system scales well to the volume of food scraps you're processing. You can add or remove trays as necessary, and at its peak, the VermiHut can process up to five pounds of food scraps per day. Plus, she says, the final product — rich compost writhing with red worms — "brings joy to most gardeners."
The Vermihut bin doesn't come with worms, which you'll have to buy separately. Louie and George Pisegna, deputy director and chief of horticulture at the New York Horticultural Society, recommend stocking up on red wigglers, which you can buy from her preferred supplier, Uncle Jim's Worm Farm. Pisegna suggests ordering them online — one thing to note is that most retailers won't ship during very cold parts of the year to avoid freezing the worms.
Best Bokashi composter
Plastic | 5 gallons | Tight-sealing lid
Unlike other methods, Bokashi composting works in the absence of oxygen by mixing microorganism-saturated oat bran with food scraps and storing the blend in an airtight container. This specific bin and bran kit comes recommended by both DeDominicis and Pisegna. One advantage of Bokashi, Louie says, is that you can add "the crazy Frankenstein stuff in the back of your fridge — like condiments or oily things — that wouldn't go in a normal compost system." The fermented materials are then buried in your garden to further decompose and nourish the soil.
Best green compostable bags
Compostable bags make toting vegetable scraps easier — just double-check with your compost site ahead of time whether they accept them. These BioBag compostable bags are a consensus pick, recommended by Strategist senior writer Liza Corsillo, senior editor Winnie Yang, and Sandy Nurse of BK Rot. "They're great for using in a bin, and you can tie them up and bring them to a site, eliminating plastic bags," she says.
Best brown compostable bags
Depending on your compost's final destination, it may be helpful to use a brown paper bag instead of a green one, the latter of which is "designed to be processed in plants," says Zausner-Mannes, and "will not break down the same way that your food scraps in organics will" in a nonindustrial composting site. Instead, she recommends reusing brown paper grocery and takeout bags, which is "mutually beneficial": "By dropping off your scraps in a brown bag, you're automatically contributing that carbon to what is otherwise probably a heavy nitrogen base."
Some more compost bins we've written about
Our experts
• Liza Corsillo, Strategist senior writer
• Marisa DeDominicis, co-founder and executive director of Earth Matter NY
• Tonne Goodman, sustainability editor at Vogue
• Rebecca Louie, founder of the Compostess and author of Compost City
• Diane Miessler, permaculture designer and author of Grow Your Soil
• Sandy Nurse, founder of BK Rot and New York City Council member
• George Pisegna, deputy director and chief of horticulture at the New York Horticultural Society
• Taryn Williford, former lifestyle director at Apartment Therapy
• Winnie Yang, Strategist senior editor
• Anneliese Zausner-Mannes, co-founder of Nurture BK
The Strategist is designed to surface the most useful, expert recommendations for things to buy across the vast e-commerce landscape. Some of our latest conquests include the best women's jeans, rolling luggage, pillows for side sleepers, ultra-flattering pants, and bath towels. We update links when possible, but note that deals can expire and all prices are subject to change.
Every editorial product is independently selected. If you buy something through our links, New York may earn an affiliate commission.