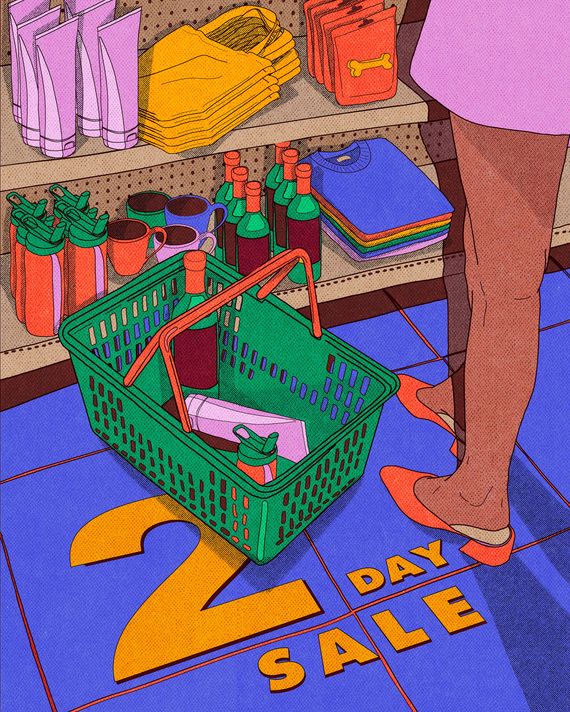 Illustration: by María Jesús Contreras
If you're reading this, we're sorry to say that our annual Two-Day Sale extravaganza has ended. It was our biggest Two-Day Sale ever, with over 60 exclusive deals from 53 of our favorite brands — and because the products on sale were just that good, we thought we'd leave this post up for posterity's sake.
You still have one more chance to snag a bundle of some of the products below — including Poketo's color-blocked wall planner, Malin + Goetz's new retinol, a $250 gift card to Goldbelly, and more — for free by entering our sweepstakes. But hurry, because the deadline to enter is by tonight, Friday, April 28, at midnight.
And if you're reading this after the giveaway has ended, don't worry — we post about great things we find in the internet's sales bin every day here. Follow us on Twitter and Instagram for the latest, and sign up for our email newsletter while you're at it for even more sales coverage.
Elvira's Favorite Cleaning Tabs
"They do a fantastic job, they smell amazing, like lemon and cedar, and they come in a cute metal canister," says actor Cassandra Peterson, also known as Elvira, of ecofriendly company Blueland's toilet-bowl cleaner tabs. Blueland's cleaning supplies come in the form of water-soluble tablets, which you dissolve in a reusable bottle, reducing the carbon cost of shipping full bottles of cleaning supplies. (Refills are shipped in paper packaging, so there's no plastic anywhere.) Today, the brand's hand soap and toilet bowl cleaner tabs are 20 percent off with code STRATEGIST20, its biggest discount ever — just in time for spring cleaning. —Erin Schwartz
Cosmetics That Stay On (at 30 Percent Off)
Deep into the pandemic, makeup artist Amanda Shackleton told us about Butter London's matte, smudge-free lip cream in a roundup of mask-proof lipsticks — it's smooth in a way that truly lives up to the brand's name. Their nail polishes are also long-lasting. Smitten Kitchen food blogger and author Deb Perelman loves the nail lacquer so much that she takes a bottle with her to each manicure appointment. "At least 97 percent of the time, I smudge my nails on the way home and this way I can fix it," she says. Right now, everything on their site is 30 percent off — from lip balm and hand cream to the patent shine nail lacquer that didn't chip for ten days, when tested by our colleagues at the Cut. There's no minimum spend, but the deal only applies to one-time purchases (and just once per customer, so bulk-buy if you must). Make the saving at checkout, with the code STRAT30. —Rachael Griffiths
Picky Cat-Tested (and Rarely On-Sale) Litter
Lower Prices for High-Quality Bags — at Our Best-Ever Discount
You can be rushing to the airport or to day-care drop-off — either way, a sturdy bag from a brand like Dagne Dover is a must. The handsome Dakota Neoprene Backpack is ideal for lugging around her kids' toys. You can take everything you need to the gym or on a weekend trip in Dagne Dover's Landon Carryall. And their fanny pack is easy-to-clean and our best overall pick. With the code STRAT2DAY, you can take 20 percent off everything sitewide on Dagne Dover — an even bigger discount than we managed to snag from the (rarely on-sale) brand last year. —R.G.
The Tomato-Scented Candle
Gifts for Gourmands Shipped Straight to Their Door
Our colleagues at Eater know a thing or two about eating well, so we trust them when they say that Goldbelly is the best way to get tasty treats from your favorite bakery, taqueria, or barbecue joint delivered straight to your door — even if you've moved far, far away. Now, the company is offering their best deal we've seen: New customers get 20 percent off, and free shipping, with the code STRATEGIST20. —S.D
Home Goods to Feel Good About
We're big fans of Goodee at the Strategist. The certified B corporation makes some of our favorite gifts and home goods, whether you're looking for decór from Black-owned businesses, wedding registry ideas, or gifts that give back. Today, take 20 percent off the entire decór collection with the code STRATGOODEE20. We're especially partial to the woven Baba Tree bike basket, which got one Strategist contributor a ton of compliments from fellow cyclists in her biking-focused city, and this comfy, versatile hand-dyed Tensira bedroll, which earned a place on the Strategist Home Catalogue. —E.S.
Newborn Sleep Essentials From Baby Whisperer Harvey Karp
For expecting and new parents, seasoned ones will tell you that a no-fuss, stays-on swaddle is crucial for those first few weeks when baby is the littlest. Happiest Baby, the company started by pediatrician and author Dr. Harvey Karp (you may also know him as the inventor of the Snoo and the 5 S's method), makes a "five-second" swaddle that one mom swears instantly calmed her newborn down everytime she zipped her baby in it. You'll also find Dr. Karp's award-winning books and DVDs and other sleep accessories that will ensure your baby — and you — will spend nights in peaceful slumber. Save 20 percent off everything on the site (except Snoo rentals) with the code STRAT2DAY. —Lauren Ro
A High-Performing Air Fryer
Breathable, Stretchy Editor-Approved Loungewear
Jambys pajamas and loungewear are made of a proprietary modal fabric that is soft, stretchy, light, and more breathable than cotton, making it ideal for summer weather and those who just run a little hot at night. It's become a favorite among many of our editors, and if you've been wanting to try out the breathable basics from Jambys — including editor-approved boxer shorts and our favorite lightweight sweats — you can pick up anything from its site for 25 percent off when you use code STRAT25. —A.A.
A Trio of CBD Products Designed for "Full-Spectrum Activity"
Joggy is offering 20 percent off three of their CBD-infused products, which I tested earlier this year (with great success). Ready Steady is a tincture which is supposed to help ease stress and produce a calming effect before embarking on more mindful activities like yoga or hiking. While Joy Stick is a body balm which helps soothe sore muscles after a workout. Or try their hibiscus-flavored gummies, Re-Chargies, which can be used post-workout or before bed to relax (because getting a good night's sleep is sometimes harder than mustering up the energy to get a workout in). —Dominique Pariso
Carefully Vetted Carry-Ons in a First-Time-Ever Sale
July makes the sort of carry-on bags that turn the stress of travel into a breeze. Even better, they're running their first-ever sitewide sale — across rolling luggage, totes, travel accessories and more. You get 20 percent off on the site with the code STRATEGIST20, including on their sturdy shell Carry-On, which associate editor Jenna Milliner-Waddell happily stores in the overhead cabin on flights. "It's been roomy enough to hold clothes for an outfit-change-heavy weekend in Miami and a weeklong trip to my parents' house over the holidays," she says, with wheels that don't wobble all over Brooklyn's sidewalks. The brand's Carry-On Pro, meanwhile, has a removable fabric front pocket that snaps off like a pouch so you can easily lift your laptop out at security. That's just one element of the case that Christine Wang, the founder of TheSkiGirl likes — and she's normally a soft-side suitcase person. —R.G.
Book-Friendly Blue-Light-Blocking Glasses
Luxurious (And Machine-Washable) Silk Pajamas
Lunya is a pioneer in the world of washable silk. Its Tee Set is a favorite among Strategist staffers, topping our list of the best silk pajamas. "If I could replace all of my pajamas with these, I would," says former writer Hilary Reid. When I tested them, I found that the generous, flowing cut helped me sleep at the perfect temperature, not too hot or too cold. The set is 25 percent off, along with all of Lunya's washable-silk sleepwear, with code FOR-STRATSILK-25. (I also recommend the brand's included-in-the-sale silk robe, which I like to throw over boxers whenever I need a little opulence.) —A.P.
A Perfect Knife Set With Every Blade You Need (and None You Don't)
A New York Subscription for up to 70 Percent Off
For a profile of Yung Miami, a deep dive into the Roseanne writers' room, or an explainer about why rent keeps going up in New York City, subscribe to New York Magazine. Right now, yearly subscriptions are up to 70 percent off, a discount that applies to all variations, whether you choose the digital edition for $40, or a print and digital subscription for $60. With all annual subscriptions, you'll also get an exclusive pack of stickers, including a bumper sticker with the classic New York logo, designed by New York co-founder Milton Glaser. This promotion is available for U.S. customers only. —J.M.
Cult-Favorite Skin Care That Actually Works
We've been fans of Ole Henriksen's skin care since 2019, when our beauty writer Rio Viera-Newton started using its Banana Bright Eye Creme to address her (self-described) raccoon eyes. In the intervening years, lots of other products have come up on our site as must-have favorites. I use the Smoothing Body Moisturizer to prep for summer skin, and it's one of our best lotions for dry skin. Saweetie told us that the PHAT Glow Facial Mask is "like a magic potion," and the Lemonade Smoothing Scrub has both physical and chemical exfoliants for smoother skin. If you've wanted to try any of these out, Ole Henriksen is offering 20 percent off the entire site with the code NYMAG20, the best sale we've seen this year. —T.D.H.
Sleek Luggage Equally Beloved by Experts and Celebrities
When we speak to frequent fliers and travelers, they almost always call out the convenience of Paravel's fold-up totes and fold-away backpack. No wonder we've included the brand in our lists of weekend bags, fanny packs, duffels for travel, and crossbody bags. If you need even more endorsement, Aly and AJ Michalka both love Paravel's "sleek" Aviator luggage, and Rachael Zoe liked her own Paravel luggage so much she got the "luxurious" Cabana dog carrier monogrammed for her dog, Goldie. And for our readers, both lines are on sale today. Code STRAT20 gets you 20 percent off all Paravel luggage (both individual suitcases and sets). Code STRATCABANA saves you 30 percent on everything in the Cabana collection, which, in addition to the pet carrier, includes some great Mother's Day gifts like the beach-ready tote and vanity case.—R.G.
Reliable Schwinn Exercise Bikes for the Gym-Averse
Schwinn's IC4 bike topped our list of the best exercise bikes for its affordability and simplicity. The IC3, a more basic version of the IC4, comes at an even more affordable price — and is now another $200 off with the code STRAT2DAY. The main difference with the IC3 is that it utilizes a traditional friction resistance instead of a magnetic one — something that won't make much of a difference if you're new to the exercise bike world. Our code will also let you take $100 off Schwinn's Airdyne AD6 bike, a stationary bike with a fan-powered resistance — a feature that powers a flywheel with fans attached to it, so you can keep cool while you pedal. —Jeremy Rellosa
A Monthly Supply of Coffee (Plus an Extra Bag)
Beginner-Friendly Bidets for Cleaner Butts
Tushy — makers of not one, but two of our favorite bidets — is loved by housing experts, bidet enthusiasts, and editors alike. The Classic is its most basic model that requires no electricity, and comes with a hose to connect to your clean water supply, making it "very much plug-and-play," according to production accountant Ian Mesa-Jonassen. If you're looking for slightly more comfort, the brand's Spa model allows you to control water temperature. It comes with a nine-foot-long connection hose to hook up to your sink for hot water access. Both are excellent options, especially if you want a sleek, "timeless design," as housing expert Thomas Jepsen puts it — and both are 25 percent off, along with any other bidets on their site — with code STRAT25. —A.A.
Work-Appropriate Basics in Sizes 00 to 40
Universal Standard is known for its basic-but-not-boring essentials — from a button-down with hidden snaps to prevent gaping, to black pants that won't wrinkle if you're putting in hours at the office. (Its Moro Ponte Pants made editor Maya Kosoff stop being "pants allergic.") The label's unitard, jumpsuit, and jeans are also Strategist-approved staples, and you can get 20 percent off all full-price items with code STRAT-20 — so it's a great time for a wardrobe refresh. —A.P.
The Silicone-Based Kitchen Products That Make Great Host Gifts
W&P makes versions of everyday kitchen staples that are likely better-made and longer-lasting than what you (or anyone you know) already own. As such, they make great host gifts — far more thoughtful and original than a standard bottle of wine. Perhaps our favorite are these flexible, stackable, and durable ice trays that many Strategist staffers use and can't say enough good things about. For those who may have already stocked up on those, there are also sleek ice boxes, leak-proof and super lightweight storage bowls, and a microwave-friendly personal popcorn-popping bowl — all of which are 20 percent off with code STRAT. —E.W.
All-Purpose Security Cameras for Inside or Out
Wzye's Cam v3 is versatile and easy-to-use, and we here at the Strategist love it because it can do double duty as either a security camera or a baby monitor. It also comes highly recommended by colleagues over at the Verge, who liked that it can be used either inside or outside and has night vision, good for keeping an eye on either your baby or your neighborhood pests — and our readers can get it for 15 percent off with code STRAT2DAY. If you want even more outdoor security, you can also get Wyze's Cam Floodlight, which the Verge named the best budget floodlight camera, for 31 percent off when you use the code STRATSALE. —J.M.
Tasty Treats Sourced Straight From Taiwan — and Extra-Sharp Cleavers, Too
Yun Hai sources kitchen and pantry essentials directly from artisans, farms, and soy-sauce breweries in Taiwan. Strategist readers get 15 percent off the shop's best-selling snacks, knives crafted from extra-strong artillery steel, and other pantry essentials — including the miso-soy paste that Yun Hai's founder Lisa Cheng Smith describes as a "sweet, toasty umami bomb." No code is needed; just shop using the link below. —S.D.
Our Favorite Indoor Garden for Infinite Fresh Herbs
Affordable, Hypo-allergenic Earrings for 30 Percent Off
New York–based brand Ana Luisa makes trendy, dainty jewelry that is particularly excellent if you have sensitive ears, but don't want to shell out for fine jewelry. The brand's best-selling everyday hoops — the Paris and the Suzanne — are both nickel-free, hypoallergenic, and water-resistant. The Paris feature a thick, twisted design, while the smaller Suzanne huggie hoops are made with sparkling stones. Strategist readers get 30 percent off both pairs in gold with code STRAT30, meaning you're getting a great deal on already-affordable earrings. —A.A.
Giftable Home Goods for the Design-minded
Some of our favorite design-y gifts come from Areaware, including a sculptural "Goober" candles for a host who's sick of scented options and a block set for budding architects that's one of our favorite gifts for 5-year-olds. And many of these objets have a distinguished pedigree, despite their sense of humor — like an ionic trellis that makes a stately companion for your potted fern from Chen Chen and Kai Williams or a checkerboard-print profile-shaped mirror by designer Elise McMahon's LikeMindedObjects. You can take 27 percent off all of these best-selling items, and a few more of our favorites, with code STRAT27. —E.S.
A Foam Roller That Pops Your Back "Like a Sheet of Bubble Wrap"
A Wine Subscription That's As Good As Drinking at Your Favorite Restaurant
Our friends over at Eater are as obsessive about food and drink as we are about deals. Their highly giftable wine club — which we recommend for folks who love dining out — brings restaurant-sommelier expertise to your door. Each month Eater chooses a new wine expert from their favorite spots who put together a box of restaurant-quality wine from small producers they're excited about, Eater editor-in-chief Amanda Kludt told us. With the code STRATSALE, you'll get 30 percent off your first monthly subscription. Or you can use the code STRATGIFT to get 20 percent off of a six-month gift subscription (either two or four bottles). You can't use the codes on top of each other, but you can buy one for yourself and one for a friend. —Dominique Pariso
Fresh Food for Fido
Everything — Yes, Everything — From Rihanna's Fenty Beauty
We don't need to introduce Fenty Beauty to you, but if you need a refresher on the breadth and excellence of Rihanna's cosmetics brand, let's review the roster. There's the Stunna Lip Paint that Strategist beauty columnist Rio Viera-Newton declared the "new Ruby Woo" back in 2018; the workhorse Match Stix that work as concealers, contours, highlighters and eye shadows; the foundation that comes in 50 shades for every skin tone; and the new liquid lipstick Fenty dropped just before Rihanna took the Super Bowl stage this year. Fenty rarely goes on sale, except for its annual sitewide Fam Sale, so any discount would be a good one. But we've secured 20 percent off sitewide when you use the code NYMAG20. —Kelsie Schrader
Sichuan Condiments for Drizzling, Dipping, and Dusting
Since it first launched in 2018 with a Sichuan chili crisp, Fly by Jing has become a pantry staple in our kitchens. Whether you too are obsessed with the dipping sauce and spice mixes, or just want to add a bit of pep to your meal prep, we've got a 20 percent off deal on the company's trio of essentials with code STRATEGIST. If you'd like to branch out even further, we suggest upgrading to the By Jing Box set, which contains the three-piece set, a chili oil, and a spicy vinaigrette. —Sam Daly